Police Called After Group Shows Up At Republican Meeting Wearing 'RINO Hunter' T-Shirts
Police were called to a meeting of the Republican Party of Orange County (OCGOP) after a group of roughly 20 individuals arrived wearing "RINO Hunter" t-shirts.
The meeting took place in Costa Mesa, California on Monday evening. The group, led by self-proclaimed "American Nationalist" Nick Taurus, wore the aforementioned matching orange shirts. The letter "O" on the shirts was made of a rifle scope's crosshairs.
RINO is an acronym for "Republicans in name only," a far-right insult for moderate Republican politicians who allegedly don't represent the party's values.
The group also wore red "Make America Great Again" caps and blue "America First" caps. Both phrases were used during the presidential election campaigns of Republican Donald Trump. Trump has helped popularized the RINO acronym in his public statements and speeches.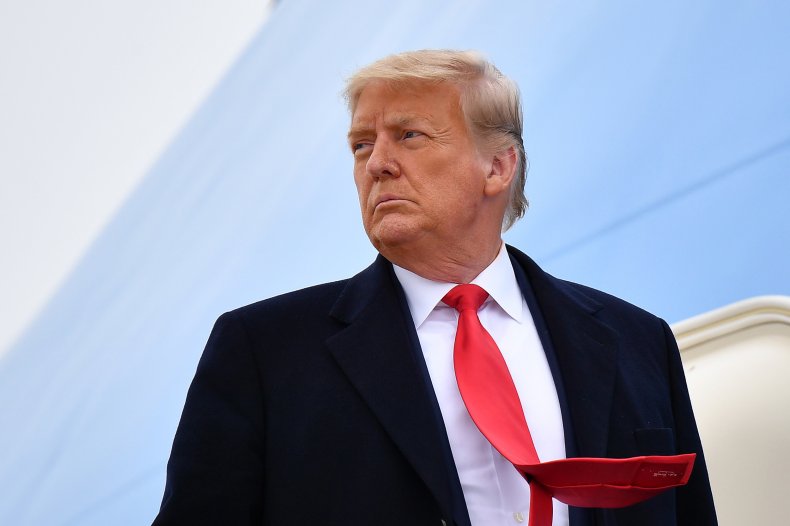 The OCGOP had announced that attendance at its Monday night meeting would be limited to members of its Central Committee in order to avoid a new surge in local COVID-19 cases, The Orange County Register reported. The group met to discuss which candidates it would endorse in 2022.
However, after Taurus' group arrived, a group member tried to get into the meeting room, attempting to push past people posted at the door, a witness told the Register.
A video of the demonstration showed Taurus arguing with a Latino Republican activist, identified as Jesse Suave. Suave and members of Taurus's group got into verbal arguments, with some group members yelling, "Back the f**k up" and "What are you going to do?"
In a Twitter post featuring a photo of his group, Taurus wrote, "It's RINO season, and there's no bag limit! It's time we let our 'representatives' know the days of our flabby neoconservatism are over. The OC GOP called the police on conservatives who just wanted to attend a meeting- we aren't going to let them live this down!"
In a follow-up tweet, Taurus wrote, "If you think RINO tears are salty now, just wait until after the election! Its a shame that these public officials think they are above the public that they are supposed to serve."
Costa Mesa Police were called to the meeting at 6:39 p.m. after being informed that some demonstrators had refused to leave a "private political meeting," police spokesperson Roxi Fyad told the Register.
Taurus' group reportedly left the building and congregated on the sidewalk with no arrests or assault, Fyad added.
"As a party, we welcome a healthy debate of ideas," an OCGOP spokesperson said in a statement to the aforementioned news outlet.
"That cannot occur in the manner these individuals conducted themselves. The safety of our members, guests and staff are of the utmost importance to our organization," the spokesperson continued.
Taurus is running against Republican California Representative Young Kim for a seat in the U.S. House.
Taurus' other social media posts rail against "mass-migration", COVID vaccination, "anti-white (critical race theory) hysteria", the removal of Confederate statues, transgender healthcare, Kwanzaa, and the "gay mafia."