Police Called on Black University of Massachusetts Amherst Employee While He Was Walking to Work
A black employee from the University of Massachusetts Amherst said the police were called on him while he was walking to work.
UMass Amherst police received an anonymous tip on Friday that "a gentleman, African American, bald, red/white pinstripe shirt, dark khakis, large duffle bag on the right shoulder, hanging off a strap, very heavy hanging on the ground, seemed very agitated, walking up the ramp, into Whitmore," according to a statement from the university sent to Newsweek.
Reg Andrade, a case manager in the disability services office at the university, was walking from the recreation center to work across campus that morning, the Daily Hampshire Gazette reported. He told the publication he was stopped by two plainclothes police officers after his bathroom break.
The officers asked him when he got to campus, what he did last night, and if he was upset when he walked into the building that morning, according to the Gazette.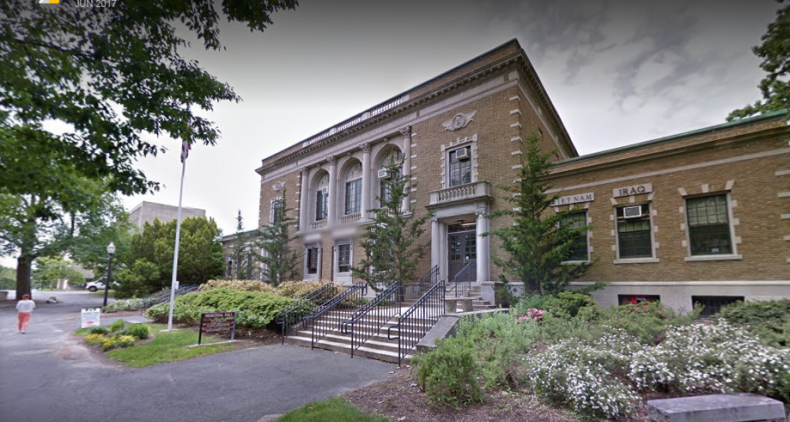 "How can somebody just walk by me, not even speaking, and try to discern that I was agitated?" Andrade told the Gazette. "This is when it becomes dangerous, when people know how to push the buttons of law enforcement … Those were those strong key buzzwords: agitated black man dragging a heavy bag."
In a statement, Chancellor Kumble R. Subbaswamy clarified that Andrade was a longtime employee with the university and had been carrying a duffle bag of gym clothes following his morning workout. Subbaswamy said the university "must all do our part to respond quickly to perceived threats of potential violence on campus," but should also "build an inclusive community that respects everyone and rejects profiling."
"We hope that the anonymous tip that precipitated this incident was well-motivated to protect public safety," the statement read. "But we also know that racial profiling, whether intentional or not, occurs and that it corrodes our efforts to ensure a welcoming living, learning and working environment for every member of our community."
Andrade, who has worked at the university for 14 years, told the Gazette that this is not the first time he has been racially profiled on the UMass Amherst campus. He told the publication that when he was a student at the university, someone called the police on him while he was listening to an audiobook in an unoccupied classroom on campus. The police were called on him again as an employee after he had finished working a new student orientation, according to the Gazette.
The university employee told the publication he takes his university ID wherever he goes and will always remember the incident when he walks to work in the morning. He said he did not know if the officers who stopped him had guns, and he felt uncomfortable in his own office, according to the Daily Hampshire Gazette.
"Where is this going, am I going to get charged with a crime? Are they going to arrest me in front of my co-workers? Handcuff me?" Andrade said.
A similar incident occurred in August when an employee at Smith College called the police on a black student while she was eating lunch by herself in a campus common room "because she seemed out of place." Oumou Kanoute had to explain to a police officer that she was part of the summer program at the women's private college in Northampton, Massachusetts, and was taking a break.