Michigan Representative Rashida Tlaib said Friday that police were called while she and Representative Debbie Dingell attempted to visit an Amazon fulfillment center in Romulus, Michigan to observe working conditions.
Tlaib and Dingell have expressed concern about the working conditions at Amazon facilities. In May, the two representatives called for a federal investigation into the online retail company's coronavirus mitigation protocols after receiving complaints from employees at the Romulus center. On Friday, Tlaib and Dingell said they were asked to observe conditions at the center by both workers and Amazon.
".@DebDingell and I waited for 1.5 hours at @Amazon's Romulus facility to check on worker safety at the request of workers and the company itself. They let us in, but not before calling the police on us."
"They told us it was a misunderstanding, but we were completely taken aback," Tlaib added. Representative Tlaib tweeted she would share more information in the near future about what Dingell and she saw inside the building but that the two lawmakers "remained deeply concerned about worker safety in @Amazon facilities."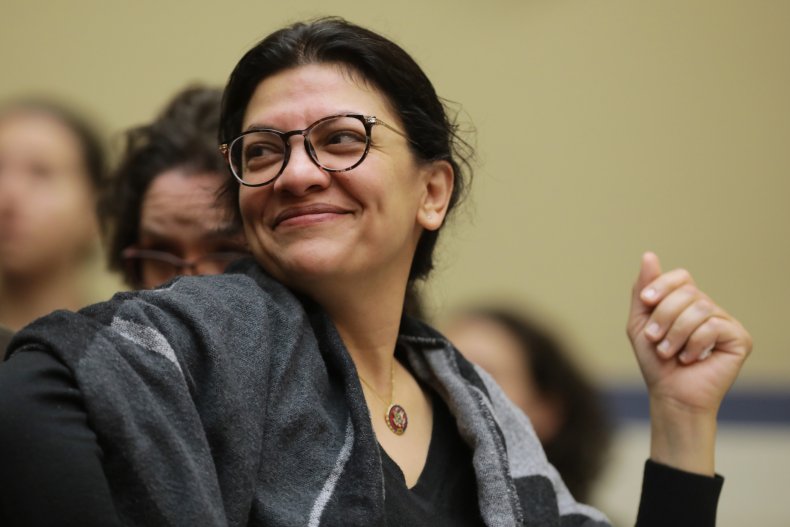 "There was an unfortunate misunderstanding when one of our night shift security guards was not expecting external visitors to be filming onsite and was not aware of the identity of those filming at the entryway of the facility," read a statement sent to Newsweek by Amazon. "The situation was resolved and we toured the Congresswomen through the site."
Tlaib and Dingell listed some of the complaints Amazon workers had about insufficient coronavirus protection at the Romulus location in a May letter to the Deputy Assistant Secretary for Labor for the Occupational Safety and Health Administration (OSHA), Loren Sweatt. Among the listed conditions were a lack of plentiful cleaning supplies, inflexible leave policies and an inability to maintain proper social distancing.
"Management continues to spread misinformation about social distancing," the letter said, "including telling employees that a person is not at risk of exposure unless they stood within an individual who tested positive for more than 15 minutes."
In the letter, Tlaib and Dingell asked Sweatt to launch an investigation into Amazon's workplace safety policies.
In August, Amazon announced that it had spent over $4 billion company-wide on improving its coronavirus procedures. According to an Amazon blog post, employees are provided training on mask-wearing, proper handwashing techniques and daily temperature checks.
"We also audit all these processes and ask employees for feedback, then use that information to try and continuously improve," the blog post read. "And we take compliance seriously—if an employee repeatedly or intentionally violates our safety procedures, we'll move quickly to address it and terminate them if necessary."
Expanded virus mitigation measures were implemented at the Romulus facility, according to The Detroit News. Employees must undergo a temperature scan and health screening before being allowed to start their shift. Social distancing assistants scan the work floor to determine when employees are too close to each other. Functioning somewhat like traffic lights, the social distancing assistants use video monitors which show a green light around employees maintaining proper distance. Red lights appear around workers who are too close together.
Director of Operations at the Romulus Plant Shawn Westlund said in an August interview that the coronavirus precautions have taken a toll on the facility's production.
"We're much less efficient than we were before and that's okay," Westlund said. "If we have to be less efficient, we will be less efficient to keep our associates safe."
Updated 09/17/2020 7:00 p.m. EST: This story has been updated with a statement from Amazon.