Watch: Police Officer Stuck in Suspect's Car During High-Speed Chase
A Georgia police officer was taken for a wild ride after a routine traffic stop turned into what prosecutors allege was a kidnapping situation in which the cop ended up stuck in the suspect's car speeding down the highway.
Marietta, Georgia, police officer Brian Wallace stopped a car with three men in it for an alleged moving violation Thursday morning. Wallace felt that the driver, Cory Moody, was acting strange, had him step out of the car and noticed the smell of marijuana in the vehicle, according to police.
Wallace called backup and another officer, Sergeant Brian Honea, arrived on the scene.
Video shows that once Honea arrives, Moody jumped back into the car and both officers attempted to pull him out. Wallace ended up pinned in the car and video shows the car sped away with the door still open and Wallace trapped inside. Police allege that Moody put the car in drive. Police said that Moody and the other two men wrestled with Wallace as the car drove off, reaching a top speed of 71 miles per hour. At one point, Wallace shuts the driver's side door that he was partly hanging out of because he feared falling out.
Several police vehicles were involved in the high-speed chase.
The car turned down a side road and hit mud before it eventually stopped, a mile away from the original traffic stop.
"The entire police department is happy [the officers] are OK," said Marietta Police public information officer Chuck McPhilamy to Newsweek. "[Wallace] is a hard-charging, great guy with a great reputation."
McPhilamy said that Wallace told him "in an instant, everything kept changing" during the incident.
Moody and the other two men in the car, Eyzaiya Moody and Walter Gadson Jr., were taken to Cobb County Jail. All three men are facing several charges including kidnapping and battery.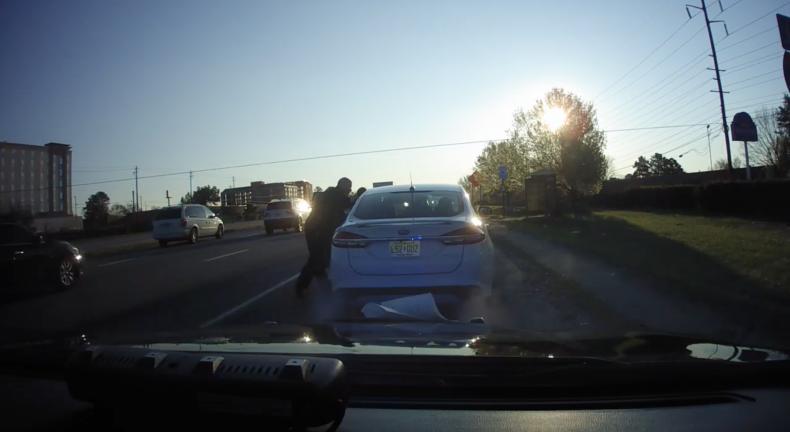 "I could not be prouder of the group of Marietta Police Officers who were engaged in this situation. Because they are so highly trained, self-disciplined and well-coordinated they were able to end this extremely dangerous situation without anyone being injured or killed; officer or suspects," said Marietta Police Chief Dan Flynn in a statement.
All three men were from Massachusetts and known gang members, according to police. An investigation is ongoing as to what they were doing in Georgia. Police also said that two handguns were thrown from the car during the chase.