Police Chase Runaway Horse Down Pony Express Parkway
A video that surfaced on Facebook Saturday gave a whole new meaning to the term "horsing around."
It was an average Saturday morning in Saratoga Springs, Utah. As locals drove up and down the Pony Express Parkway, the name of the parkway being very apropos, drivers were greeted by the familiar sight of mountains and the open road. But things turned a bit weird when drivers witnessed a police chase.
Even weirder, the police weren't after the driver of a speeding car, but rather an escaped horse.
Jamie Gonzalez Hansen, who was on the Pony Express that morning, took and shared a video of the runaway horse to a public Facebook page called, "Saratoga Springs Link," 2News reports.
The Facebook group is a citizen-run page for Saratoga Springs community members. According to the group's "About" tab, the mission of the group is to "facilitate communications between residents and to provide an outlet for Saratoga Springs groups to share their information."
Hansen's video shows local police following the horse down the parkway, as Hansen declares, "lost horse!" The other drivers in the video have pulled over to allow both the police and the horse to move safely down the parkway. Thankfully, the horse trotted calmly and nobody looked to be in any danger.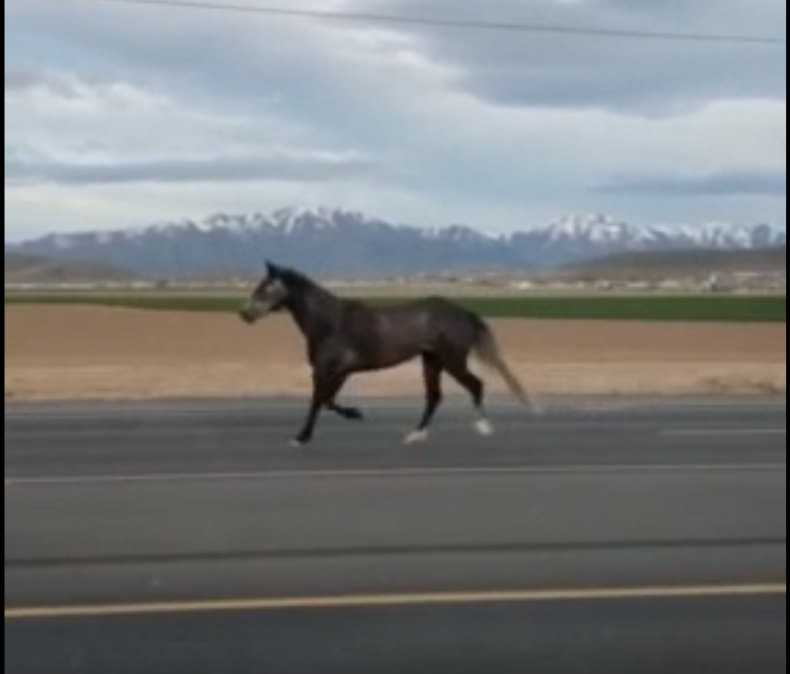 It appears Hansen initially shared the video to the Facebook group with the hopes of finding its owner. NewsObserver says that Hansen's original post stated: "They [the horse] are being protected from traffic but in case someone wakes up missing a horse, they went for a solo stroll."
It can be probably be assumed that those behind Saratoga Springs Link never imagined that the group would be mentioned in a news story about a runaway horse, but crazier things have happened.
According to 2News, the police are unaware of how the horse escaped. The outlet simply states that Saratoga Springs police met the horse on Redwood Road upon being notified that the horse had been spotted on the parkway. They then followed the horse for a few miles before leading the horse into the hills, west of the city.
Unfortunately, the horse bested the police, and somehow managed to escape their watch, says NewsObserver. But 2News reports that the owner of the horse was found and made aware of its last location. As of the outlet's last report, however, the horse has yet to be found.