Police Chief Fired After Daniel Prude's Death and Alleged Cover-Up Announces Run for Congress
The ex-police chief of Rochester, New York, who was relieved of his duty over the March 2020 death of Daniel Prude and allegedly attempted to hide the truth in the case, announced he's planning to run for Congress as a Republican.
La'Ron Singletary, who became a registered Republican in August after voting Democrat in the 2020 general election, announced his plan to run against Representative Joe Morelle in New York's 25th Congressional District.
"La'Ron has a passion for servant leadership and is eager to reform systems that have been plaguing our residents. Empowering our families with school choice, improving our educational system, and expanding business opportunities to help our residents thrive," his website states.
During a Thursday press conference, Singletary said he decided to run as a member of the GOP after a number of meetings with Monroe County Party Chair Bernie Iocovangelo and former state Senator Joe Robach.
"The constant theme was public service," Singletary said. "Both Bernie and Joe said, 'La'Ron, you've dedicated 20 years of your life to public service. You're a man of integrity, you're a man of strength, you're a man who stands up for his values and principles.'"
The former police chief added that there were a number of issues within the Democratic Party that he no longer supports. Singletary said that he doesn't consider himself a "political person," but rather hopes to work with everyone regardless of their affiliation.
He addressed a number of topics including "police oppression" and rising violence that he believes are the result of the "Defund the Police" movement, vaccine mandates that are giving some employees "an ultimatum of choosing a jab or choosing a job," and the Second Amendment.
Singletary worked for the Rochester Police Department (RPD) for two decades before being appointed chief in April 2019 by Mayor Lovely Warren.
However, after the case of Daniel Prude, a Black man who died after an encounter with Rochester Police, Singletary announced his plans to retire from the department while alleging that Warren had instructed him to lie about the incident. In response, the mayor fired him ahead of his last day.
Both Singletary and Warren have alleged that the other concealed information or sought to hide the truth from the public about RPD's response.
Police were called in March 2020 on reports that Prude was walking down the street naked and experiencing a mental health crisis.
Video obtained from Prude's encounter with police showed that a hood was placed over his head and that his face was pushed into the ground by law enforcement. Another officer was seen placing a knee into Prude's back.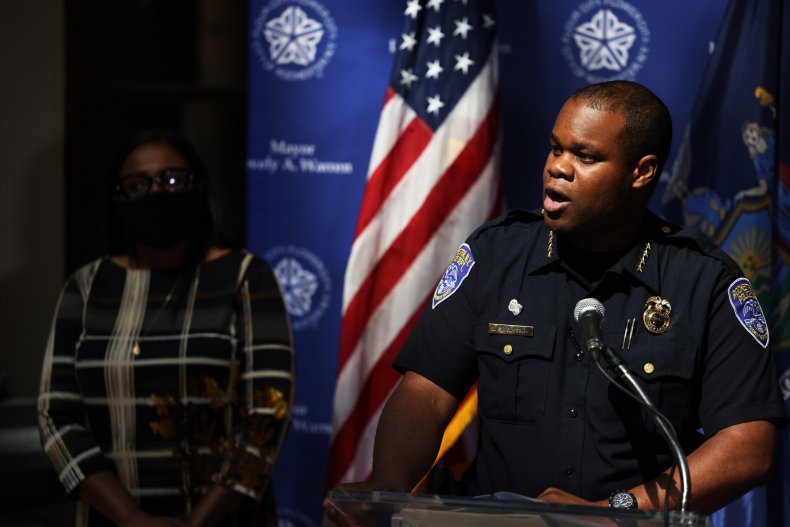 First responders arrived on the scene and took Prude to a Rochester hospital but he was pronounced braindead. One week later, the 41-year-old died, but his case did not become publicized until months later.
Rochester City Council completed an investigation of its own and determined that the police chief, mayor and other city officials suppressed information about Prude's death and kept it from the public.
Only one officer in the incident faced internal disciplinary action and the state did not find any criminal wrongdoing. Singletary justified his and the department's actions as appropriate although there have been a number of lawsuits filed against RPD and the city.
Warren announced her resignation from office in October as part of a separate plea deal to settle charges related to violating campaign finance rules in 2017.
Newsweek reached out to Singletary and Morelle's campaigns for comment.