The chief of police in Milwaukee, Wisconsin, said there is no such thing as a "peaceful civil disturbance" during a video the department released Tuesday that explained officers' use of chemical agents against protesters in May and June.
Police Chief Alfonso Morales and Assistant Chief Michael Brunson of the Milwaukee Police Department created the video in response to a directive from the city's Board of Fire and Police Commissioners, which on July 20 requested a full review of the tear gas and oleoresin capsicum, or pepper spray, used to quell recent protests. The directive was one of several the board issued last month with varying deadlines and said Morales could face disciplinary action if he did not comply.
At the start of the 21-minute video posted on YouTube, Morales shared an image of the department's standard operating procedures, which he said were updated with the board's approval on March 5. The revised standard operating procedures—which he said the officers were complying with throughout the recent protests—defined a "civil disturbance" as, "An unlawful assembly that constitutes a breach of the peace or any assembly of persons where there is potential or imminent danger of collective violence, destruction of property, or other unlawful acts. These are typically, but not always, spontaneous occurrences requiring the emergency mobilization of police forces and related emergency services."
By that definition, "a peaceful civil disturbance does not exist," Morales said.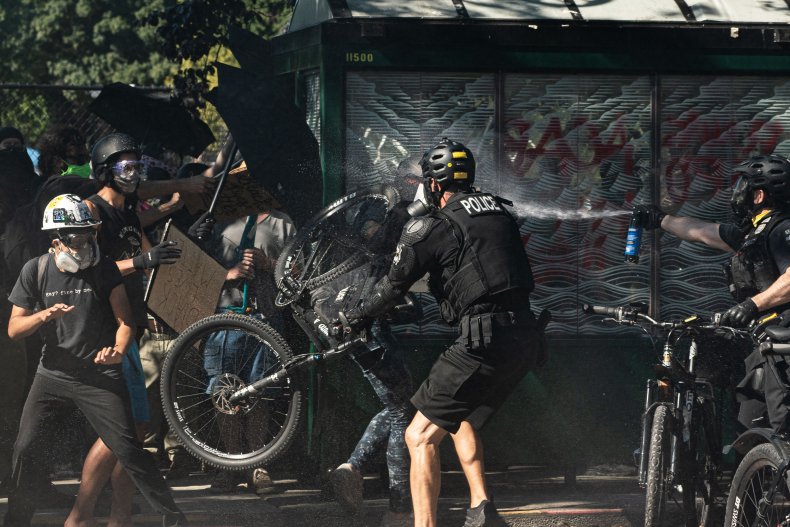 Following Morales' introduction, Brunson walked viewers through six incidents between May 29 and June 23 that he said required the use of chemical agents against protesters. He said that officers would always issue warnings to protesters when gatherings get out of hand, but the responsibility after those warnings lies with the participating parties.
"The Milwaukee Police Department has absolutely no problem with peaceful protesters, and we do not use chemical irritants towards peaceful protesters," Brunson said. "We encourage people to exercise their rights, but we want them to do it within the confines of the law."
In its initial directive, the board said it wanted Morales to work with its members to revise the standard operating procedures to block future use of chemical agents like tear gas and pepper spray against protesters.
Newsweek reached out to the board for comment but did not receive a response in time for publication.
Milwaukee is one of several cities in the U.S. and around the world that experienced a wave of protests in the aftermath of the death of George Floyd, a Black man who died while in police custody on May 25. As news of Floyd's death and others who died following confrontations with police spread, calls for an end to systemic racism and permanent changes to policing practices ignited what became one of the largest protest movements in recent memory.
One day before Morales shared his department's video, the board released a statement explaining its directives were intended to "increase police accountability and transparency."
"We stand at a crucial crossroads in our country's, and Milwaukee's history," the board's statement said. "We are in the midst of an urgent and overdue national reckoning on race and policing in this country. Only with transparency, accountability and truth will we move forward as a society."