Police Chiefs Refuse to Protect Democratic Convention After Pepper Spray Ban, Say It Would 'Ensure Their Safety'
Several police chiefs recently refused to send security personnel to the Democratic National Convention next month in Milwaukee, following a ban on the use of pepper spray.
Last week, Milwaukee Police Chief Alfonso Morales was ordered by a citizen oversight commission to change police policies and ban the use of tear gas and pepper spray. He was also ordered to publicly detail why the department used tear gas against protesters following the death of George Floyd.
While speaking to WTMJ-TV news in Wisconsin, Morales said, "Since the Milwaukee order was issued, more than 100 law enforcement agencies in Wisconsin and across the country decided against coming to Milwaukee." He added that the agencies were concerned with directives placed on the department, including the recent ban on pepper spray and tear gas.
"When you rule an unlawful assembly to help break up that crowd, once we deem them unruly, that's a safe manner in doing so. Not having those tools increases the potential for more violence," Morales added, according to WTMJ-TV. "That's a big concern for the law enforcement community within Milwaukee and outside of Milwaukee."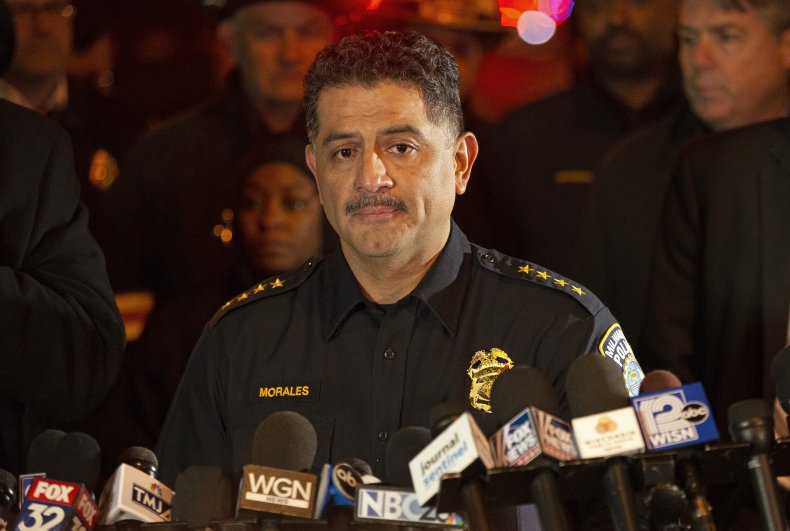 In addition to Morales, several other police chiefs in the surrounding area made similar comments in regard to pulling security from the convention.
In a statement sent to WTMJ-TV news, West Allis Police Chief Patrick Mitchell said that he was "unwilling to ask West Allis Officers to work in an uncertain environment where they may not have the appropriate equipment to safeguard citizens and themselves."
According to the Milwaukee Journal Sentinel, Franklin Police Chief Rick Oliva sent a letter last week to Morales, stating that the department would not send officers to the upcoming convention "due to recent decisions by Milwaukee elected and appointed officials."
"It is apparent there is a lack of commitment to provide the Milwaukee Police Department with the resources it needs to ensure the safety of peaceful protesters, attendees, citizens and police personnel," Oliva wrote in his letter, which was also sent to Milwaukee Mayor Tom Barrett. "I can not send personnel if they are not properly equipped or will not be allowed to engage in appropriate actions which would ensure their safety."
Similar comments were also made by police chiefs from the Waukesha Police Department, the Greendale Police Department and the Fond Du Lac Police Department.
Meanwhile, in Madison, Wisconsin, Assistant Police Chief Paige Valenta recently stated that she told Milwaukee earlier this month that "an accelerating COVID-19 pandemic coupled with ongoing protests in Madison have strained city of Madison Police Department resources to the degree that we are no longer able to commit any resources to the August 2020 DNC," according to the Wisconsin State Journal.
The Democratic National Convention is scheduled to take place from August 17 to August 20 at the Wisconsin Center in downtown Milwaukee. The event has been scaled down due to the coronavirus pandemic, and it will be mostly virtual, with approximately 300 people expected to attend in person.
Newsweek reached out to the Democratic National Committee for comment but did not receive a response in time for publication.