Police Condemn Trump for Speech 'Condoning Law Enforcement Brutality'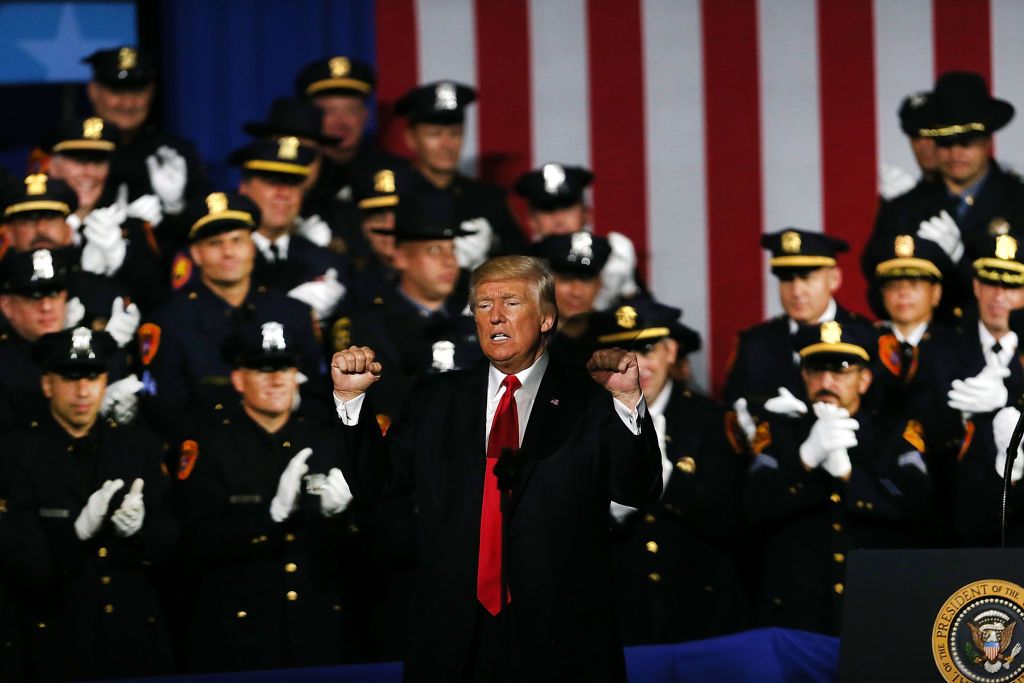 Police have criticized President Donald Trump for seemingly endorsing police brutality during a speech to law enforcement officers Friday.
In the speech in Long Island, New York, that largely focused on the MS13 gang, Trump told officers "Please don't be too nice" to crime suspects. Some officers appeared to cheer the remarks in TV footage of the speech.
"When you guys put somebody in the car and you're protecting their head you know, the way you put their hand over [their head]," Trump continued, mimicking the motion. "Like, 'Don't hit their head and they've just killed somebody, don't hit their head.' I said, 'You can take the hand away, OK?'
"I have to tell you, you know, the laws are so horrendously stacked against us, because for years and years, they've been made to protect the criminal. Totally made to protect the criminal. Not the officers. You do something wrong, you're in more jeopardy than they are," he added.
Get your unlimited Newsweek trial >
On Saturday, police forces and the international association of police chiefs criticized the president.
"The @POTUS made remarks today that endorsed and condoned police brutality. GPD rejects these remarks and continues to serve with respect," tweeted Gainesville Police Department in Florida.
Gainesville Police spokesman Ben Tobias tweeted: "I'm a cop. I do not agree with or condone @POTUS remarks today on police brutality. Those that applauded and cheered should be ashamed."
Get your unlimited Newsweek trial >
Suffolk County Police Department, which polices the area where Trump made the speech, distanced itself from the remarks.
"The SCPD has strict rules & procedures relating to the handling of prisoners," it tweeted following the president's speech. "Violations of those rules are treated extremely seriously."
"As a department, we do not and will not tolerate roughing up of prisoners."
In a statement released after Trump's speech, the International Associations of Chiefs of Police said that "law enforcement agencies develop policies and procedures, as well as conduct extensive training, to ensure that any use of force is carefully applied and objectively reasonable considering the situation confronted by the officers."
"Law enforcement officers are trained to treat all individuals, whether they are a complainant, suspect, or defendant, with dignity and respect. This is the bedrock principle behind the concepts of procedural justice and police legitimacy."
The American Civil Liberties Union also condemned Trump's statement.
"By encouraging police to dole out extra pain at will, the president is urging a kind of lawlessness that already imperils the health and lives of people of color at shameful rates," Jeffery Robinson, deputy legal director at the American Civil Liberties Union and director of the ACLU's Trone Center for Justice and Equality, said in a statement.
New York Civilian Complaint Review Board Chairwoman Maya D. Wiley criticized the president for undoing trust between police and communities in the city.
"President Trump's speech today was shameful, dangerous, and damages the progress our City has made toward improving police-community relations. No act of police violence or other misconduct, where proven, will go unanswered by the CCRB," said Wiley in the statement.
Trump also apparently condoned violence on the campaign trail, telling supporters at a rally in Iowa that he would pay their legal bills if they attacked protesters, later commenting on a protester who was forcibly removed from a Trump rally in Las Vegas, said: "He's walking out with big high-fives [from the other protesters], smiling, laughing," Trump said. "I'd like to punch him in the face, I'll tell you."
During the Long Island speech, Trump also praised the toughness of U.S. Immigration and Customs Enforcement officers.
"I can tell you, I saw some photos where [acting ICE Director] Tom [Homan]'s guys, rough guys, they're rough, I don't want to ... say it because they'll say that's not politically correct, you're not allowed to have rough people doing this kind of work. ... Just like they don't want to have rich people at the head of treasury," Trump said.
Police Condemn Trump for Speech 'Condoning Law Enforcement Brutality' | U.S.