Police Crack Down on Minneapolis Unrest After Mayor Blames Cartels, White Supremacists
Minneapolis police fired tear gas and rubber bullets to beat back protesters after the city's mayor and the state governor blamed white supremacists, organized crime and even foreign agents for stoking days of violence.
Saturday is the fifth straight day of protests demanding justice for George Floyd, a black man who died in handcuffs with an officers knee on his neck on the streets of Minneapolis.
Officers fired tear gas and rubber bullets into the crowd of protesters to get them to disperse after the 8 p.m. curfew in the city.
Protesters hurled projectiles as they retreated and eventually broke up into smaller groups.
Reporters covering the clashes said on Twitter that police had fired on them. In a tweet from Molly Hennessy-Fiske of the Los Angeles Times, she said that police fired "tear gas canisters at point blank range," after she and other reporters identified themselves as media.
Other reporters also tweeted that they had been fired on, including Ali Velshi of MSNBC and Michael George of CBS. George shared a photograph of CBS sound engineer John Marschitz, who was hit with a rubber bullet. George said that the press area was not within 500 feet of any protesters, and that the reporters had their credentials displayed and their cameras out.
"I'm hit in the leg by a rubber bullet but am fine. State Police supported by National guard fired unprovoked into an entirely peaceful rally," Velshi wrote.
"I'm hit in the leg by a rubber bullet but am fine. State Police supported by National guard fired unprovoked into an entirely peaceful rally," Velshi wrote.
Minneapolis is the epicenter of the unrest sweeping the United States. Governors and mayors imposed curfews on Saturday and deployed the National Guard to quell violence that has left buildings and cars ablaze, scores injured and at least two people dead.
President Donald Trump blamed the violence on left wing extremists and the radical group Antifa.
Minneapolis Mayor Jacob Frey and Minnesota Gov. Tim Walz, both Democrats, said the violence was the work of people from outside the state.
"We are now confronting white supremacists, members of organized crime, out of state instigators, and possibly even foreign actors to destroy and destabilize our city and our region," Frey wrote on Twitter without providing evidence.
Walz said that as many as 80 percent of those arrested during the protests had come from outside Minnesota. He too blamed drug cartels and white supremacists. Mayor Melvin Carter of Minneapolis' sister city St. Paul said that everyone arrested in his city had come from other states.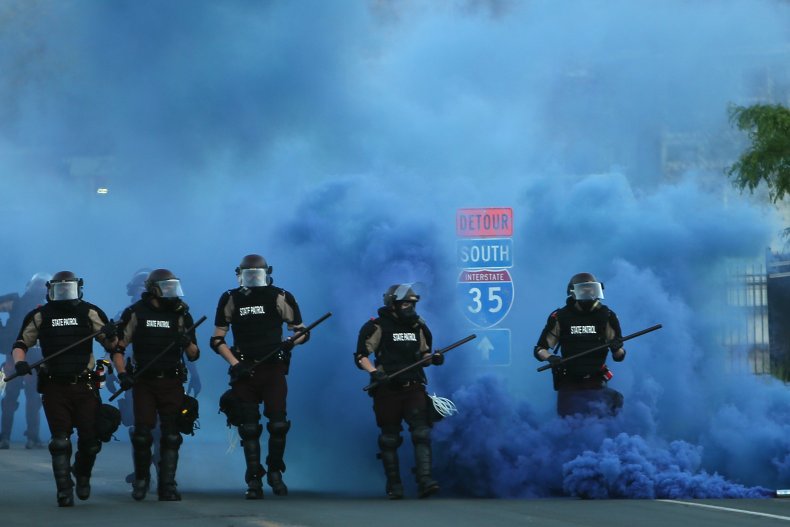 However, data from the Hennepin County Jail's do not appear to support those claims The data show that approximately 86 percent of those arrested related to the unrest live in Minnesota, according to KARE-TV. Minneapolis Police spokesman John Elder told the station he believes some of those arrested may have give false addresses to appear local.
On Saturday evening, Carter walked back his claim of out-of-state instigators and said he had been given inaccurate data. At the same press conference, Walz said his initial 80 percent estimate was based on intelligence information from law enforcement.
Newsweek reached out to Mayor Frey for comment. This story will be updated with any response.