Police Defend 'Discretion' With Protestors as Ambassador Bridge Cleared
Police in Windsor, Ontario defended their actions Sunday against the "Freedom Convoy" after multiple protesters were arrested and vehicles were removed for blocking the Ambassador Bridge, which is a major trade route with the U.S.
"Police used discretion during the course of the demonstration to avoid creating an unstable situation and potentially putting the public at risk," police said in a statement. "This exercising of police discretion should not be confused with lack of enforcement."
On Sunday morning, police began removing protesters in the area and cleared two parked pickup trucks. Intervention to end the blockade came after protestors gathered for nearly a week to oppose vaccine mandates for truckers crossing to Canada from the U.S. Two days prior, a Canadian court granted an injunction to allow police to start to clear the vehicles and protesters.
"Throughout this demonstration, police have respected the protesters' freedom of expression and their right to a peaceful assembly. The importance of public safety remained the number one priority of officers with the goal being a peaceful resolution," police continued in their statement. "Remaining committed to professionalism, keeping lines of communication open and using proper police discretion, guided our response to this major event."
Vehicles were towed at the bridge, which links Detroit and Windsor, but traffic remained closed. Protesters who were arrested are "all facing a charge of mischief" according to police.
"You will see a continued police presence in the area in order to maintain an environment that is safe. In an effort to work towards resuming traffic flow, a continuous assessment of the situation is vital to ensure a sustainable solution," police said, adding, that there will be "zero tolerance for illegal activity" as law enforcement continues its presence in the demonstration area.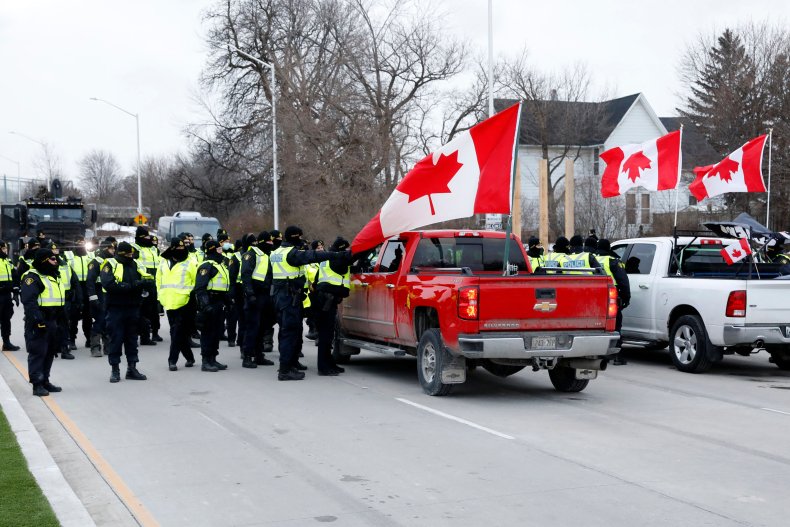 Over 4,000 protesters were in downtown Ottawa on Saturday, according to the police.
"Safety concerns—arising from aggressive, illegal behavior by many demonstrators—limited police enforcement capabilities," Ottawa Police said in a statement on Saturday.
Newsweek contacted the Windsor Police for further comments and will update the story once a response is received.