Police Department Uses Ice Cream Truck to 'Engage' with Community
On July 15, the Delray Beach Police Department unveiled its newest vehicle: an ice cream truck. According to a post from the department's official Facebook page, the truck will visit neighborhoods throughout the Florida town in an attempt to "build relationships and engage with children and adults" throughout the city.
Delray Beach Police Chief Javaro Sims said in a video on Facebook that an ice cream truck was something he'd been "contemplating for quite some time."
"The goal is to look for creative and innovative ways to engage our community," said Sims. "We must continue to find ways to break down those invisible barriers that we deal with on a daily basis within our communities."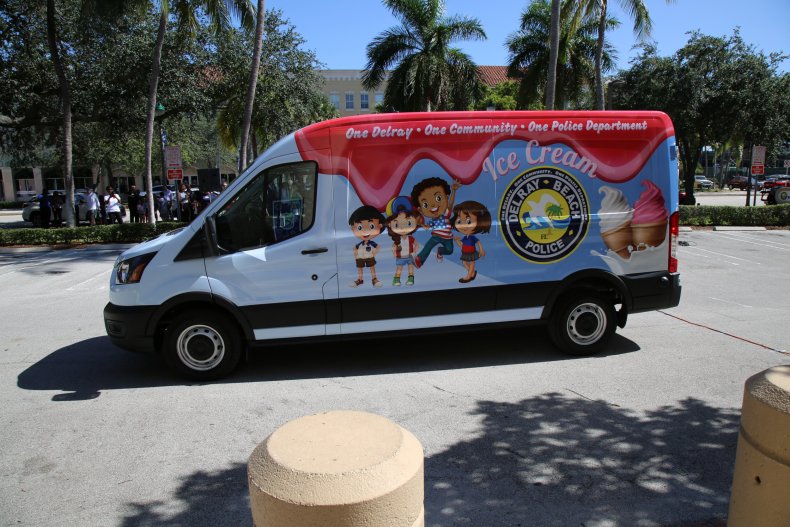 Sims believes that ice cream truck music is something that excites both children and adults alike, making the vehicle a great source for connection.
"Hopefully, when the music comes on, we're going to get kids, who are going to run out their doors, and want ice cream," he said.
The ice cream will be free for all community members, but perhaps most importantly to Sims, conversation will be free as well. Sims hopes that people will take the time to not only ask questions of their officers but connect with them on a more human level. He believes that talking to the officers about everyday topics such as school or sports will help create a stronger sense of understanding between individuals and the police who serve them.
"We [police officers] have some of the same issues they [civilians] have, we have some of the same problems they have...why not bring kids together to talk about them, and you don't know, you may get out an answer or a question to your problems or issues," he concluded.
On National Ice Cream Day, July 18, the department shared in a separate post that they took their new truck out for a test ride. Pictures show officers engaging with children and their parents at what appears to be a local park. The children smiled as they received their free ice cream.
The Delray Beach Police Department is not the first department to utilize an ice cream truck to build stronger bonds with their community. In 2016, Boston.com reported that the Boston Police Foundation purchased an ice cream truck as part of a community police effort called "Operation Hoodsie Cup," which dates back to 2010.
Boston police said in a statement about the truck: "Operation Hoodsie Cup has enabled BPD officers to connect with thousands of kids in our community while handing out over 120,000 free Hoodsie Cups. Behind every Hoodsie Cup is an understanding and a promise that the men and women of the BPD are committed to keeping our city's young people safe and secure."