Police Discover 600 Pounds of Liquid Meth During Traffic Stop for Broken Brake Light
Police in Denton, Texas have arrested a man after allegedly discovering almost 600 pounds of liquid methamphetamine in his vehicle after a traffic stop.
Adan Murga-Alvarez, 29, was stopped around 4:40 p.m. on Thursday due to a faulty brake light, according to a report from KTVT. Denton police officers called in a drug-sniffing police dog after noticing the "nervous" behavior of Murga-Alvarez and a dozen "suspicious" large plastic containers visible throughout his black GMC Envoy SUV.
The containers were reportedly filled with liquid that was beginning to crystalize, which likely roused police suspicion.
Once K9 officer Kaution arrived, the dog indicated the containers likely contained illegal drugs. A field test was said to have quickly confirmed that the substance in the containers was liquid meth. It was later determined to weigh 596.3 pounds, with a street value likely in the millions. Murga-Alvarez is being held on a $500,000 bond.
"Crystal meth" is often converted into a liquid form during transportation in an effort to conceal the substance. The drug can then be placed into containers that otherwise may seem less suspicious. The liquid is later dehydrated in order to return it to its crystal form before being sold.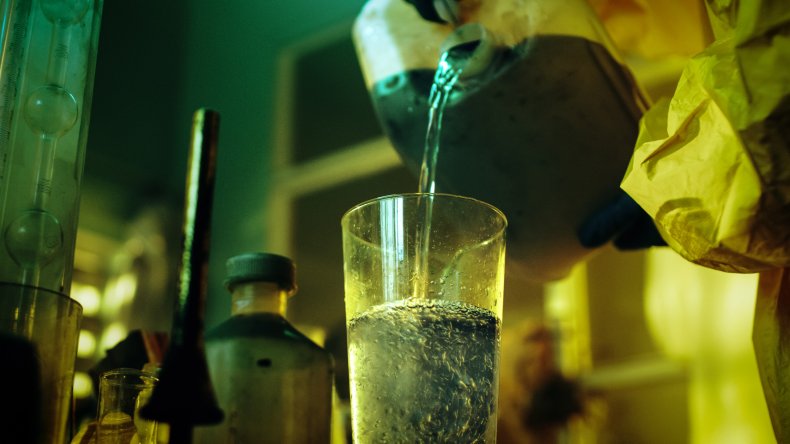 Determined efforts to disguise meth in liquid form don't always work out for people hoping to transport the drug.
On December 13, a man near San Clemente, California was allegedly caught with nearly 35 pounds of the drug hidden in transmission fluid and coolant containers in the trunk of his car.
Authorities seized a reported 131 kilos, or around 288 pounds, of the liquidized drug on December 11 in Houston, Texas. The meth at the suspected "storage house" was placed in a variety of containers, including glass Coca-Cola bottles and Igloo storage jugs.
Thursday's alleged incident involving nearly 600 pounds represents a relatively large amount of the drug, but there have been busts involving significantly larger amounts.
On December 6, a man was sentenced to 14 years in prison after being caught with 1,260 pounds of liquid meth in 2018. Authorities said the man was hauling the meth in the fuel tank of the commercial truck he was driving before being caught in Oklahoma.
Demand driving the illegal meth trade appears to be stronger than ever in recent times. U.S. Customs and Border Patrol statistics show over 68,000 pounds of the drug was seized during the 2019 fiscal year, while an October 25 report from NBC claimed that meth use was on the rise. In the western U.S., meth is said to cause the majority of drug overdose deaths.
Police Discover 600 Pounds of Liquid Meth During Traffic Stop for Broken Brake Light | News