K9 Officer Ajax is back to serving and protecting the people of Smithfield, Rhode Island after being accidentally exposed to fentanyl during a drug bust, according to The Providence Journal.
Ajax had been participating in an "Operation Mousetrap" action on December 20 when he suffered his exposure.
Operation Mousetrap was a 16-month investigation into ongoing fentanyl trafficking in East Providence, Rhode Island and Fall River, Massachusetts. Ajax was on-scene as K9 officers served a search warrant at a local residence and it was there that Ajax began exhibiting symptoms indicating he was experiencing fentanyl exposure.
Officers intervened, administering Narcan, a nasal spray used in emergencies to treat drug overdoses in both humans and animals, to Ajax. He was then transported to a local animal hospital for treatment.
The hospital's doctors noted that Ajax had an abnormally low heart rate and then administered more Narcan to him intravenously. He made a rapid recovery and was back on the job by December 21.
Adriny Bernard, 32, lived in the raided residence. He has been charged with intent to deliver cocaine, possession of stolen vehicle parts and possession of cocaine and heroin. Bernard was not home at the time the warrant was served and was later arrested in East Providence on outstanding warrants from the Fall River court system.
Bernard is suspected to be one of two suppliers in the ring. Officers recovered 11 ounces of a white powdery substance they deemed to be of "unknown" origins, 47 bundles of what were suspected to be "heroin/fentanyl," a bag of heroin, and "other suspected drugs" from his home during the raid, police said. Carfentanil and cocaine were also found on the scene, according to WPRI. Other drug paraphernalia, such as boxes of packaging material, narcotic mixing materials and a digital scale were found there as well. Bernard is also believed to be in possession of the frame of a motorcycle which had been reported stolen from Malden, Massachusetts.
During a court appearance, Judge J. Terence Houlihan ordered Bernard held without bail on Thursday, and his next court appearance is on January 2.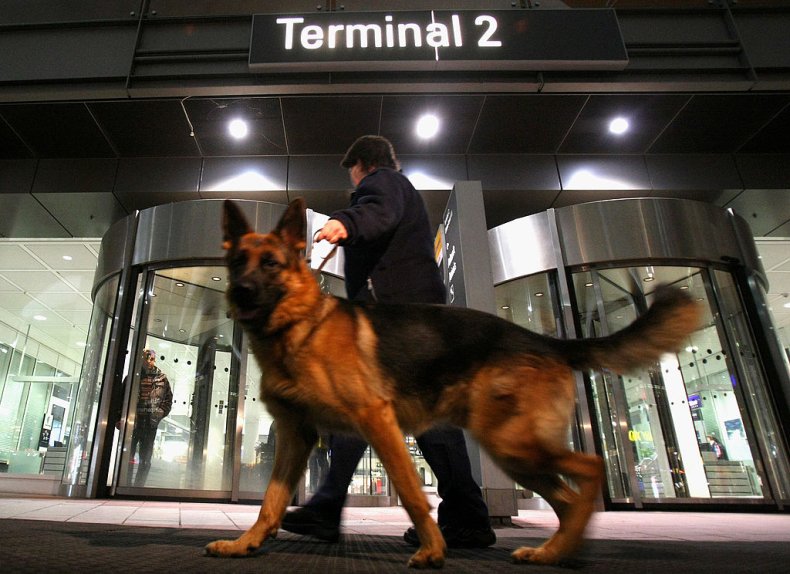 Sixteen alleged members of the drug ring were arrested overall as part of Operation Mousetrap. Eleven search warrants were executed as a part of the raid, and 850 grams of fentanyl were recovered along with 56 grams of cocaine, an illegal firearm, $19,000 and assorted prescription pills.
Police dogs, according to a 2018 report in The Atlantic, risk overdose when entering homes where fentanyl or heroin is being harbored, as the dogs may chew on an object that contain the drug and accidentally ingest it.
Multiple police forces are searching for ways to protect their dogs against similar overdoses—from carrying Narcan with them as the Smithfield police department did, to training officers to look for opioid overdose warning signs in dogs and teaching dogs how to passively alert for drugs without touching the substances in question.