Police Dog Saved by Narcan After Accidentally Overdosing on Heroin in Jail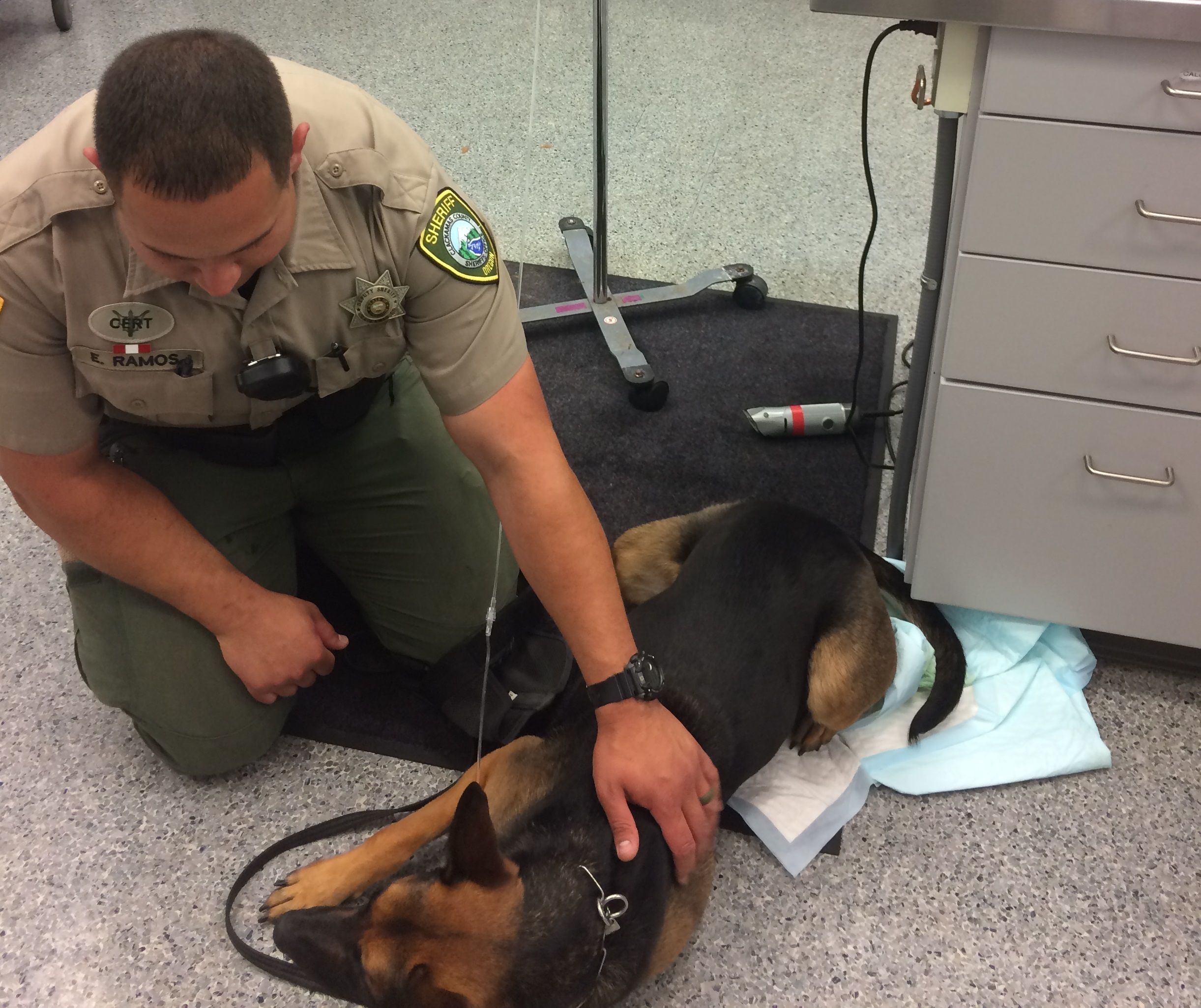 A drug-detecting police dog in Oregon was saved by a donated overdose reversal kit after accidentally being exposed to heroin during a routine search for smuggled contraband in Clackamas County Jail.
Deputy Eliseo Ramos and the K-9—a Belgian Malinois/German Shepherd cross known as Abbie—were searching E block of the jail on Tuesday evening when the canine found some smuggled heroin on top of a hygiene container under a table, according to the local sheriff's department.
While the pair were examining the container, it spilled over, exposing Abbie to the heroin. Soon after, the dog began exhibiting signs of heroin exposure, including rapid head shaking, rapid blinking and the production of excessive saliva.
Fortunately, another deputy in the sheriff's department was able to quickly deliver life-saving medication—a specially adapted nasal spray of the drug Naloxone, which is sold under the brand name Narcan. The spray successfully stabilized Abbie and she was then taken to the VCA Clackamas Animal Hospital for treatment. She was held overnight and released the next morning.
Narcan is capable of rapidly reversing the effects of an overdose from opioids such as heroin, methadone, fentanyl and morphine. The kit that was used was one of six that the Clackamas County Sheriff's Office purchased recently using donations from the public.
When someone overdoses on an opioid, the drug overwhelms certain areas in the brain, interrupting a key part of the body's breathing impulse, causing breathing to slow dangerously or stop altogether.
"Naloxone, the active ingredient in Narcan Nasal Spray, competes with opioids to bind with the same receptors in the brain," according to the manufacturer. "Usually, it reverses the effects of opioid overdose in 2 to 3 minutes. This buys the opioid-poisoned person time for emergency medical help to arrive."
Sometimes a second dose of the spray is necessary if the first is not enough to reverse the effects of the opioid. Side effects of the medication may include abdominal or stomach cramps, body aches, diarrhea, fast or irregular heartbeat, fever and nausea or vomiting. Furthermore, if used on individuals who are physically dependent on opioids, it may hasten withdrawal symptoms.