Police Find 4-Month-Old Baby in the Woods After Frantic Woman Ringing Doorbells Prompts 911 Calls
Michigan police officers found a 4-month-old baby in the woods and are now looking to arrest the mother, who they suspect may have been abusing prescription drugs at the time.
The Oakland County Sheriff's Office was alerted to the possibly abandoned infant on Wednesday morning after it received two 911 calls from people who complained of a woman "hiding in the bushes and ringing the doorbell." When they interviewed the "frantic" 37-year-old woman, they learned she had an infant son. The burrs on her pants prompted a search of a nearby wooded area.
"Thankfully, deputies were able to determine a baby was missing, which triggered an immediate large response and search, and they were able locate the child," Sheriff Michael Bouchard said in a statement. "Their quick work avoided what could have been an unspeakable tragedy."
A search of a one-mile grid containing the woman's home, a school where she pounded on the door and the neighbors who called 911 resulted in officers locating the child. The infant was found in a "hypothermic state," lying face down in a wooded area on the banks of Orion Township creek, and was "cold and wet but breathing."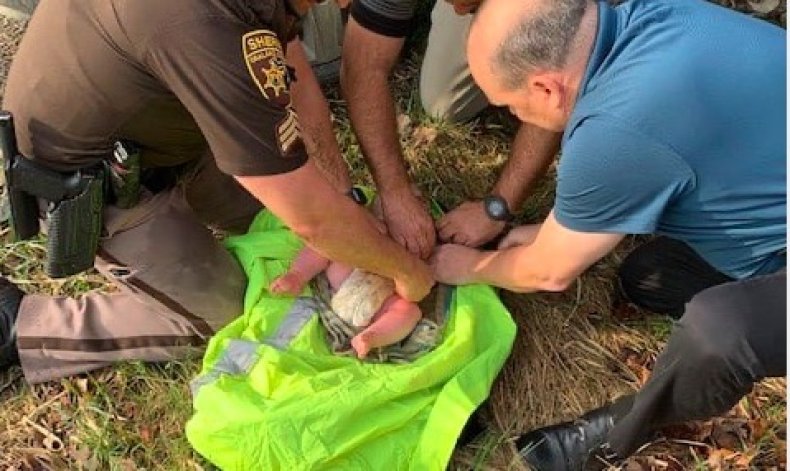 It's unclear how long the child was in the woods. Deputies wrapped the boy in warm blankets and worked with medical personnel to stabilize the child, who was transported to the hospital for further treatment and is in "good condition."
Residents who called 911 said the woman appeared distraught and "believed someone was chasing her with guns." By the time officers arrived, the woman was gone, but staff at the Waldon Middle School reported a woman pounded on the school's locked doors.
Deputies believe the case may involve prescription drug abuse, and they're seeking a warrant for the mother's arrest on suspected child abuse.
Newsweek reached out to the sheriff's office for comment but did not receive a response in time for publication.
The office's Facebook post detailing the incident garnered more than 2,000 shares and 651 comments. Many people expressed their gratitude for the officers who found the child and their well-wishes for the infant.
"This breaks my heart on so many levels," Andrea, a Facebook user, commented. "I would gladly take that baby boy and give him all the love and care he needs. I pray for that mother, that she gets the help she needs."