Police Fire Rubber Bullets, Protesters Break Precinct Windows Amid Demonstrations Over George Floyd's Death
Demonstrators protesting the death of George Floyd were met with rubber bullets after breaking windows at the third police precinct in Minneapolis on Wednesday.
Stationed in a line outside and on top of the building, riot police fired bullets at a crowd gathered outside the precinct. This is the second consecutive day of protests after a video of Floyd, who died while in police custody, that depicted pinned to the ground by Hennepin County police went viral.
A police officer, who allegedly intended to arrest Floyd under suspicion of forgery, placed his knee on Floyd's neck. As he did this, Floyd can be repeatedly heard saying that he cannot breathe in the video. Floyd was pronounced dead at a local medical facility after being transported from the scene by an ambulance.
A report from the Minneapolis Fire Department revealed Floyd did not have a pulse when he was loaded into the ambulance.
On Tuesday, thousands of protesters gathered at the intersection where Floyd was being arrested. Riot police used tear gas and rubber bullets against the demonstrators who threw objects at police vehicles.
The city erected a barricade Wednesday afternoon around the 3rd precinct building after demonstrators removed metal fences outside the precinct. Earlier, Minnesota Attorney General Keith Ellison had urged both sides to show restraint as the investigation continues.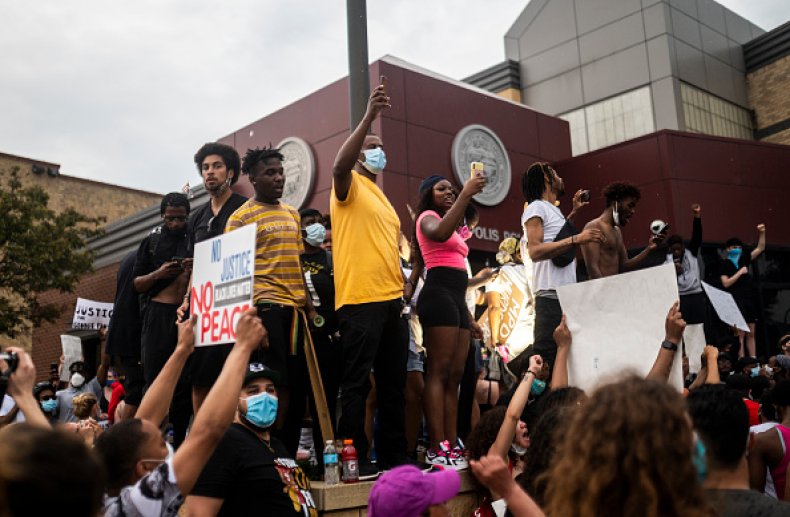 Minnesota Governor Tim Walz spoke for the first time on the death of Floyd during a Wednesday press conference, saying he was "shocked and horrified" by the video.
"The lack of humanity in that video, as I said, made me physically ill," Walz said, "I know are communities are hurting, especially our Black community, and you want to see action to seek justice and takes steps to prevent this senseless tragedy from happening to anyone else."
He promised to work with Mayor Jacob Frey and Hennipen County Commissioner Mike Freeman to ensure "swift action once the facts of the investigation come in."
President Donald Trump also responded to questions from reporters on Wednesday about Floyd's death, calling it "a very very sad event." Trump said he expects to get a full report on the incident Thursday.
The four officers involved in Floyd's death have been fired by the Minneapolis Police Department, and Frey has asked the Hennepin County Attorney to charge former police officer Derek Chauvin with the death of George Floyd.
The city of Minneapolis did not respond to Newsweek's request for comment at the time of publication.