Police Fire Tear Gas, Threaten Prison Time as Hong Kong Protests Enter Ninth Week
Today, in the ninth week of pro-democracy demonstrations that have gripped Hong Kong since June, protestors streamed past the police barricades marking the end of the approved route and kept marching.
Last week, 44 protestors were charged with "rioting," which carries a penalty of up to 10 years in prison, according to reporting by The Guardian.
The ongoing protest is now considered an illegal assembly, and at least once Saturday evening the police have raised the black flag, a signal that they would spray tear gas. At 9:30 p.m., they made good on the threat, dousing protestors in the Kowloon neighborhood.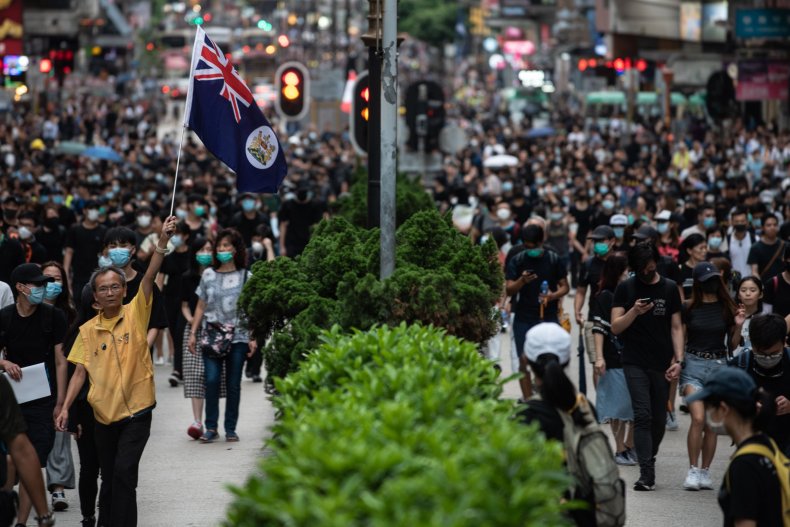 Despite the stern warnings from police and outbursts of violence over the past weeks, pro-democracy protestors seem undeterred. As demonstrators refused to disperse, with some cutting power lines to traffic lights and lighting a fire on the steps of a police station, CNN reported that riot police had been deployed near the Mong Kok station at 8:45 p.m. local time.
The protests began in June over a proposed bill that would allow authorities to extradite individuals accused of crimes in China back to the mainland.
Today was scheduled to be the last day of protests, but the South China Morning Post reported that calls for a strike on Monday have received support from 95 labor unions and from hundreds of staffers at 34 banks in Hong Kong's finance sector.
For some Hong Kong residents, the risk of joining the protests is too high, even for those who support the cause of democracy.
"It is sad that the risk of protesting and potentially being hit by tear gas/arrested is getting a bit too high," one Hong Kong resident told Newsweek, asking to remain anonymous for fear of blacklisting by the Chinese government.
Earlier this evening, as protestors flowed east from their approved route in Mong Kok toward the luxury shopping district of Kowloon's Tsim Sha Tsui, news outlets reported an eerie quiet in the normally bustling neighborhood as shopkeepers closed early and customers stayed away.
The continued unrest may also be having a broader economic impact on the semi-autonomous "Special Administrative Region" of China. While officials at the Hong Kong Monetary Authority have said there is no reason to be concerned, the Hong Kong dollar's value has been erratic since June. On July 14, a Bloomberg headline announced that the currency was in its "longest falling streak since March 2018."
As the U.S. and China remain locked in a trade dispute, some commentators are speculating about the impacts of the proposed extradition bill on foreigners conducting business in Hong Kong.
Following the arrest of Huawei executive Sabrina Meng in Canada, who may face extradition to the U.S., John Hopkins professor Ho-Fung Hung told CNBC last month, "Beijing [may] feel the urge to use this bill, if it is passed, to arrest some Americans or foreigners and transfer them to mainland China courts as a kind of revenge...Not only Hong Kong citizens but also U.S. citizens will be in trouble if the bill is passed."