Police Tactics Under New Scrutiny as Violence Rages Across Country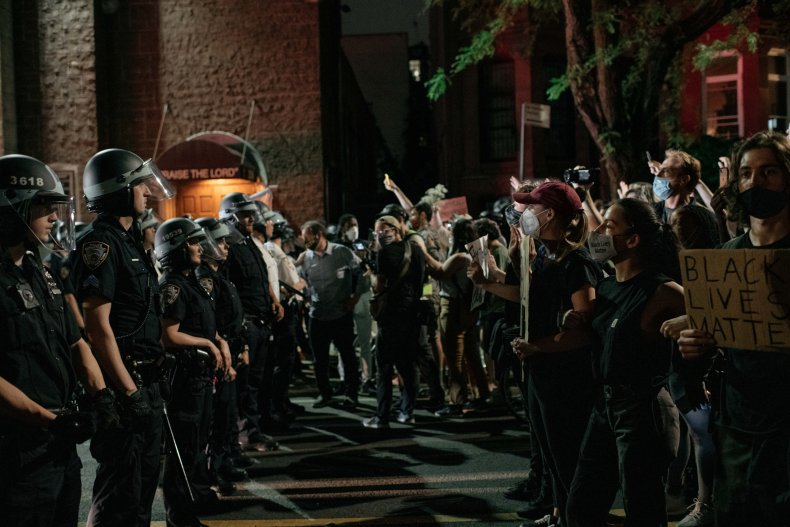 The death of Minneapolis resident George Floyd following the use of a neck-compression technique, which set off waves of civil unrest across the country, is ratcheting up pressure on police departments to rethink the use of lethal and near-lethal force that has been under scrutiny from critics for decades.
And tactics that have been highlighted in recent, high-profile incidents—such as neck-compression in Floyd's case and the fatal use of pepper spray in the death of a New York inmate, Jamel Floyd (no relation)—are now subject to mounting calls for reform.
In 2015, 985,300 United States residents experienced a non-lethal use of force by police, or a threatened use of force, according to the Bureau of Justice Statistic's Police-Public Contact Survey. These encounters included, among other things, instances of pushing, handcuffing, hitting, kicking, pepper spray and Tasering.
The agency also estimated that in 2015, approximately 1,900 people died just prior to, during or following the course of an arrest. These deaths included those in temporary police custody.
Police officers' use of chokeholds to subdue suspects in order to make an arrest has long rankled police departments, though in particular the chokehold-death of Staten Island resident Eric Garner in 2014 set off a new reform movement committed to restricting dangerous law enforcement techniques.
Following Garner's death, the inspector general for the New York City Police Department, appointed just months earlier, conducted a review of the department's use of chokeholds.
His report found that, in several instances where civilians complained of the use of banned chokeholds, NYPD officers employed the move "as a first act of physical force in response to verbal resistance, as opposed to first attempting to defuse the situation."
New York City's difficulty in stamping out a widely condemned practice illustrates the challenges criminal justice advocates face as they confront a varied array of police tactics in response to the current protests.
But a swell of new, and renewed, interest in scrutinizing many of these tactics is thrusting so-called less-than-lethal uses of force into the spotlight, and lawmakers in many jurisdictions are listening.
"Unequivocally, we are against the use of any kind of chokehold whatsoever," Randy Shrewsberry, executive director of the Institute for Criminal Justice Training Reform, said in an interview with Newsweek. "The only exception would be is if there was an imminent threat of death, but not just for securing arrest."
Lawmakers in New York are pressing for new legislation to ban outright the use of chokeholds on police suspects. While the NYPD prohibited chokeholds in 1993, Matthew Pontillo, an assistant chief at the department's risk management bureau, said in a 2015 interview that the effect of the intra-departmental ban "eroded over time."
"On a case-by-case basis, the department had watered down the definition and therefore the prohibition," he added.
New York State Senator Brian Benjamin introduced a statewide chokehold ban last fall, and the New York City Council is considering comparable legislation.
In Minneapolis on Friday, city councilmembers approved a ban on police deploying the chokehold. The ban requires officers who witness its use, along with any use of unauthorized force, to intervene and report to a superior officer while still on scene. Failure to do so will leave the officer "subject to discipline to the same severity as if they themselves engaged in the prohibited use of force," an agreement with the City Council said.
In San Diego, County Sheriff Bill Gore announced he would stop the use of one form of chokehold, the carotid restraint, "effective immediately."
"I have and always will listen to any feedback about the public safety services we provide," he said in a statement.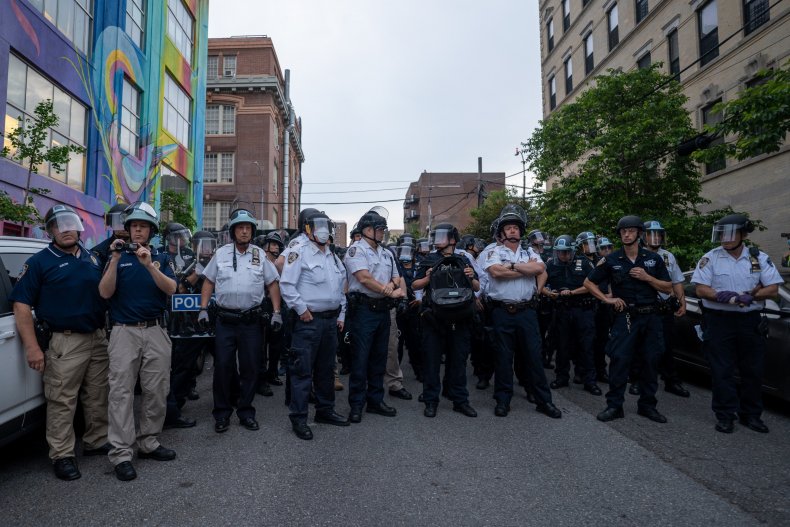 Civil rights advocates said they are committed to ensuring the current surge in attention from a sometimes disinterested public and media apparatus does not go to waste.
"I think as an accumulation of this appearing on the news year after year, and now witnessing something as egregious as what happened to George Floyd, I think that the tide has changed," Shrewsberry explained. "It's been very heartwarming that we've seen such a collective response."
Other less-than-lethal police tactics—such as the use of Tasers, tear gas, pepper spray, canines, kettling and sound canons—are attracting similar levels of suspicion, whether or not police departments have turned to them to quell the current unrest.
For many advocates who have been following the use of force in law enforcement, the current protests have exacerbated an already untenable situation: Police departments equipped with new technologies and rarely used riot control techniques now have a platform to deploy their most forceful training.
"It's like the NYPD is able to take out all of their shiny new military toys," Jennvine Wong, a staff attorney at the Legal Aid Society's Cop Accountability Project, remarked. "The problem here is accountability. Officers are not being held accountable for escalating and using excessive force, including with these kinds of tactics."
Videos circulating online have underscored the dueling pressures politicians experience when facing calls for instant reform. New York City Mayor Bill de Blasio has, for example, angered activists over his tepid reaction to apparent, excessive violence by NYPD officers during riot control.
Footage recorded during various protests show officers appearing to use pepper spray indiscriminately, club demonstrators and engage in kettling, the legally dubious practice of encircling groups of protestors in order to make mass arrests.
"The NYPD was out there protecting us," de Blasio said Thursday, after an especially tumultuous night of documented clashes. "We have a police force trained to respect the people of this city, and to respect the right to protest. So that's what's happened overwhelmingly."
His office did not immediately respond to a request for comment Friday.
Health experts are concerned that tactics viewed in normal circumstances as less harmful could be significantly more dangerous during a global pandemic. Chemical agents, such as pepper spray, work by temporarily blinding subjects, "creating a burning sensation in the eyes and skin, and often affecting breathing," according to the National Institute of Justice.
A 2010 evaluation on pepper spray prepared for the institute noted that use of pepper spray actually "increased the probability" of officers becoming injured by as much as 39 percent.
At a time when an infectious disease has taken root in the United States—though it is currently on a sustained decline, New York was once the epicenter of the COVID-19 outbreak—chemical agents produce spit, sputum and aerosols and can encourage the transmission of the new coronavirus.
"Police officers may want to consider the tactics they use in terms of the risk to the suspect but also the risk to themselves. Several of the tactics that are used can cause injury and spread illness to the police force," Dr. Malika Fair, an emergency physician and the senior director of health equity partnerships and programs at the Association of American Medical Colleges, told Newsweek.
"Whatever tactics police use, they have to understand the evidence and the health implications of how lethal they can be and whether or not it worsens the pandemic that we're in," she added.