Sheriff's deputies from Sarasota County, Florida recently arrested 25 men accused of soliciting children for sex. Most of the young boys and girls preyed upon were contacted through social media apps.
Deputies in Sarasota County executed "Operation Intercept VI" to nab potential sex offenders, and they produced a list of social media apps they say are dangerous to children.
"Unfortunately, the internet allows for easy and anonymous access to children by strangers who are hiding behind a computer screen. That is why these operations are paramount to ensuring our most vulnerable population is safe and protected," Sheriff Tom Knight said in a press release.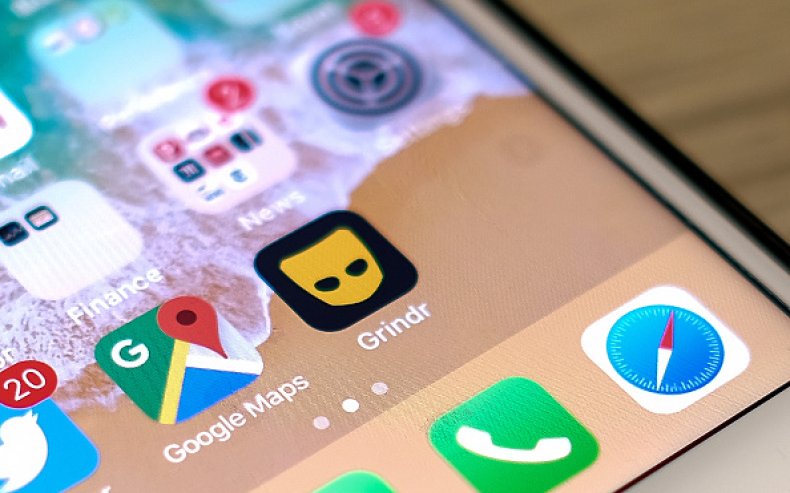 Knight said the men arrested managed to "blend into society and attempted to prey on children by developing a trust through promises to exploit them for sexual purposes."
The sheriff's department urges families to check their children's phones and other mobile devices. The list of potentially dangerous apps range from more well-known names like SnapChat, MeetMe and WhatsApp all the way to a Calculator App that allows people to hide photos, videos and browser history.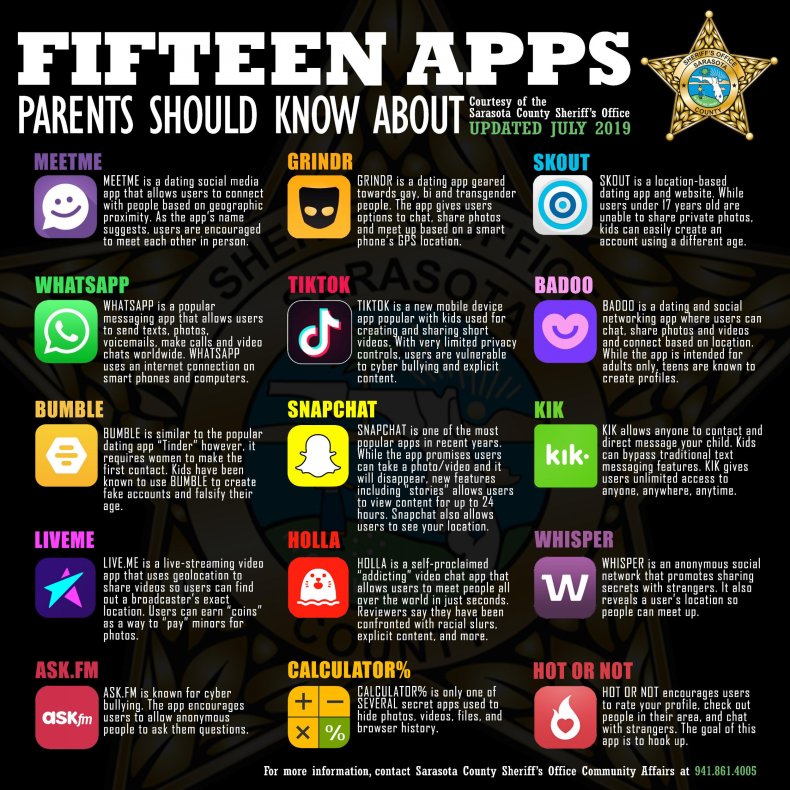 Apps listed by the law enforcement officials could expose children to unwanted sexual advances, racial slurs and bullying. Here are the 15 apps (in alphabetical order) from the Sarasota County Sheriff's Office:
Ask.fm — This site that allows other users to ask questions is known for cyberbullying.
Badoo — A dating and social networking app where users can chat, share photos and videos, and connect based on location. Though intended for adults, children and teenagers have used it.
Bumble — Similar to the dating app Tinder, except women initiate contact. Kids have accessed this app with fake names and ages.
Calculator% — A secret app that allows users to hide photos, videos, files and their browser history.
Grindr — A dating app aimed toward gay, bisexual and transgender people. There are options to chat and share videos. Users can also use their phone's GPS function to find nearby users.
Holla — An app that allows users to instantly video connect with users all over the world. However, some users report being exposed to explicit content, racial slurs and more.
Hot or Not — Another dating app that allows users to rate profiles and find other users in the area.
Kik — A texting app that allows users to direct message others. The app is known for preserving the anonymity of its users. As of 2016, it is used by approximately 40 percent of American teenagers.
LiveMe — This livestreaming video app uses geolocation to share the exact location of users. The app uses a virtual currency called "coins," which can be used to "pay" minors for photos.
MeetMe — This dating app allows users to connect through geographic proximity. Users are encouraged to meet each other in person.
Skout — A location-based dating app where users under 17 are not able to share photos, but kids have found their way around the restriction.
SnapChat — This popular app promises that shared photos and videos will disappear once they are seen. This app also shares the geographic location of users.
TikTok — A new app for creating and sharing short videos. Users are vulnerable to seeing explicit content and bullying as there are few privacy measures.
WhatsApp — This app works like a phone, allowing users to call, text and share photos and videos worldwide.
Whisper — An anonymous social media app allows users to share secrets with strangers. Like many of the apps on this list, Whisper also shares users' location information.