Police Find Homeless Person Living in Tent Hidden on Amtrak Train Station Roof
A homeless person was found to be living in a tent on top of an Amtrak train station in California, prompting police to remove the camp.
Officers in Antioch, in the suburbs of San Francisco, found the rooftop camp after a bystander reported seeing a homeless person up there.
"A concerned citizen reported a transient subject lowering a bike off the top of the Amtrak station," the Antioch Police Department said in a Facebook post Thursday.
The city's public works department then put a responding officer into a boom truck and lifted him to the train station roof to handle the matter.
"Due to safety concerns, the camp had to be immediately abated," according to the police department. "Homelessness is not a crime and we try to get our homeless citizens into services so they can have a stable environment."
Police photos of the homeless camp before it was removed show a tent, a ladder and some garbage hidden inside an oval-shaped alcove atop the train station's building, overlooking tracks and the San Joaquin River, which eventually leads out through a series of bays to the Pacific Ocean.
It was unclear how long the tent had been up there.
The department did not identify the person.
"Sometimes it takes a village," Antioch police said, referring to a neighbor calling in the tip about the rooftop camp.
Estimates show that about a third of homeless people in California stay in a location that is not built for humans to live in, The Sacramento Bee reported.
The National Alliance to End Homelessness said that the west coast state saw the biggest jump in homeless population out of all the U.S. between 2016 and 2017, with roughly 16,000 more people without homes. It also saw the largest rise in the number of unsheltered homeless.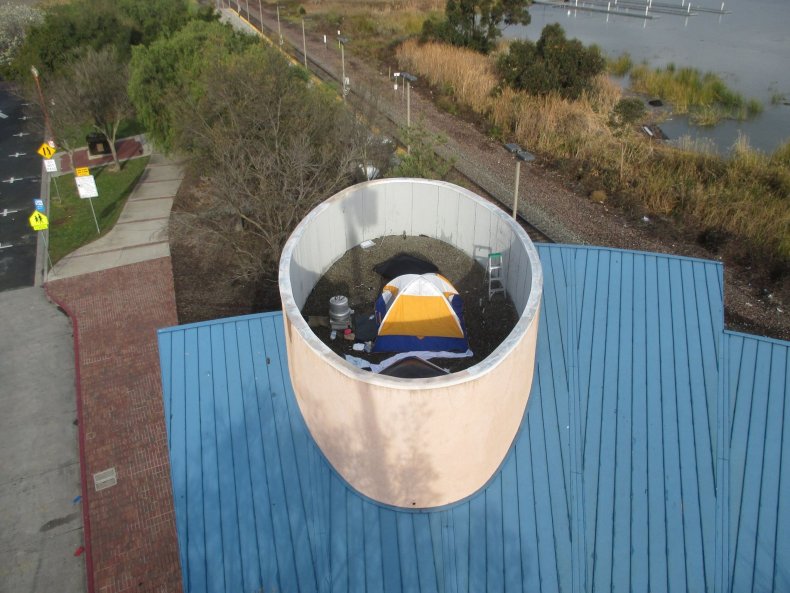 Police Find Homeless Person Living in Tent Hidden on Amtrak Train Station Roof | U.S.