NYPD Officer Stabbed in the Neck, Two Other Police Officers in Hospital After Struggle with Knife-Wielding Man
Three New York City police officers are in hospital after a struggle with a knife-wielding man who approached an officer and stabbed him in the neck, according to police.
New York City Police Commissioner Dermot Shea said the suspect approached two officers near Church Avenue and Flatbush Avenue in the Flatbush neighborhood of Brooklyn at around 11.45 p.m. on Wednesday night.
Shea said the officers had been assigned to an "anti-looting" post at the intersection to prevent people breaking into stores amid ongoing protests in the city over the death of George Floyd, a black man, in police custody.
The suspect approached the officers and "casually" and "without warning" slashed one of them on the left side of the neck, missing an artery, Shea said during a news conference outside Kings County Hospital Center early on Thursday.
Shea said a uniformed sergeant police officer who were in the vicinity responded to the scene after they heard shots fired. When they arrived, Shea said they found the suspect with a gun in his hand that was believed to belong to an officer.
The suspect was struck multiple times and taken to hospital in a critical condition, Shea said.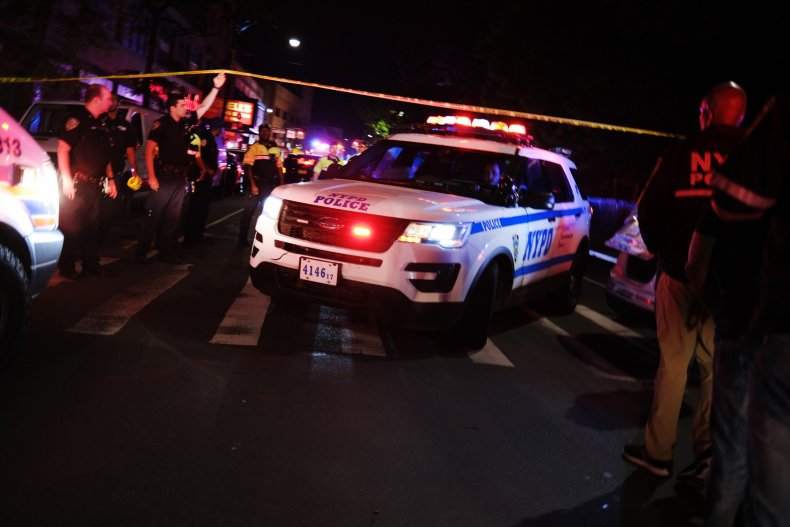 The officer who was stabbed and two other officers who were shot in the hand were all taken to hospital in a stable condition and are expected to recover, Shea added.
He said it wasn't immediately clear how many rounds were fired by police, but 22 shell casings were recovered from the scene as well as a knife.
Shea said: "It appears to be a complete cowardly despicable unprovoked attack on a defenseless police officer and thank God we're not planning a funeral right now."
Shea noted that the incident was one of several attacks on police officers in recent days, including one in which a driver plowed into a police sergeant who was trying to stop looting in the Bronx and a lieutenant who was struck in the helmet by a brick during a brawl with protesters in Manhattan.
"The men and women of this police department should not have to withstand anymore, not one more attack.
"And it's going to take all leaders, elected officials, clergy, as I said many times, community leaders, grassroots people that live and work in these communities. I think we are all fed up with what we're seeing at many levels."
He added: "This violence has to stop and people have to speak and words matter and I shouldn't be at a hospital having the same discussion again."
Mayor Bill de Blasio added that it had been "a tough night" and commended the bravery of New York City's officers.
"Everyone look, this is a moment in our history, we gotta support each other, not matter what else is happening around us, we got to be there for each other," he said. "We got to find a way to move forward, no matter how much is thrown at us, the coronavirus and everything else."
Patrolmen's Benevolent Association President Patrick Lynch blamed Wednesday night's attack on anti-police rhetoric during the protests.
"Are we surprised? Are we surprised we're here in the hospital again. Did we doubt because of the rhetoric we're hearing, the anti-police rhetoric that's storming our streets, are we surprised that we got this call? I'm not. We said it's going to happen," he said.
In a post on Twitter on Wednesday night, Shea said the looting and crime in New York City in recent days had nothing to do with the peaceful protests occurring in the city.
"The widespread criminal activity that we're witnessing at night has nothing to do with the peaceful protests we're standing with during the day," he said. "This senseless looting is organized by bad-actors using a worthy cause as cover."
New York and cities across the U.S. have been rocked by days of protests against police brutality sparked by Floyd's death in Minneapolis on May 25.
The scene of Wednesday night's attack—hours after an 8 p.m. curfew was in effect in a bid to quell violence and looting—is just a block away from where demonstrators and police clashed days ago in an hours-long standoff, the Associated Press reported, which saw a police car burned and protesters beaten with batons.
Earlier this week, De Blasio and Gov. Andrew Cuomo have said the outbreaks of violence had given them no choice to impose a curfew and boost police presence.
Cuomo on Monday said he thought some of the NYPD's responses to protesters had "exacerbated" the situation.
He also said he believed an NYPD officer who was seen driving into a crowd of protesters in Brooklyn during protests over the weekend should be fired.
"There are videos of NYPD cars driving into a crowd that are very disturbing, pulling a mask down off a person to pepper spray them, throwing a woman to the ground. It's on video," Cuomo said.
This article has been updated with additional information.