Police Hunt Suspect Who Hurled Abuse at Asian Women Over Coronavirus, Attacked Another Woman Who Defended Them
Authorities in Canada are hunting a man who allegedly yelled abuse about coronavirus at two Asian women on a bus, then attacked another woman who stood up for them.
The suspect boarded a bus at Main Street and East Hastings in Vancouver at around 4.25 p.m. on April 15, Metro Vancouver Transit Police said in a news release on Tuesday.
Shortly afterwards, two Asian women wearing protective masks had gotten on the bus and sat down. The suspect shouted something to the effect of "Go back to your country; that's where it all started," transit police said.
When another woman who was sitting opposite him told him to leave the two women alone, they pair got into a brief verbal altercation and he allegedly threatened her.
Moments later, the suspect allegedly jumped up and kicked the woman in the leg, police said. As she stood up to defend herself, he allegedly reached over and violently grabbed her hair, pulling so hard that a large clump of hair was pulled from her head.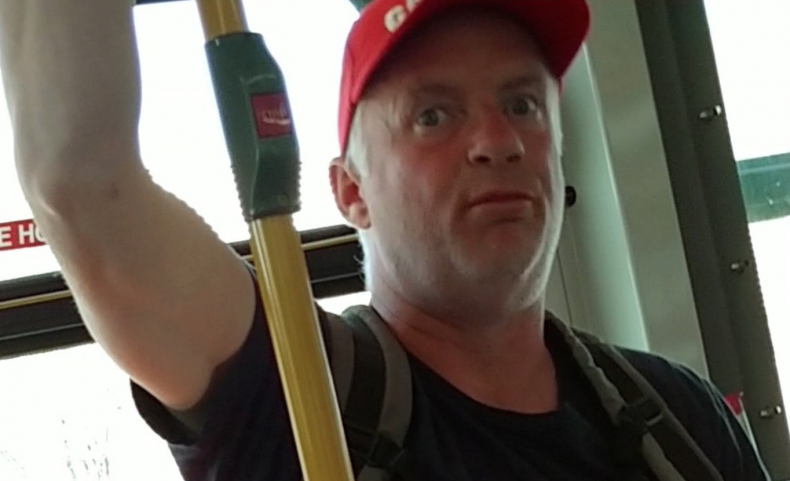 The man allegedly punched the woman numerous times in the head and wrestled her to the ground.
She was eventually able to fight him, transit police said. The suspect then jumped off the bus and was last seen running away near Commercial Drive and East Hastings.
The victim received bruising to her leg and an injured scalp, transit police said.
"All passengers have the right to feel safe and protected while using public transport," Constable Mike Yake said in an appeal for help in identifying the suspect. "There's absolutely no place for racism and violent on our transit system."
The suspect is described as a Caucasian male, aged between 45 and 55, approximately 5 ft 6 ins tall, weighing 180 lbs, with a stocky build. He was wearing a red baseball hat with the letter "V" marked in the centre, a blue t-shirt, light grey sweat pants and blue shoes and was carrying a dark grey jacket with a grey backpack.
According to The Star, some officials are questioning why police didn't draw attention to this incident sooner.
"Like most Vancouverites, I'm disgusted to hear of radicalized violence in our city," Vancouver Councillor Pete Fry told the newspaper. "In the interests of community safety, I think we should be hearing about these sorts of violent predatory assaults in a more timely manner, not a month after the fact."
Last month, Vancouver Police issued an appeal for information about the assault on a 92-year-old man at a convenience store in East Vancouver that was being investigated as a hate crime.
The incident occurred on March 13, but the appeal for information was issued a month later on April 22.
Authorities have reported an uptick in incidents of racist and xenophobic attacks against Asian people across the world since the coronavirus emerged in the Chinese city of Wuhan in December last year.
Last week, United Nations Secretary-General António Guterres said the coronavirus pandemic has launched "a tsunami of hate and xenophobia, scapegoating and scaremongering."
Speaking in a video uploaded to social media, he called for "an all-out effort to end hate speech globally" as he appealed for "everyone, everywhere, to stand up against hate."
Metro Vancouver Transit Police urged anyone with information about the identity of the suspect or who witnessed the April 15 incident to call their tip line at 604.516.7419 or text 87.77.77 and refer to file 2020-7645.