Police Hunt Monkeys Loose in Cincinnati, Seen Swinging From Trees
Police in Cincinnati responded overnight to reports of at least five monkeys on the loose, some of which were apparently seen swinging from trees.
The city's police department said that the animals were spotted at a cemetery on Wednesday evening.
Officers told the FOX19 news station that the monkeys may have escaped from a private collection.
Eyewitness Alycha Tucker told WLWT: "I just stood there as my eyes adjust to pitch blackness and that is when I saw it, just standing there, taller than garbage can, and its arms were real long hanging down and its arms are real skinny."
Staff from Cincinnati Zoo were called on to help search for primates, however none have yet been found.
Officials told the Cincinnati Enquirer that no monkeys had been sighted despite an investigation by police.
A search of St. Joseph's Cemetery in East Price Hill on Thursday morning again yielded no monkeys, reports said.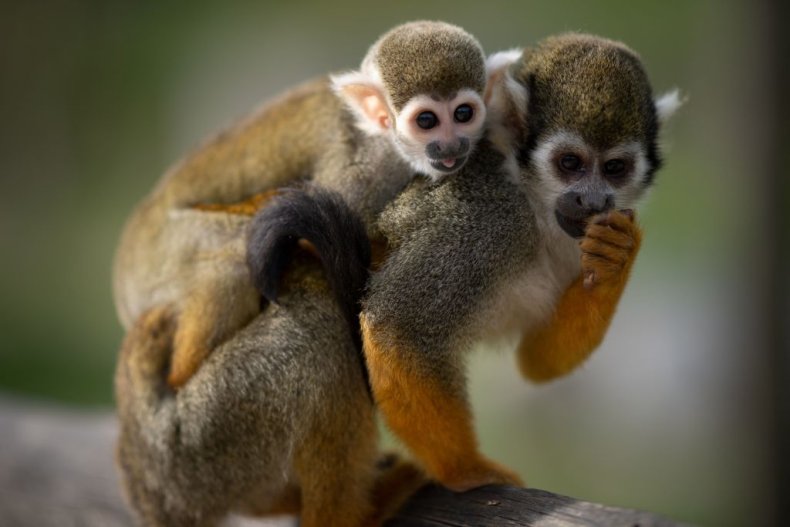 Two calls were received by police but dispatchers said they had not managed to reestablish contact with the individuals who had phoned in.
A low-res video being shared on Facebook appeared to show a monkey illuminated by torchlight sitting in a tree.
A man in the clip can be heard saying there are three of the primates. A child's voice responds: "They're right there."
However, it is unclear when or where the video was taken and if it does indeed show monkeys.
The lack of a definitive sighting led to suspicion that the calls were a hoax.
Michelle Curley, spokeswoman for Cincinnati Zoo, told the Enquirer: "We are evaluating the situation to see if there's anything we can do to assist the Cincinnati Police Department. Nothing could be done in the dark."
Newsweek contacted the Cincinnati Police Department for comment.
Under Ohio's 2012 exotic animals law, private owners are banned from buying, selling and breeding a number of species, including certain types of monkey as well as larger creatures such as lions, tigers and elephants, the Enquirer reported.
Marmosets, capuchins, lemurs, squirrel monkeys and service spider monkeys are permitted pets, while more than a dozen primates including common woolly monkeys and red, black, and mantled howler monkeys are not allowed to be kept.
Owners who have a restricted animal are permitted to keep them so long as they have been registered and their homes meet certain caging and care requirements, as well as complying with the federal Animal Welfare Act.