California Man Robs Artist After Asking For a Caricature, Leaves Behind Portrait as a Clue—Police
Police are hunting for a thief who asked a caricature artist for a portrait, then ran off with the artist's money bag—but left the drawing behind.
The incident happened while the caricature artist was working at the Festival of Lights event in downtown Riverside, California, on December 5.
Riverside Police Department said the suspect had approached the artist at around 11.50 p.m. and asked for a portrait.
Police said the suspect waited until the caricature was finished, then grabbed the artist's money bag which contained around $500 in cash. He fled the scene on foot, but left the portrait behind.
Riverside Police Department shared the portrait on Facebook in a bid to trace down the thief. "DO YOU RECOGNIZE THIS CARICATURE? And no, we are not kidding…," police wrote alongside the picture.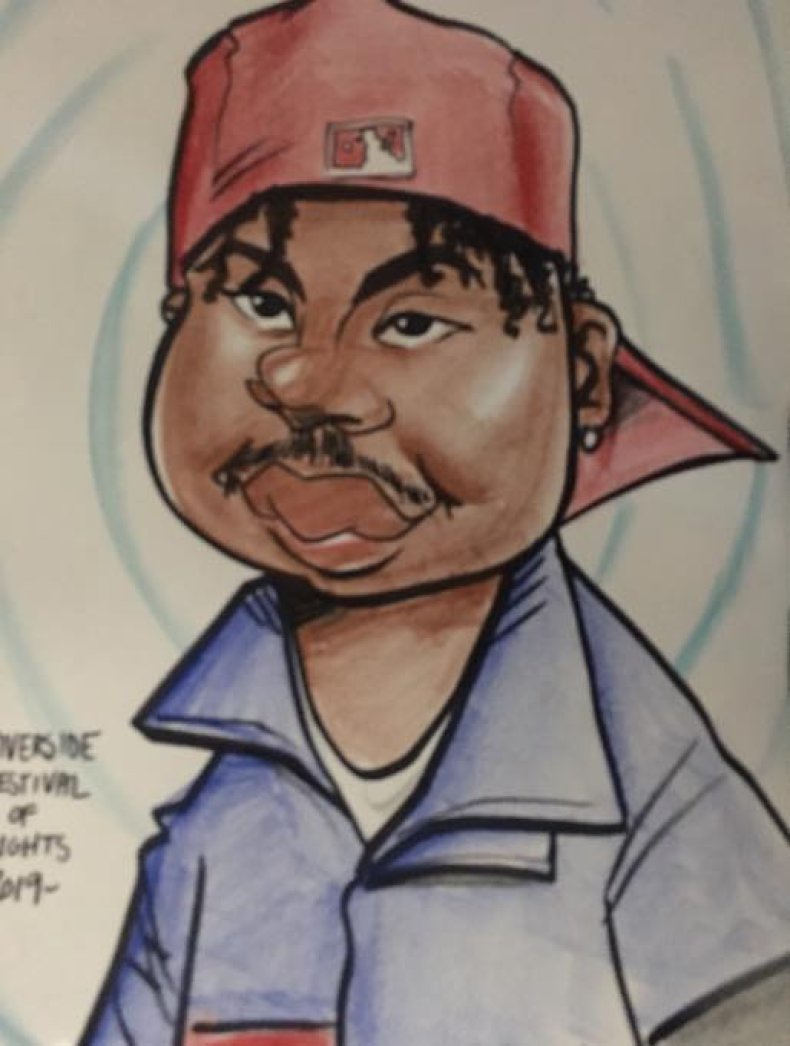 The caricature shows a man with a bored expression on his face, dressed in a blue shirt and with a red baseball cap worn backwards on his head.
The post added: "Around 11:50 p.m., the suspect approached the victim and asked for a portrait of himself. The victim agreed and created the attached caricature of the suspect.
"Once the victim was finished, the suspect grabbed a money bag that belonged to the victim, which contained about $500 in cash. The suspect fled on foot leaving his portrait behind." Police added the caricature is of the suspect, but "has exaggerated characteristics and features."
The post prompted a flood of comments from people in the community, who expressed their sympathy for the artist. "I feel for the artist he was just trying to make a little xtra cash so sad," Brenda Sierra wrote.
"Sad but funny. I hope we can catch this guy," Marco Antonio Murillo Arias added. Sami Motaghedi added: "I hope he's caught! How sad the artist lost all his money that he worked for!!"
Another person joked that he hoped the suspect's booking photo matched the caricature, writing: "If his booking photo doesn't look identical to this, I will be disappointed...."
The suspect was described as a black male, aged in his early 20s, about 5 foor 1 inch tall with an average build, black hair and mustache. He was last seen wearing a blue and red jacket, white undershirt, black pants, and red hat.
"This is an unusual way to help identify a suspect, but we are hoping someone will actually recognize him from the caricature and contact our detectives so he can be held accountable for his actions," Riverside Police Department spokesperson Officer Ryan Railsback told Newsweek.
Anyone with information about the suspect's identity or about the investigation is urged to contact Detective Jeff Putnam at (951) 826-2054 or jputnam@riversideca.gov.
This article has been updated with a comment from police.