Police Hunt Woman Seen Posting Feces Through Trump Supporter Mailboxes
Police in Maine have launched an appeal for a female suspect accused of posting dog feces through the mailboxes of President Donald Trump supporters.
The suspect, who was seen riding a bike through the town of Hampden, allegedly targeted homes that had Trump signs displayed on their front lawn.
A photo of the suspect showed her wearing Crocs and a black face mask.
Police were alerted earlier this week after Hampden residents reported finding contaminated mail.
Officers said at least three mailboxes were found to have feces in them.
Alyshia Canwell, a patrol officer with Hampden Public Safety, said: "She has been picking up dog feces and putting it in mailboxes, specifically of people who have Trump signs outside.
"She also has been defacing Trump signs, writing comments on the signs."
Hampden Police Department said defacing political advertising was a crime and after appealing for information announced that they had identified a minor in relation to the incident.
They said they were talking with those involved but no charges had been filed.
On Sunday, the president shared a photo of a front lawn adorned with dozens of Trump placards staked into the grass. However it later emerged the photo was taken during the 2016 campaign.
It comes as both Democrats and Republicans have voiced concerns about voter intimidation in the lead-up to the November election.
Trump has said he would like to see law enforcement dispatched to polling stations to guard against voter fraud.
But the president also suggested that people in North Carolina test the election systems by voting twice, once by mail and again in person.
"Let them send it in and let them go vote, and if their system's as good as they say it is, then obviously they won't be able to vote," he said.
Meanwhile, Joe Biden is said to be assembling hundreds of lawyers to monitor potential issues on polling day.
He said he had already organized 600 lawyers to "try to figure out why the chicanery is likely to take place," as well as 10,000 other volunteers.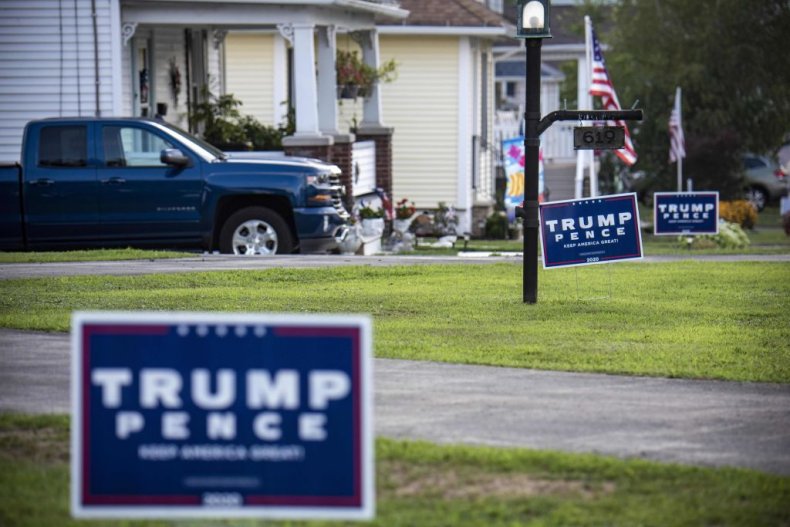 The Democratic challenger has previously warned of "systemic program on vote suppression."
Speaking at a fundraiser in July, he said: "We're continuing to fight any effort to exploit the pandemic for political purposes, support the countless state and local officials working like hell to make voting safe and accessible for citizens, especially the most vulnerable, or call out local rules that don't adequately ensure access to vote."