Far-right demonstrators and counter-protesters clashed during rallies in Georgia and Michigan on Saturday, leading to police intervention as physical fights broke out.
In Stone Mountain, Georgia, a few dozen right-wing demonstrators carrying Confederate flags and guns gathered, ABC News reported.The demonstrators were led by a group from Arkansas called Confederate States III%. They had applied for a permit to gather at Stone Mountain Park, which features large carvings of Confederate President Jefferson Davis and Confederate military leaders Robert E. Lee and Stonewall Jackson. Their permit was denied over concerns of possible violence.
The right-wing group was dwarfed in size, however, by hundreds of counter-demonstrators, many of whom carried signs supporting the Black Lives Matter movement. Many of the counter-protesters also carried guns. Although the rallies remained largely peaceful at the outset, police intervened as fights broke out in the early afternoon.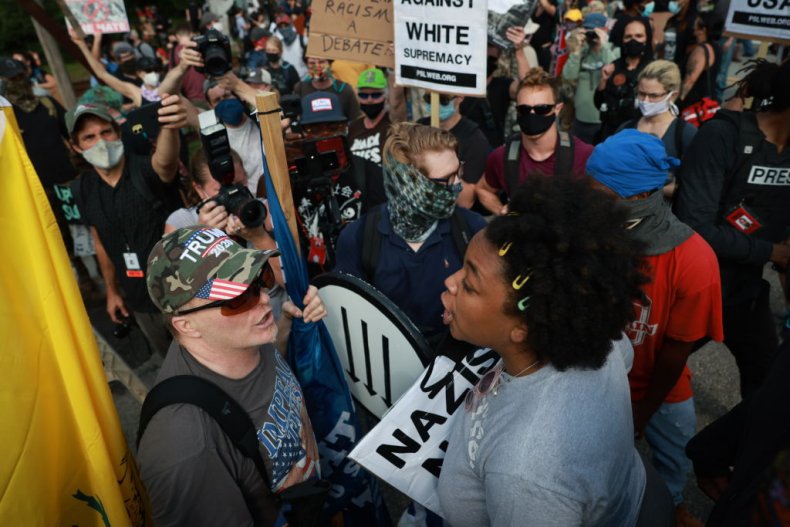 "Our mission was clear, allow for the opportunity for all sides to exercise their free speech," Stone Mountain Police Chief Chancey Troutman said, Atlanta's WSB-TV 2 reported. "I believe we accomplished that mission. All sides had their say."
Troutman said he was surprised that the fighting broke out. "I didn't expect them to be fighting like they did, but once they started fighting in front of the church, that's when I got together with my resources and we moved in," the police chief said.
The Stone Mountain Police worked with the Georgia National Guard and DeKalb County Police to monitor and disperse the demonstrations. According to local media reports, no arrests were made and no property was damaged.
Newsweek reached out to the Stone Mountain Police Department for further comment, but did not receive a response by the time of publication.
A similar situation unfolded Saturday in Kalamazoo, Michigan. The alt-right group the Proud Boys held a pro-police/anti-antifa march on Saturday, and were confronted by counter-demonstrators. The Southern Poverty Law Center has classified the Proud Boys as a white nationalist hate group. Videos of the clashes were shared on Twitter by MLive reporter Samuel J. Robinson.
"Proud Boys are attacking counter protesters, spraying pepper spray. I have been hit and sprayed," Robinson, who is Black, wrote in one post, sharing a video of the violence.
The Kalamazoo Department of Public Safety began arresting some of the demonstrators in the early afternoon, according to the Detroit Free Press. Robinson was among those detained, despite him covering the rallies as a journalist. He was charged with "impeding traffic" but was later released on a $100 bond.
"The working press must be assured the right to cover public events that clearly are in the public interest, without reprisals," John Hiner, vice president of content for MLive Media Group, said in a statement. "These situations are difficult for all involved, but media who identify themselves are not a part of the event—they are working it, just like the police."
Newsweek reached out to the Kalamazoo police for comment, but it did not receive a response by the time of publication.