Police Investigate Destruction on Arizona GOP Field Office During Trump Campaign Gathering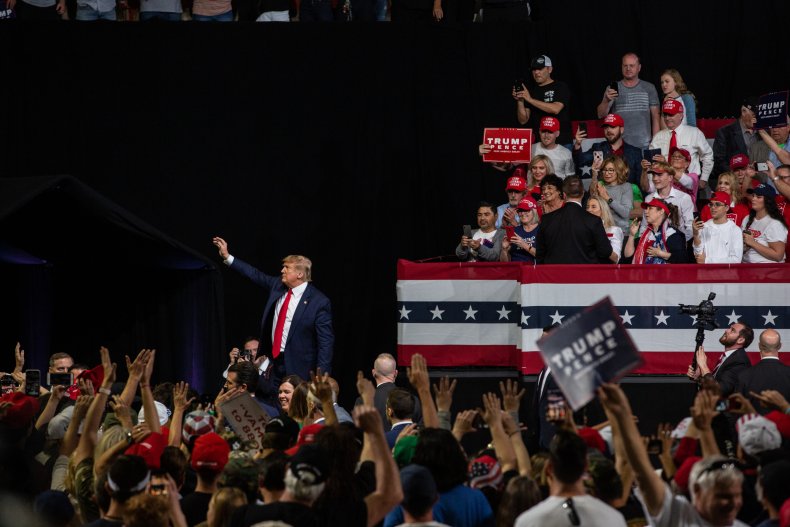 An Arizona GOP field office was damaged by an unknown object that broke a window and blinds Thursday evening during a Trump campaign gathering.
Bullhead City Police spokeswoman Emily Fromelt confirmed to Newsweek that the incident, which happened at about 7:20 p.m., is being investigated as "aggravated assault and criminal damage" but said it is not believed to have been a shooting, contrary to other reports. No suspect or motive has been identified.
"No one was seen in the area or fleeing," she said. (Anyone with information is urged to call BHCPD at 928-763-1999.)
But Republican leaders are concerned that Republicans were deliberately targeted.
Trump Victory spokesman Rick Gorka told Newsweek that six people were in the office at the time, making use of the site's strong internet connection to hold an online campaign meetup.
"This office is very clearly marked as a Republican office," Gorka said. "There's no way you could mistake this for being anything else."
Google Street View shows "vote Republican" signs and a portrait of Abraham Lincoln prominently displayed in the office windows and GOP signage out front.
Gorka said he doesn't know if President Donald Trump has been personally made aware of the incident, but top Republican National Committee leaders and officials in the White House have been notified.
"We're trying to track down individuals who were there and check on their mental well being," Gorka said.
Though a motive hasn't been determined, Gorka said he worries it's the "latest incident" of Trump supporters being targeted.
In February, a man plowed his van into a group of GOP volunteers who were holding a voter registration event in Jacksonville, Florida.
Earlier that month in New Hampshire, a teen Trump supporter wearing a "Make America Great Again" hat outside of a polling place was randomly slapped by a man.
"There's a pattern of violence against the president's supporters," Gorka said. "It's escalating and it's getting scary."
Arizona is seen as a crucial battleground state in the November 3 election. Trump held a mass rally there in February, and it was the first state he traveled to after putting his travels on hold as the coronavirus shut down much of the country when he toured a medical supply maker in May.
While not a campaign event, the Arizona visit prompted several hundred Trump supporters gather in prominent areas near the airport and the Honeywell manufacturing facility he toured, wearing MAGA gear and waving Trump campaign signs.
Trump beat his 2016 rival Hillary Clinton in Arizona 48 percent to 45 percent, but recent polls have shown him trailing former Vice President Joe Biden, the presumptive Democratic nominee this year, in the state.