'All Lives Matter' Traffic Sign Investigated by Police
Police in the city of Melrose, Massachusetts, have launched an investigation after the phrase "all lives matter" was featured on an electronic traffic sign.
Melrose Police Chief Michael Lyle said he was alerted to the "unfortunate and improper" wording of the sign by Mayor Paul Brodeur on Wednesday.
Lyle said a traffic officer had been ordered to update the message on the sign, located on Main Street, from a reminder about fireworks being illegal to a "more general traffic safety message."
He said the sign had been updated to include a reminder about obeying the speed limit and ended with the phrase: "The safety of all lives matter."
"I am aware that the phrase 'all lives matter' is commonly used as a misguided counter to the Black Lives Matter movement," Lyle said in a statement on Wednesday.
"The sign was immediately changed and at the request of the Mayor, I launched an investigation, which is ongoing."
Lyle said the officer who updated the message told him it had not been posted with "either malicious or political intent."
"The officer, by his account, was trying to type a traffic safety message in the limited space offered by the electronic sign and did not realize the totality or impact of the words he had posted. Nonetheless, I will conduct a full and thorough investigation."
He added that the findings of the investigation will be made public.
"On behalf of the Melrose Police Department, I sincerely apologize to our residents and anyone who drove past the sign today," Lyle added.
He said all roadway messages and messaging on electronic signage will have to be approved by his office before going live from now on.
In a message posted on Facebook on Wednesday, Brodeur also apologized to the community and said he had ordered the sign be taken down immediately.
"I have just been made aware that the following traffic sign is being displayed on Main Street," he said in a post, alongside an image of the sign.
"I have ordered that it be taken down immediately and am taking steps to find out how this happened. I apologize to the residents of Melrose." Brodeur's office has been contacted for additional comment.
Brodeur's statement received a mixed response on Facebook, with some claiming that there was nothing wrong with the sign while others called it a "dog whistle."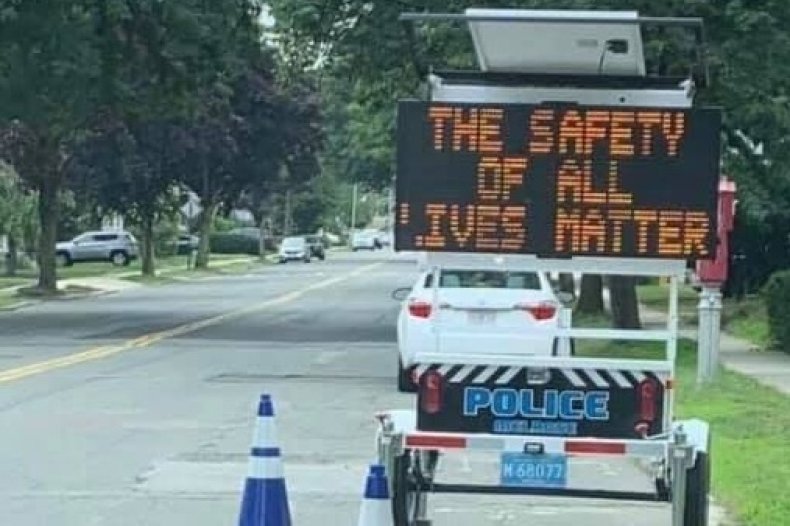 "Nothing wrong with this sign, sad you feel the need to apologize. ALL lives DO matter when it comes to safety," Ann Elizabeth wrote.
But Kelly Thorne wrote: "That wasn't an 'accidental' phrasing no matter what excuse is given. It's a not-very-coded dog whistle."
Jennifer Horne added: "The sign was in extremely poor taste and shows bad judgment by someone, and it doesn't represent my values. I'm embarrassed for us."
Rev. Jaron Green, a Melrose resident who is Black, told NBC Boston that the phrase "all lives matter" has a "deeper meaning" in the current climate.
"'All lives matter' is not just what the words say. They have a deeper meaning. So to say that is a dog whistle in this moment," he told the station.
"We're in the midst of a double pandemic. The pandemic of COVID-19, but also the pandemic of racial injustice, and the whistles are getting louder and we know exactly what they mean."
The incident comes following weeks of sustained protests against police brutality and racism across the U.S. touched off by the killing of George Floyd, a Black man, in Minneapolis police custody on May 25.