Police Investigate After Swastikas Were Spray-Painted on American Red Cross Building in Philadelphia
Police are investigating after an American Red Cross building in Philadelphia was vandalized with a series of swastikas.
Four symbols were found spray-painted on the front pillars of the building in the 2200 block of Chestnut Street in Center City on Sunday, CBS Philly reported. The swastikas were painted over later in the day, according to the station.
In a statement to Newsweek, a spokesperson for the American Red Cross said it was "saddened and disappointed" to discover the graffiti.
"The graffiti was extremely insensitive and does not reflect the open and inclusive values and Fundamental Principles of the American Red Cross," it added.
Dave Skutnik, the organization's southeastern Pennsylvania regional spokesman, told NBC 10 that police found graffiti at other locations in the vicinity.
No other information about the incident was immediately available. Philadelphia police have been contacted for additional comment.
Shira Goodman, the regional director for the Anti-Defamation League (ADL), which fights anti-Semitism and hate, condemned the vandalism and said the use of Nazi symbols was a "calculated move" that was designed to "wound deeply."
"The ADL was saddened to learn that cowardly actors defaced the American Red Cross building with swastikas," Goodman told NBC 10. "We must all stand against this." ADL has been contacted for additional comment.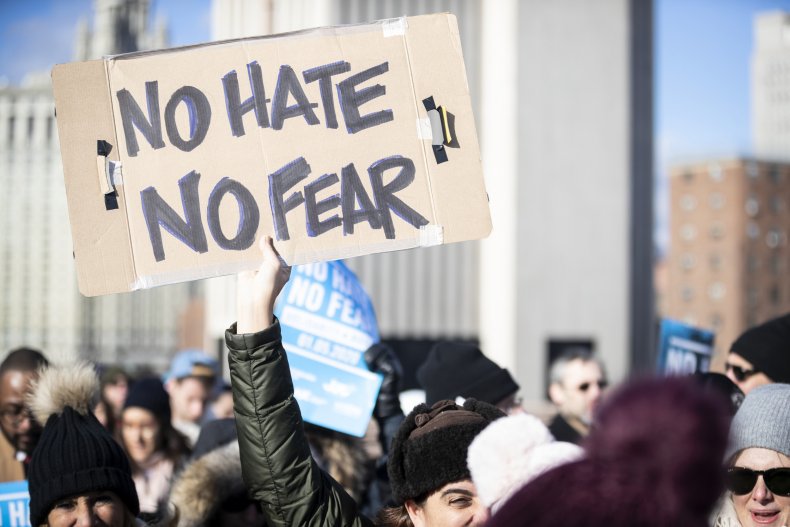 It comes after the ADL reported last week that anti-Semitism in the U.S. had hit an all-time high last year. More than 2,100 acts of assault, vandalism and harassment were reported across the county in 2019—the most since the ADL started tracking incidents in 1979, according to the group's annual Audit of Antisemitic Incidents.
The report said 919 of the incidents involved vandalism where property was damaged in a manner that harmed or intimidated Jews. Swastikas were found in 746 of these incidents. The number of vandalism incidents was up 19 percent from 774 in 2018, the report added.
It also found that anti-Semitic incidents were reported in every U.S. state, except Alaska and Hawaii, in 2019.
The states with the most incidents were New York with 430, New Jersey with 345, California with 330 followed by Massachusetts with 114 and Pennsylvania with 109. The five states in total accounted for almost half (45 percent) of all reported incidents last year.
"This was a year of unprecedented antisemitic activity, a time when many Jewish communities across the country had direct encounters with hate," said Jonathan A. Greenblatt, the CEO of the ADL said in a statement.
"This contributed to a rising climate of anxiety and fear in our communities. We are committed to fighting back against this rising tide of hate and will double down on our work with elected leaders, schools, and communities to end the cycle of hatred."
Earlier this year, thousands of people marched along New York City's Brooklyn Bridge in solidarity with the area's Jewish community following a series of anti-Semitic attacks.
The "No Hate No Fear" march was organized in response to a string of attacks apparently targeting Jews, including the stabbing of five people as they attended a Hannukkah celebration on December 28 last year and an attack on a kosher deli in Jersey City, New Jersey on December 10 that left three people dead.
This article has been updated with a statement from the American Red Cross.