Police Investigating Suspected Nursing Home Murder-Suicide Involving Elderly Man, Partner
Police in Rochester, New York, are investigating what they believe to be a "murder-suicide" at a nursing home, and say a man in his eighties shot himself and his lifelong partner on Saturday.
Police say that the man was visiting his partner, who was also in her eighties, at the Wesley Gardens nursing home around 10 a.m. on Saturday. Toward the end of the visit, the man "fatally shot his lifelong partner and then tragically turned the weapon on himself," Rochester Police Captain Frank Umbrino said during a media briefing posted online by news station WHEC.
Staff at the facility responded after the shots were fired, and found the two people dead, Umbrino said. No other residents in the facility were injured during the incident.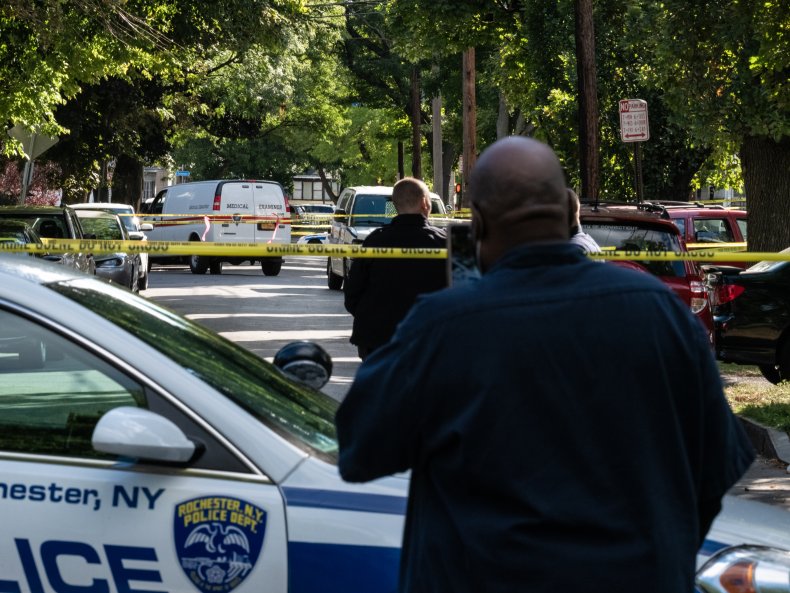 Police are still contacting family members of both decedents, and conducting an investigation, but Umbrino said that "at this point in time it's quite obvious that this is a tragic murder-suicide."
"The elderly woman was a patient here at the facility for at least a couple of weeks. She was here because her health was in fact deteriorating," Umbrino said.
"This an extremely tragic event, and from what we're gathering, her partner was having a very difficult time dealing with her deteriorating condition and unfortunately this is a tragic step that was taken," he added.
Police said they could not release the identities of the man and woman at this time.
Umbrino said the nursing home staff did an "excellent job" responding to the incident.
"I don't think there's anything they could have done to prevent this tragedy from happening. Unfortunately the decision was made by the individual, this is what he was going to do, and he unfortunately he carried it out," he added.
According to WHEC, Wesley Gardens issued a written statement about the incident on Saturday.
"We thank the Rochester Police for their prompt response. We send our condolences to their families and loved ones," the nursing home said.
Newsweek has reached out to the Rochester Police Department for any updates in the investigation.
In a similar incident in August, an elderly man and woman were found dead with gunshot wounds at an assisted living facility in Hawaii. Police said that they were determining whether the incident was a murder suicide, or two suicides, the Washington Post reported.
The couple left behind a note detailing they had taken their lives, according to police.