Miami-Dade Police Launch Investigation After 'Deeply Troubling' Arrest of Black Woman Who Allegedly Called Them for Help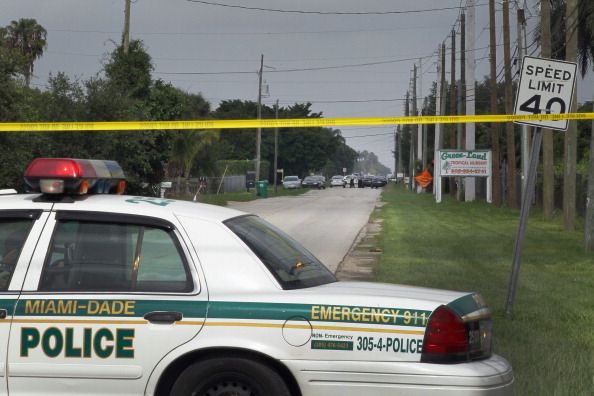 A police officer in South Florida has been relieved of his duty after a video went viral on social media of a woman being violently taken down on a sidewalk.
The video, posted to social media on Wednesday by Twitter user Brother Tyrone X, shows a woman being surrounded by Miami-Dade police officers. The Twitter post states that the unknown woman called the police for help after someone threatened her with a weapon.
"A black woman called Miami-Dade Police for help after a man brandished a weapon and threaten her life. Yet, she was arrested for being distraught," the Twitter post read.
In the video, the woman can be heard talking to police officers when one of them grabs her arm while she repeatedly tells them, "Do not touch me, do not touch me."
The person recording the video can be heard telling officers that the woman "didn't do anything." One of the officers then handcuffs the woman, puts her in a headlock and brings her to the ground to detain her.
"When he's giving her orders, she's being disorderly, she needs to calm down," one of the police officers can be heard saying in the video.
It is unclear when the video was taken and why the officers were trying to handcuff her. The video has been viewed on Twitter over 150,000 times.
Director of the Miami-Dade Police Department Juan J. Perez confirmed the incident in a statement on Wednesday. Perez said an investigation has been launched to get to the bottom of what transpired in the video.
"I find the actions depicted on the video deeply troubling and in no way reflective of our core values of integrity, respect, service, and fairness. This is why last week, upon becoming aware of the video posted on social media, an immediate inquiry was initiated which resulted in the involved officer being relieved of duty and of his role as a field training officer," the statement read. "An investigation into the entire incident is currently ongoing and I upon its conclusion, I will hold those that violated any of our policies and/or procedures accountable for their actions or lack thereof."
The Miami-Dade Police Department is expected to address the incident on Thursday, WPLG reported.
Earlier this month, a video went viral after Colorado police officers brandished a weapon at a black man who was picking up trash outside of his home in Boulder, Colorado. That video, which was shared on YouTube, shows a confrontation between the man and the officer in front of his home.