Turkish Embassy Bodyguards Beat Up Americans in Washington, Video Shows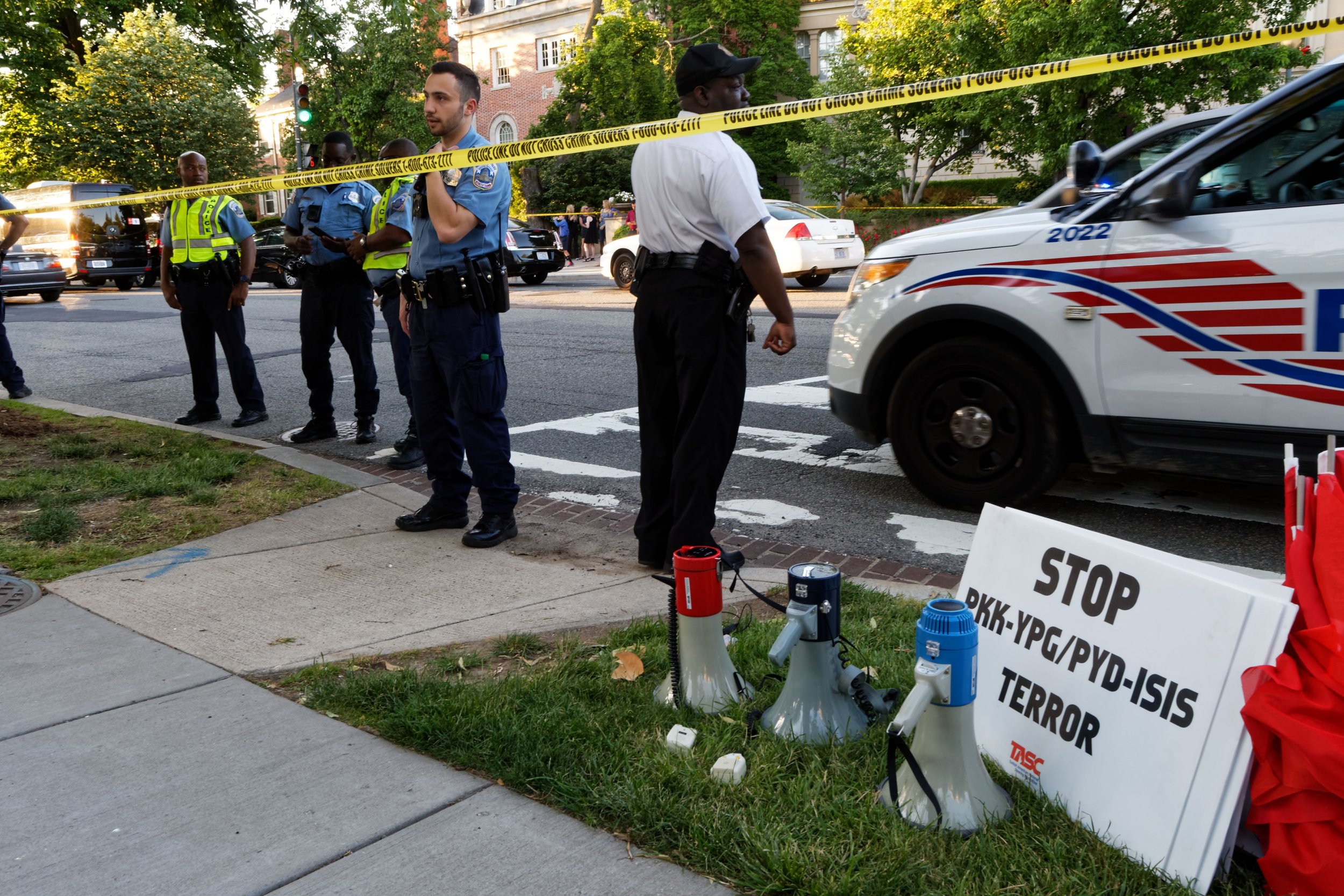 Police have described a massive brawl Tuesday outside the Turkish Embassy in Washington, D.C., as "pretty dicey" after footage emerged showing men believed to be the Turkish president's bodyguards beating up peaceful protesters.
A video of the incident posted by Voice of America appears to show police trying to split up President Recep Tayyip Erdogan's security team and pro-Erdogan supporters facing off with Kurdish and Armenian demonstrators. One Erdogan supporter claimed the group was simply celebrating their president, Agence France-Presse reported. Anti-Erdogan protesters said the president's supporters had charged them outside the embassy for exercising their free speech rights.
"We are communicating our concern to the Turkish government in the strongest possible terms," Heather Nauert, a State Department spokeswoman, told The New York Times.
Police said they were in "the preliminary stages" of an investigation into the incident. Metropolitan Police Chief Peter Newsham said Wednesday it "appeared to be a brutal attack on peaceful protesters at the Turkish ambassador's residence."
Newsham said at a press conference following the incident: "That's not something that we will tolerate here in Washington, D.C. This is a city where people should be allowed to come and peacefully protest. Police involvement in that case was pretty dicey, because there were some people out there who had firearms. [Officers] had to safely restore order, and thankfully that was done without more significant injuries."
Police said 11 people had been injured in the brawl, and two people, Ayten Necmi, 49, of New York and Jalal Kheirabaoi, 42, from Virginia, had been arrested at the scene and charged with assault and assault on a police officer respectively.
D.C. Mayor Muriel Bowser called it a "violent attack on a peaceful demonstration," and said it "is an affront to D.C. values and our rights as Americans."
Sayid Reza Yasa, a U.S. citizen who helped organize the demonstration, said he lost a tooth in the scuffle after he was beat up and knocked to the ground. "This is not acceptable," Yasa told The New York Times. "This is America. This is not Turkey."
Washington authorities said they had "very good video" and were confident they would be able to identify most of the assailants but did not specifically comment on whether any members of Erdogan's security detail were involved in the brawl.
In a statement, the Turkish Embassy blamed the conflict on the leftist Kurdistan Workers' Party, or PKK, a Marxist group in Turkey that has for decades been locked in a military conflict with Ankara. "Groups affiliated with the PKK, which the U.S. and Turkey have designated as a terrorist organization, gathered yesterday without permit in Sheridan Circle in the immediate vicinity of the Ambassador's residence, while the president of Turkey was visiting the residence," the statement read. "The demonstrators began aggressively provoking Turkish-American citizens who had peacefully assembled to greet the president. The Turkish-Americans responded in self-defense and one of them was seriously injured. The violence and injuries were the result of this unpermitted provocative demonstration. We hope that, in the future, appropriate measures will be taken to ensure that similar provocative actions causing harm and violence do not occur."
The brawl came just hours after a meeting between Erdogan and President Donald Trump at the White House.