Police in Kentucky rescued a missing 16-year-old girl in a traffic stop after she used TikTok signals to alert a motorist in a car traveling behind her that she was in distress.
Laurel County Sheriff's Office said that someone called 911 after they saw the girl in the car in front of them making hand gestures which are known on the social media platform as meaning, "violence at home," "I need help" and "domestic violence."
The 911 caller stayed on the line and followed the car the girl was in to give updates on where they were going as they headed south on I-75 around midday on Thursday.
Laurel Sheriff's investigators waited at exit 41 at London and pulled the silver Toyota over as it was exiting the interstate. They discovered that the girl had been reported missing out of Asheville, North Carolina by her parents two days earlier.
Officers found that she got into the car with James Herbert Brick, 61, of Cherokee, North Carolina, who drove them through North Carolina, Tennessee, Kentucky and into Ohio where he had relatives.
"When the male subject's relatives realized that the female in his custody was under age and reported missing, the accused left Ohio traveling southbound and the female juvenile then began attempting to get motorists attention to call 911," the statement by Laurel County Sheriff's Office said.
Officers found that Brick had a phone which "allegedly portrayed a juvenile female in a sexual manner."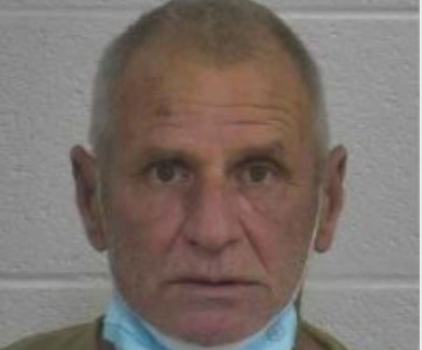 Mugshot of James Herbert Brick, 61. He was arrested on November 4, 2021.
Laurel County correctional center
He was taken to the Laurel County Correctional Center and charged with unlawful imprisonment – first-degree as well as possession of matter sex performance by a minor.
The statement posted on Facebook by Laurel County Sheriff's Office sparked praise for the actions of the police and the motorist who alerted them.
"Thank God she is safe and will be reunited with her family! Thank you Laurel County Sheriffs!," wrote one user. "So glad that she is now safe. Good job by the authorities," wrote another. "Wonderful news! Great citizen & awesome police work," another post read.
Another user wrote: "I mean maybe social media isn't that bad after all! Thank god this girl was saved!!!" while another post read: "THANK YOU Laurel County Sheriff's Office and special thanks to the person that reported this situation to police!"
Police forces in both states as well as social services are involved in the investigation. Newsweek has contacted Laurel County Sheriff's Office for comment.