Police Are Killing More and More People in Brazil's Favelas—and Community Leaders Say Bolsonaro and His Allies Are to Blame
The minibus carrying 8-year-old Agatha Felix was winding its way through the narrow streets of Rio's Complexo do Alemão favela when the shot was fired. The bullet entered the vehicle, and hit Agatha in the back as she sat alongside her mother. She died later that night in hospital.
The rifle was fired by a police officer. Authorities claimed the officer was responding to shots fired by a local gang, but residents said there was no confrontation. Instead, they claimed, the officer was trying to pick off two men on a motorcycle driving past the minivan.
Her death sparked major protests, but Agatha is just one of more than 1,250 people shot dead by police in Rio this year. Conflict between the security forces and favela gangs is a structural issue in Brazil.
The favelas—shanty towns located on the outskirts or hillsides of major cities—have long grappled with poverty, ramshackle infrastructure, discrimination, drugs and gang violence.
Such is the violence that radical solutions are at times proposed. Whether this means forced relocations, more aggressive policing tactics, or simply walling off the favelas so visiting tourists cannot see them, success for the authorities has been elusive.
But with the election of far-right allies President Jair Bolsonaro and Rio de Janeiro Governor Wilson Witzel—who both assumed office in January—the extreme has has become the norm.
Both promised to be unyielding in their crusade for law and order, which won them many supporters among Brazil's violence-weary voters.
The divisive governor promised voters he would "slaughter" Rio's drug gangs. He has dismissed the increase in deaths as a "normal" part of policing, while telling police to shoot to kill. Branding criminals "terrorists," he declared, "Those who pick up guns and call for war will get a war."
In July, Witzel said police should lose their "fear of killing," and in August, Bolsonaro declared that criminals "are going to die in the street like cockroaches." Both are backing a new law that would forgive all actions taken by police officers if they can prove they were motivated by fear, surprise or "violent emotion."
Security forces—often military police—now routinely use armored vehicles, grenades and even helicopter-bourne marksmen in their favela incursions. Witzel proudly shared a video of himself aboard one of the aircraft during an operation.
Police violence in Rio—and across the country—has spiked accordingly to reach a 20-year high. Rio police killed 1,249 people between January and August of this year, translating to five people every day. This represents a 16 percent increase on the same period last year. Fourteen police officers were killed in the same period, down from 24 the year before.
A spokesperson for the Rio de Janeiro state government told Newsweek that its policing operations have produced "positive results," and are always conducted "with the concern of preserving lives."
They added that the rates of multiple types of crime were down over the past year. This includes homicides, the rate of which the spokesperson said was down 21 percent in the first nine months of 2019 compared to the same period in 2018. This, they added, was the lowest rate since 1991.
Between January and September, the spokesperson said police have seized 438 rifles from gangs. And up to the end of October, officers recovered some 32 tons of illegal drugs—more than the whole of 2018 combined.
The spokesperson also said any deaths resulting from police actions are investigated and that any officers found to be at fault are penalized. But for the residents of Rio's favelas, such a pledge is scant comfort.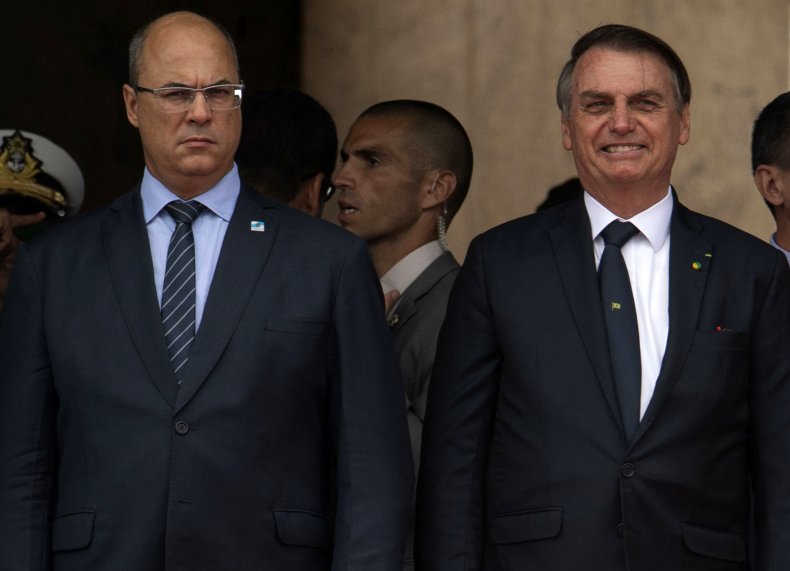 Caught in the middle are more than 1.5 million residents of Rio's favelas. One such neighborhood is Maré, whose 140,000 residents live north of Rio's city center and close to the international airport. Here, as elsewhere, community leaders are fighting to improve the standing of the neglected favela, which until recently didn't even appear on the city's tourist maps.
But community activists have targets on their backs. Last year, for example, Marielle Franco—a Maré native who went on to become a city councillor, feminist activist and advocate against police brutality—was shot dead by unidentified gunmen. Franco's driver Anderson Pedro Gomes was also killed and her press officer wounded.
Marielle was a black lesbian and a representative of the left-wing Socialism and Liberty Party. In Bolsonaro's Brazil, just one of these labels can be enough to earn a death sentence.
The bullets that killed Marielle came from a batch purchased by federal police in the capital Brasilia in 2006. Public Security Minister Raul Jungmann said they were stolen from a post office in the northeastern state of Paraíba, but his ministry walked back the claim when the post office denied the account.
This chart, provided by Statista, shows that Brazil's president Jair Bolsonaro's approval rating has been declining since taking office.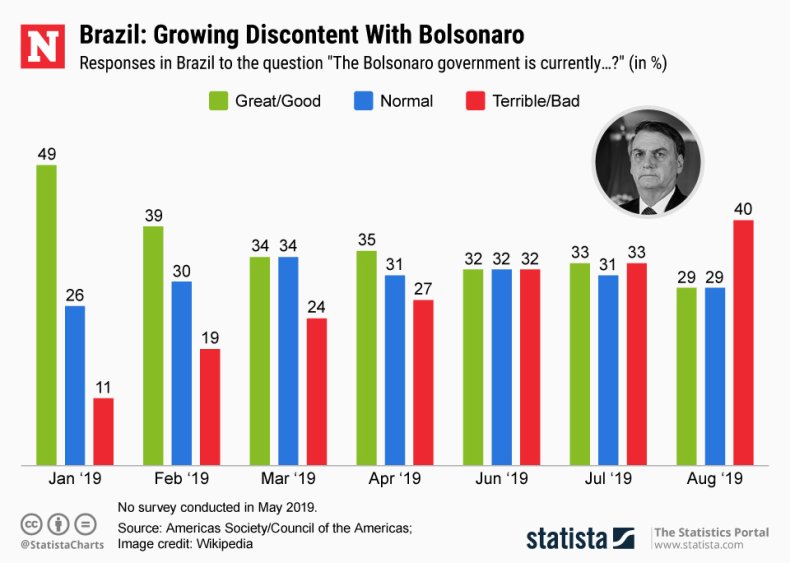 It is still unclear who pulled the trigger or who ultimately decided Marielle should be killed. One man was arrested in January and a warrant issued for another. Both have links to one of Bolsonaro's sons. In March, another two men—both former military police officers—were also arrested.
On Tuesday, new links between the suspected killers and the president emerged, prompting a stunning online outburst from Bolsonaro.
Jornal Nacional reported that hours before Marielle was killed, the two suspected killers met at a seaside complex in the west of Rio, where Bolsonaro owned a property. The building's log book recorded the man as being there to visit Bolsonaro, though the president was hundreds of miles away in Brasilia.
The news broke while Bolsonaro was away in Saudi Arabia. He vented his fury in a Facebook live broadcast in the early hours of the morning, condemning the "foul, lowlife, immoral media," and dismissing any allegation of wrongdoing.
"I had no reason to kill anyone in Rio de Janeiro," he said. "This will not stick."
Anielle Franco, Marielle's sister, told Newsweek that while the most recent reports concerned her and her family, there is still no concrete evidence of Bolsonaro's involvement.
Death threats and kill lists
Anielle has taken on the responsibility of continuing her late sibling's work and directing an institute set up in her name.
Anielle said community leaders are in a tough position, fighting poverty, discrimination and state and federal governments that appear unperturbed—even enthusiastic—about the rising body count.
A teacher, Anielle said children are often caught up in the chaos and violence of the "crazy" police operations into Maré. Her students have even been forced to shelter while gunshots smashed through windows into classrooms. The children are not safe from the indiscriminate violence—four of Anielle's own students have already been killed this year.
"The government say that it's OK, like they have the right to do it because they want to finish the endless violence and the criminals," Anielle said. But in the meantime, "innocent people are dying."
Eliana Sousa Silva is a human rights activist who has been fighting against police brutality and for women's rights. She runs the Redes da Maré—meaning Maré Networks—organization to help residents organize and resist police overreach. It currently has 121 staff, some 60 percent of whom are from Maré.
Eliana was once Marielle's creative writing teacher, and both women's names appeared on a "kill list" leaked after the latter's murder. Eliana receives regular death threats, but has taken the fight to the government regardless.
In 2017, she helped secure legal limitations on police operations in Maré in the form of a Civil Injunction. The order, which did not apply to other favelas, prohibited police operations during school hours, obliged police vehicles to use cameras and GPS devices at all times, dictated that officers must be identified and required the presence of ambulances on all raids.
Eliana explained that this was designed to help separate Maré's law-abiding citizens from the criminal gangs and help them avoid the crossfire. "Just the basics," Eliana said.
The injunction worked, and the number of killings fell significantly. In 2017 before the injunction came in, Maré recorded 41 deaths during 43 police operations. In 2018 after it was introduced, this fell to 24 deaths in 16 operations, Eliana said.
But Witzel has allegedly ignored the injunction since he came into office in January 2019. And in June, he moved to formally suspend the measure.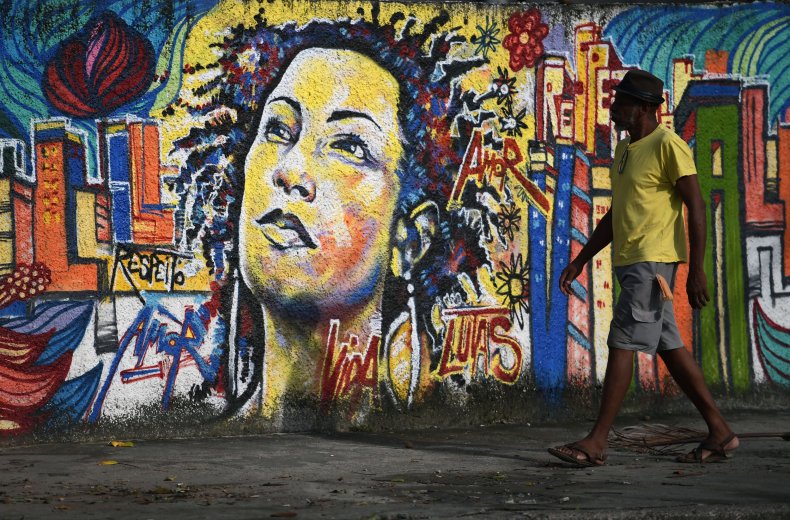 Eliana led Redes da Maré's efforts to reinstate the law, fighting alongside the State Public Defender's Office. As part of the battle, Eliana and her colleagues collected thousands of drawings and letters penned by the children of Maré, depicting the trauma of police raids.
Unmoved, Witzel declared during the process that he would "take the mask off of Redes da Maré," which he claimed was shielding criminal gangs and thus partially responsible for their activities.
Regardless, Eliana's challenge was successful and the Civil Injunction was reinstated in August. But Witzel has not dropped his opposition and is still seeking to do away with the legislation.
A culture of brutality
Violence in the favelas is a long-term, structural problem. Police incursions leave behind bullet holes and bodies, but every new operation also widens the gulf in trust between the local population and the authorities.
Eliana said security forces "have always had a difficult time separating the people that live in the favela from the people that do illegal activities in the favela," producing a "constant" state of tension. "They are entering to kill," she added.
Residents are left feeling like "second-class citizens" who are not served by the state security forces. Eliana characterized the connection as a "breaching rights relationship."
That said, the situation has deteriorated badly since Witzel and Bolsonaro came into office. The president's rhetoric—which Anielle described as "preaching about violence and killing"—is exacerbating an already tense situation, she suggested, breeding a culture of brutality and impunity.
During his presidential campaign, Bolsonaro became known for posing with finger guns—a symbol of his macho, intolerant and violent agenda. Anielle said this made her feel "so ashamed" for the nation.
Bolsonaro also campaigned on a platform of relaxing gun ownership laws, seeking to arm "good citizens" against criminals, even though Brazil already records the highest number of gun deaths each year.
"We still don't know who killed my sister," Anielle noted. Politicians like Bolsonaro and Witzel "just don't care," she added, especially if those affected are from left-wing parties like Marielle. "They are more violent than any other president or governor we already had in Brazil."
Like her sister, Anielle also grapples with death threats. "I'm not going to lie, sometimes I just wake up...not feeling like going [to work],'' she explained. "But those children have nothing to do with fear, and they need education," she added. "That's the only way we can save the world and change their lives."
For Eliana, death threats have become an accepted part of the work that she does. But she and her organization now also have to contend with direct threats from the governor and "people connected to the system."
Redes da Maré's international partners are helping Eliana bolster her personal security, and she said she remains "very focused" of securing "victory for public security." Nonetheless, she acknowledged that government enmity is demoralizing and undermining the work of activists, whose work already carries "a great risk."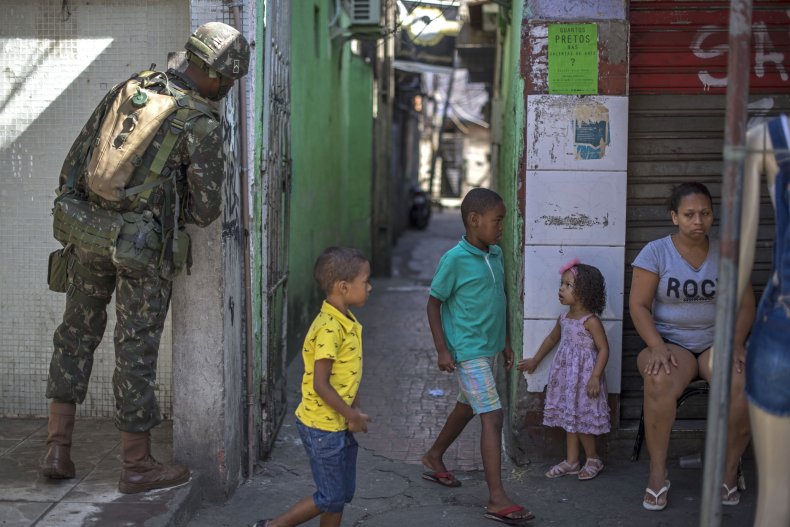 Politicians like Bolsonaro and Witzel are moulding a regressive "state of mind" among the Brazilian population, Eliana added. "It's an extremely sad situation that we are facing right now in Brazil, and in Rio especially."
Community leaders also have to struggle against Brazilian societal norms, which remain entrenched in patriarchy and racism. Marielle fell foul of this system, which is only being strengthened by the far-right administration.
Last year saw an alarming rise in abuse and violence against women and LGBT people, for example. Data released in September showed a total of 66,041 reported incidents of sexual violence in 2018, 82 percent of which were against women and girls.
The represents a 4 percent rise on the previous year and is the highest number ever registered. More than half of the female victims were girls under the age of 13. There was also 263,067 reported domestic violence injuries, meaning a woman was attacked in Brazil every two minutes.
"So many women in Maré [are victims of violence]," Anielle said. The institute is trying to provide vital resources for such women, including legal and psychological assistance, she explained, though noted the organization only got up and running this year so has a lot more to do.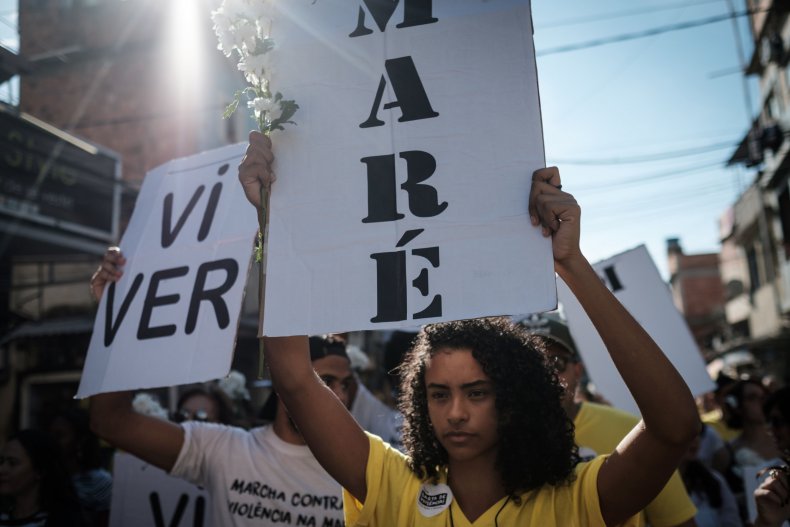 Racism makes their work more difficult and more dangerous. Bolsonaro ran on a proudly intolerant platform. Racist, chauvinistic, misogynistic and homophobic rhetoric all infused his campaign. For many, his election legitimized long-held prejudices.
Brazil "is so racist right now," Anielle said. She added that after Marielle was killed, she received many messages branding her "that black girl" or "that black trash," plus suggestions she should have been killed long before. "People have no sympathy at all, especially for black women," Anielle explained.
"I hope people one day will understand that human rights and political ideology are two separate things," she said. "People celebrate Marielle's death here because she was from the opposite side from them."
"Marielle was a human being. No one deserves to be killed like that."
This article has been updated to include additional comments from Anielle Franco and from the Rio de Janeiro state government.