Racism is more than a social institution; it manifests in mental health as a pervasive indicator of inequity. And among black Americans, the cost is much higher, a new study says.
Black Americans' mental health suffers from recurring exposure to police killings of unarmed black men and women, according to a study published Thursday in British journal The Lancet. The findings implicate racism as an agent of health disparities that affect entire communities rather than the direct family members of those killed.
In a survey of more than 100,000 black Americans, respondents reported more days of poor mental health in the months following police killings, whether exposed through word of mouth, TV, written articles or social media (as was the case in the live-streamed murder of Philando Castile, who was shot by police after they pulled him over for a broken taillight).
Throughout the survey, respondents were exposed to one police killing in their state every three months, about four per year. The most marked effects occurred in the immediate weeks and months following publicized killings.
Respondents reported their behavior in Behavioral Risk Factor Surveillance System interviews from 2013 to 2015. Poor mental health days were characterized by heightened awareness of institutionalized racism, lower self-worth, fear of victimization and distrust toward law enforcement. Due to the sheer number of police killings, black adults were more likely to expect to die.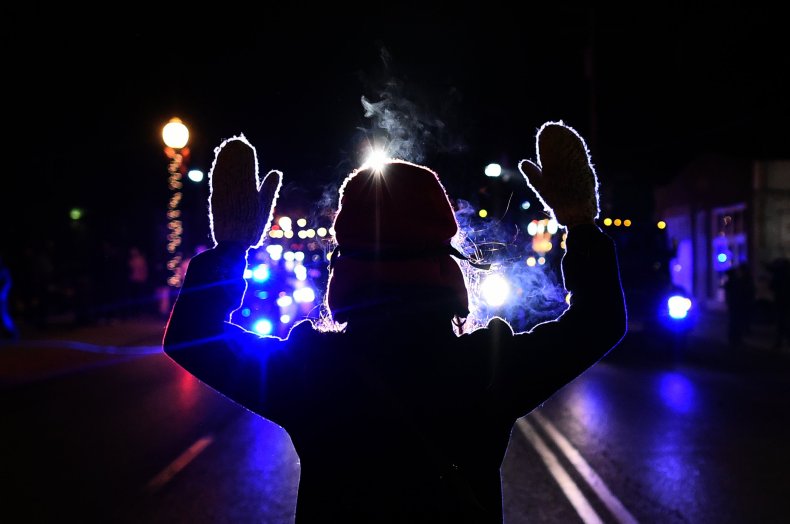 It's a phenomenon called black paranoia, said Jeffrey McCune, associate professor of African and African-American studies at Washington University in St. Louis. Black deaths occur so often that they go untreated by society, so black Americans are constantly waiting for the moment they fall victim to police brutality, death or another injustice, he said.
Though researchers intended to survey respondents who lived in the same states as the killings, black Americans across the country felt the tremors too, and reported similarly poor results.
"These acts of repeated killings are a collective trauma for black folks, who have long thought of their lives as connected," McCune told Newsweek. "Like individual trauma, collective trauma impacts everything you do in the everyday."
He called the black community's connected mental health "fragile" in a white supremacist society.
Nearly 50 percent of respondents were exposed to at least one police killing in their state in the three months before the survey was conducted, and each additional death eroded their mental health. Cumulatively, black Americans experienced 55 million more poor mental health days as a result of the exposure.
"Police killings of this type continue to tell back folks that they can't even run and walk free; they are not protected under the law," said McCune.
The study noted its results identified the systemic racism within law enforcement: While several killings made national news, more police killings likely went unreported and unpublicized, so the study relied on a database that vetted suspected killings against police records and social media.
Police are more than twice as likely to kill black Americans, according to 2016 data collected by The Guardian. Police killed 6.7 black Americans for every million people, compared to less than 3 white Americans for every million people. More than 60 percent of unarmed people killed by police are minorities.
"There is strong evidence of systematic targeting of black Americans by police in the identification of criminal suspects, as well as in their prosecution, conviction and sentencing in the criminal justice system," the study's authors wrote. "Racial disparities in law enforcement and legal treatment have a long history in the USA, and state-sanctioned violence in particular has been used to terrorize, dehumanize and subjugate black Americans."
The depth of America's numbness to police violence against black people is profound, according to black scholars who have accused Americans and the media of ignoring black trauma in favor of a president who stays silent when black lives are taken.
Stories of unarmed black men and women killed by police are common now: As of Stephon Clark's death in March, police have killed 758 black people since 2015. The protests of their deaths look familiar, too: Coverage of the unrest in Ferguson, Missouri, after Michael Brown's killing in 2014; and Baltimore, after Freddie Gray died in police custody in 2015 was criticized for perpetuating stereotypes of black Americans as "thugs" in its depiction of violence and destruction. Reports that follow up with both cities rarely appear in the news cycle.
The solution, in a "sea of anti-blackness," lies with police, McCune said: less policing by cops with no vested interest in the advancement of black communities; less reliance on violence; and greater consequences for police officers who abuse their power. A New York Times analysis found that in 15 of the most widely publicized police killings, only one officer was sentenced to prison time.
About the writer
Scottie is a Newsweek science fellow and student at the University of Florida. Her work has appeared in Women's Health, the Gainesville Sun and WUFT, an NPR-PBS affiliate.