Police Killings of Unarmed Black Men Dropped by More Than Half in 2016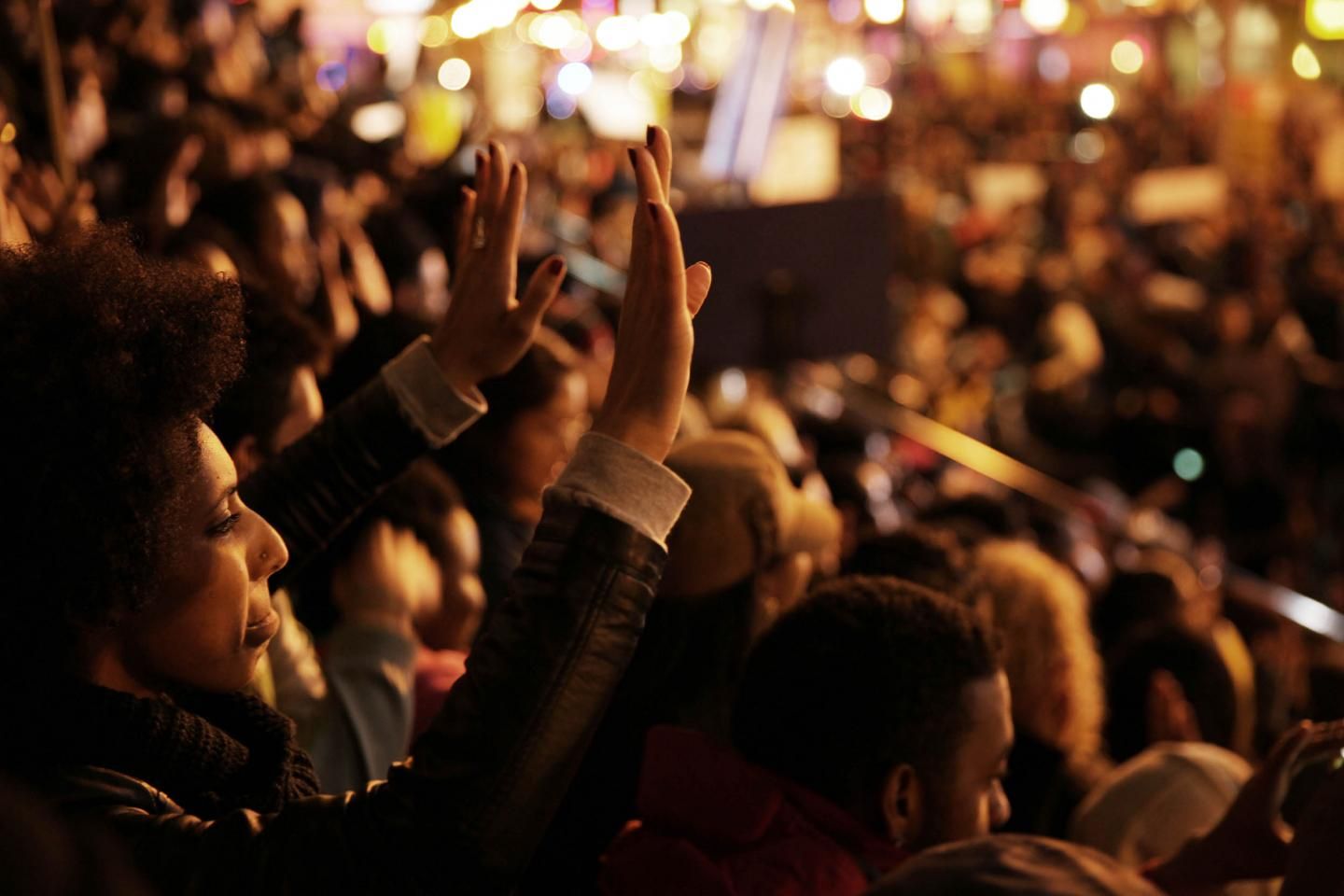 The number of unarmed black men shot and killed by police in the U.S. last year was less than half the total for 2015, according to one database, suggesting that due to nationwide protests, better training or other factors, what the media has called "a national crisis" could be abating.
Police used fatal force on 16 unarmed black men in 2016, according to a Washington Post database. That is down from the 36 unarmed black men police had killed in 2015. Police used fatal force on one unarmed black woman in 2016 and two in 2015.
Members of law enforcement and analysts who monitor the field say any unjustified officer-involved killing of a person is tragic, but they argue that the national outrage over the deaths of unarmed black men seems disproportionate to the diminishing number of such incidents. "Police shootings of unarmed black men is not a national crisis," says Heather Mac Donald, the author of The War on Cops and a fellow at the Manhattan Institute, a conservative think tank. "We have been having a discussion for the last 20 years of phantom police racism in order to not talk about a far more difficult and uncomfortable reality, and that is the wildly disproportionate levels of black-on-black crime."
Citing FBI data, Mac Donald points out that 900 more black men were murdered by offenders of all races in 2015 than in 2014, and that the overall number of black homicide victims in 2015 was around 7,000—higher than that for other demographics. (The FBI has not yet released the 2016 data.)
Advocates for police reform say crime in black communities does not excuse police violence. "No one cares for black communities more than black people themselves," Opal Tometi, a cofounder of Black Lives Matter, told Newsweek last year. "Critics who raise this type of rhetoric aim to derail a desperately needed conversation about violence and abuse perpetrated by police."
Yet law enforcement officials have also said that use of fatal force on either armed or unarmed individuals is infrequent, despite the media coverage. "Cell phone videos [have] taken what is still a remarkably rare event, which is the police use of deadly force, and turned it into a nationwide moral crisis," Milwaukee Police Chief Edward Flynn told Newsweek last July.
Santa Barbara County Undersheriff Bernard Melekian agreed. "What's gotten lost in the rhetoric is the millions, literally millions, of contacts every day that don't result in any force being used for anything—let alone deadly force," he told Newsweek. Many thousands of people die from medical error each year, he added, "but nobody is suggesting that we put body cameras on doctors."
The 16 unarmed black men killed by police in 2016 accounted for 33 percent of the 48 fatal force incidents involving all unarmed people last year—a disproportionate number, since black men make up only 6 percent of the U.S. population. The total number of unarmed deaths was also less than half the previous year's total, which was 94.
(The Post began tracking fatal force incidents in 2015. Other sources have higher numbers for unarmed deaths. The U.S. Department of Justice announced in October that it will begin collecting more comprehensive data on such incidents.)
Perhaps because there were so many prominent incidents involving unarmed black men in 2014 and 2015, family members of those killed, as well as activists, the media and some lawmakers now seem too eager to claim the deceased was unarmed, even if the evidence suggests otherwise, or there is not enough information available. For example, early evidence suggested that Keith Lamont Scott had a gun when police shot and killed him in Charlotte, North Carolina, in September. But in a video of the confrontation, his wife says, "He doesn't have a gun." That is the version that stuck for many. The New York Times had to issue a correction after initially referring to Scott as "an unarmed black man." Hillary Clinton tweeted, "Keith Lamont Scott. Terence Crutcher. Too many others. This has got to end." Around two weeks later, Bernie Sanders tweeted, "I am tired of seeing unarmed African Americans shot in cold blood."
In October, protests erupted in Los Angeles following the fatal officer-involved shooting of Carnell Snell, a black man. Activists described Snell as unarmed in a tweet published to more than 10,000 followers, and in a widely shared Facebook post, a woman who said she had taught Snell in school wrote, "Witnesses say that his hands were up when he was shot in the back." Days later, the Los Angeles Police Department released a video that appeared to show Snell with a gun moments before police killed him.
Law enforcement experts also point out that an unarmed person can still pose a threat to police and bystanders. "You can talk to any officer and he'll say in any confrontation with a violent or resisting suspect, there's a gun involved, and that's the officer's," says Mac Donald, of the Manhattan Institute. In her book, she scrutinized the Post's 2015 data. At least five of the unarmed black men killed that year had reportedly tried to grab an officer's gun or beat an officer with his or her own equipment, she wrote. Two more of the men "were struck by stray bullets aimed at someone else in justified cop shootings." In one case, a bystander was killed by police—not the suspect. "That older man happened to be black, but his race had nothing to do with his tragic death," she wrote.
Those tracking police-community issues say the decrease in fatal force incidents does not mean the national conversation around them is over. "One year—that does not constitute a trend, necessarily," says Ronnie Dunn, an associate professor of urban studies at Cleveland State University, and coauthor of the book, Racial Profiling: Causes and Consequences. "One [shooting] is too many." He adds that just because someone is armed does not mean a shooting is automatically justified: "The Second Amendment applies to all people in this country."
Tometi, of Black Lives Matter, says the problem persists and goes beyond the recent data. "This is not just about the killings. It's about brutality, ticketing for profit, mass incarceration and criminalization," she says. "There are issues that this data does not reflect, and [it] does not capture the crux of the problem." On Tuesday, for example, a video surfaced of a police officer slamming a female African American student to the floor at a high school in North Carolina. There was a similar incident in a South Carolina school in 2015.
Police now caution the public from jumping to conclusions and viewing all use of force incidents as unjustified. "Certainly we have all seen police-involved shootings that defy justification," Los Angeles Police Department Chief Charlie Beck said at a press conference after the Snell shooting in October. But that was not what happened in that case, he added.
Seattle Police Chief Kathleen O'Toole previously told Newsweek that after she joined the department in 2014, she helped implement better crisis intervention and de-escalation training. Now her officers use force, including nonfatal force, in less than 2 percent of interactions with people. "No police officer wants to take someone's life," she said.