Police Killed on the Job: Number Spikes in 2017, as New York Mourns Murdered Officer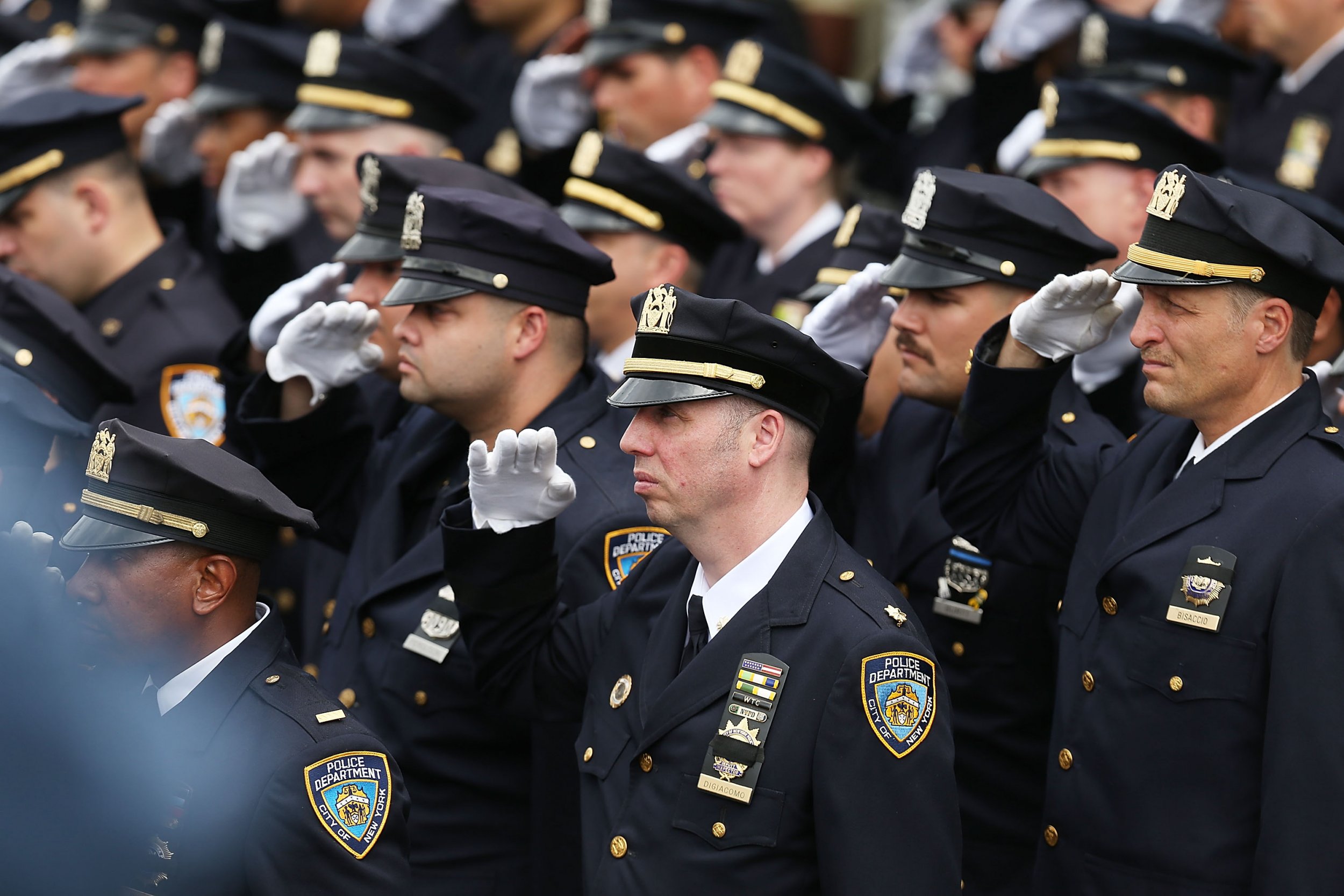 The number of police officers killed in the line of duty has increased in 2017, according to a midyear report that the National Law Enforcement Officers Memorial Fund released Thursday. As of June 30, such deaths were up 30 percent versus the same period in 2016.
Sixty-five officers died while on the job by the end of June, a large rise from the 50 at that point in 2016, according to the Memorial Fund, which tracks law-enforcement deaths and maintains the national monument to fallen officers in Washington, D.C. Of the 2017 total, 26 officers were killed in traffic accidents, 23 were killed by firearms and 16 died from other causes, including residual health problems related to the 9/11 attacks.
Related: Texas made attacking cops a hate crime
"When our law enforcement officers put their badges on at the start of their shifts, they do so with the intention of protecting the citizens of their communities and this country," Craig W. Floyd, president and CEO of the Memorial Fund, said in a statement. "Officers have been targeted for the job that they do, shot and killed or hit with vehicles. I ask all of our citizens to do their part to protect our law enforcement heroes, as they continue to protect us."
As of the end of June, three officers had been killed this year in ambush-style attacks. That number does not include New York Police Department (NYPD) officer Miosotis Familia, who was fatally shot on duty on July 5 as she sat in a department vehicle. Responding police later shot and killed the suspect. Her funeral took place on Tuesday.
The Bronx, New York, killing happened two days before the one-year anniversary of the attack on police in Dallas, when a man murdered five officers. Less than two weeks later, on July 17, 2016, another assailant ambushed police in Baton Rouge, Louisiana, killing three officers. Those incidents had followed two high-profile fatal officer-involved shootings of black men.
Since May 2016, governors in at least four states have signed laws that make attacking police because of their occupation a hate crime: Louisiana, Kentucky, Mississippi and Texas. At least 15 more states have considered similar legislation, often called "Blue Lives Matter" bills. Two more states, Arizona and Kansas, recently passed laws that increase the penalties for attacking law enforcement personnel, though they did not make such incidents hate crimes.
The overall number of police killed on the job has declined in recent decades, but there has been a more recent spike in fatal attacks on cops. In 2016, 64 officers were shot and killed, 56 percent more than the 2015 number. Ambush attacks accounted for 21 of those killings, the most in more than 20 years, according to the Memorial Fund.
People in law enforcement have attributed the rise in attacks to what they say is anti-police rhetoric that has grown since the start of the Black Lives Matter movement in 2012. A Pew Research Center report from January said 93 percent of officers surveyed believed their colleagues had grown more concerned about their safety.
"Regular people sign up to be cops. They sign up for this job of protecting strangers knowing their inherent risks. But not one of us ever agreed to be murdered in an act of indefensible hate," NYPD Commissioner James O'Neill said on Tuesday at the funeral for Familia, the slain New York officer. "So where are the demonstrations for this single mom, who cared for her elderly mother and her own three children?"
During his election campaign, President Donald Trump vowed to support law enforcement and restore "law and order" to the country. The Fraternal Order of Police, the largest police union in the country, endorsed him during the campaign. In February, after speaking before the Major County Sheriffs Association and the Major Cities Chiefs Association, Trump tweeted, "Thank you to our great Police Chiefs & Sheriffs for your leadership and service. You have a true friend in the @WhiteHouse. We support you!"