Police Remove Lion From House Opposite School After Report It Was Used As Guard Dog
Authorities had the unusual task of removing a lion from a house opposite a crèche and elementary school in Lagos, Nigeria. The lion was spotted by a task force team on Friday after a petition was filed to the state's ministry of environment, the BBC reports.
Concerned citizens had reported that the animal was being used a house guard. According to the BBC, authorities believe the lion had been in the building around two months before its rescue.
Staff from the Lagos State Environmental Sanitation and Special Offences Unit returned to the property on Monday, when they tranquilized the 2-year-old cat before transferring it to Omu zoo in Lekki—a process that took three attempts, said Olayinka Egbeyemi, chairman of the Lagos State Task Force, PM News Nigeria reports.
"In as much as we appreciate residents around Victoria Island for their quick action, we urge every member of the public to be observant in their immediate environment and report any strange or unusual activity to appropriate government authority for prompt action," said Egbeyemi.
The lion's owner was told he would face arrest if he did not turn himself in to the police that day. Meanwhile, members of the public have been warned to refrain from keeping wild animals in their homes.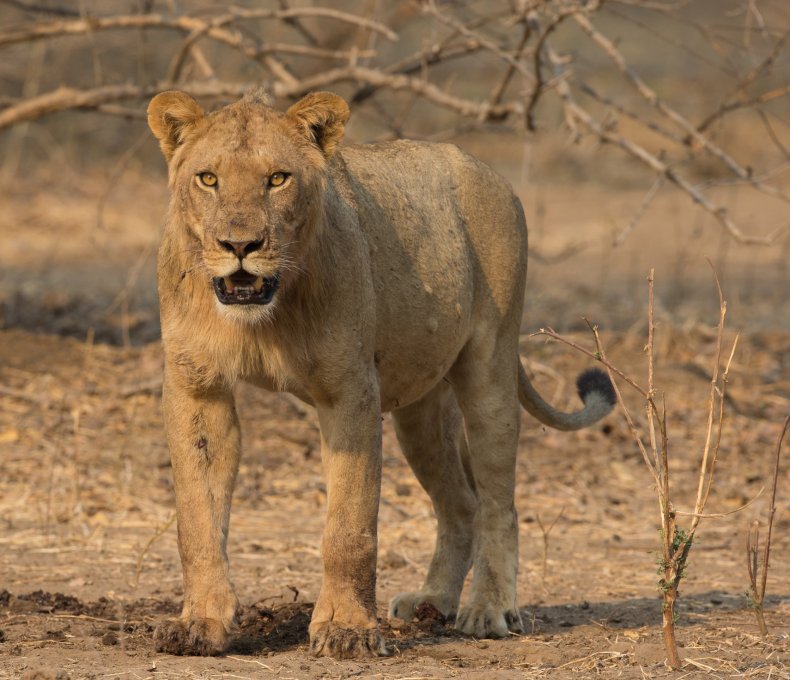 The African lion (Panthera leo) used to be distributed across much of Africa and in parts of the Middle East, including Afghanistan, Turkey and Syria.
Today, populations have declined dramatically and can mostly be found scattered across countries in East and Southern Africa. According to WGS Nigeria, there are thought to be fewer than 50 lions remaining in Nigeria. These survivors can be found in two sites—Kainji Lake National Park and Yankari Game Reserve.
In contrast, there are thought to be "well over 10,000" big cats kept as exotic pets, Carson Barylak, campaigns manager for IFAW, told Business Insider in 2016. These are primarily tigers.
According to the World Wildlife Fund (WWF) it is thought there are more tigers to be found in American backyards than in the wild. But lions, leopards and other big cats also contribute to this number.
It flies in the face of advice given by the U.S. Department of Agriculture which says "only qualified, trained professionals should keep these animals, even if they are only to be pets."
"The average person lacks the specialized equipment and expertise to provide properly for the containment, medical care, husbandry, and nutrition of a large wild or exotic cat. [The Animal and Plant Health Inspection Service's Animal Care program] has seen this lack of expertise result in the unnecessary suffering and premature death of animals."
Then, there is the harm wild carnivores can do to people. Take, for example, the Czech man who was killed by his own pet after he got stuck in the lion's cage, reported by Newsweek in March. Or the Pakistani electrician who sued a client who refused to pay for his services and instead, set his pet lion on him, reported in October.