Three Men and Boy, 13, Charged With Assaulting Police Officers
Three men and a 13-year-old boy have been charged with assaulting police, after a video emerged showing officers being kicked and pulled on a London street.
Home Secretary Priti Patel condemned the "sickening" attack on the two officers that saw passersby look on while others took selfies as an officer was pinned to the ground and kicked.
Footage recorded on a mobile phone and shared widely on social media, shows a police officer wrestling with a man on the ground, before being punched and kicked.
Several men can be seen surrounding the policeman, including one with a baseball bat, before a female officer arrives who is also kicked and pushed.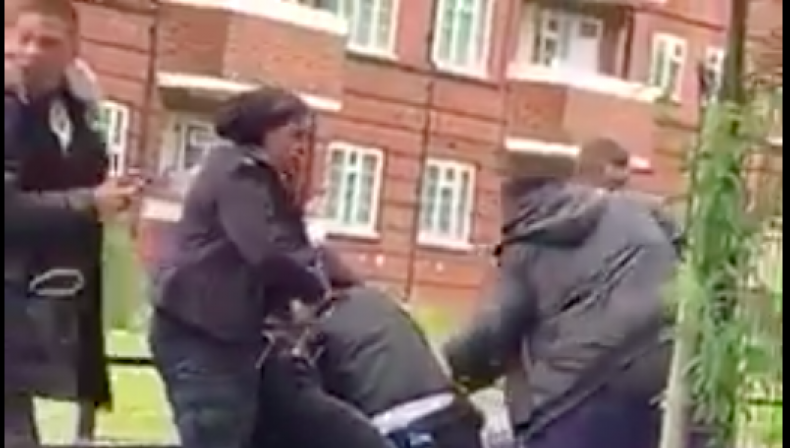 The incident took place in the Frampton Park Road area of Hackney, London.
Hackney Police tweeted: "Good morning, It's pleasing to report that following an investigation into Tuesday's incident in Frampton Park Road, three men and a 13 yr old boy have been charged with assaulting emergency workers.
"They will attend court today. Thank you so much for your messages of support."
The officers had been flagged down by a member of the public who said they had been assaulted and directed them towards the alleged suspect.
After the incident, Patel tweeted: "Sickening, shocking & disgraceful.
"My thoughts are with the outstanding @metpoliceuk officers who were subject to this disgusting violent attack."
Mayor of London Sadiq Khan also condemned the attack, saying attacks on police officers would not be tolerated.
He tweeted: "Attacks on our police will not be tolerated. I urge anyone with information to come forward to ensure the perpetrators of this disgusting attack feel the full force of the law.
"These brave officers were doing their duty and assisting the public - I wish them a speedy recovery."
John Apter, chairman of the Police Federation of England and Wales said the video of the assault on the police officers was "truly stomach-churning" and "horrific to watch".
The officers suffered minor injuries in the incident and did not require hospital treatment, the Metropolitan Police confirmed.
Following the incident, Central East BCU Commander Marcus Barnet said: "Thousands of people, including myself and the officer's colleagues, have seen the video of this incident circulating on social media and have been horrified by what happened.
"My officers were in the process of making an arrest when they were attacked. They have suffered cuts and bruises and thank goodness they were not seriously injured.
"They have been back out at work today, which is testament to their dedication. We have ensured the welfare of the officers and they continue to be supported by their colleagues.
"An investigation into the incident is ongoing and a number of arrests have been made."