Police Looking for Man in Suit Filmed Kicking Someone Lying on San Francisco Sidewalk
Police in San Francisco are searching for a man captured by surveillance cameras kicking a person lying on the sidewalk.
Video released by the department shows the suspect, dressed in a suit and beanie hat and carrying a briefcase, repeatedly kicking the suspected homeless man in an apparently unprovoked attack.
The man also appears to say something to the person lying on the ground before walking away.
A police sergeant was told about the attack after someone reported seeing a man covered in blood from suspected head injuries on the sidewalk.
The suspect is wanted on suspicion of aggravated assault following the attack, which occurred on the 100 block of Leavenworth Street in the city's Tenderloin neighborhood.
He is described as tall, possibly 6 feet, 5 inches, white, in his mid-30s, and known to frequent the area.
"You look at that guy, and he's wearing a suit; clearly he's already in a higher position than where this [victim] is," Latif Woods, who works in the building next to where the attack occurred, told KNTV.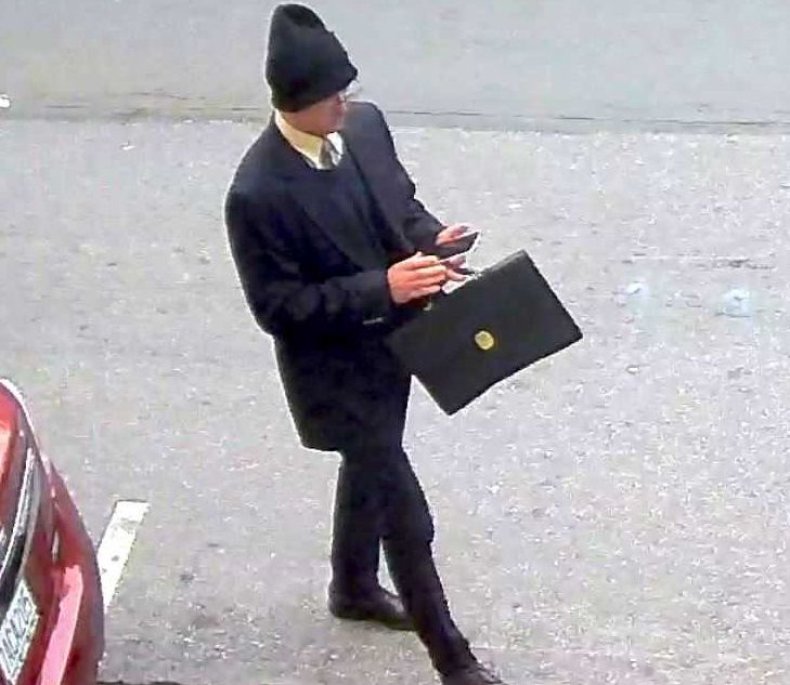 "Why does he have to kick him when he's down? It's ridiculous, kind of beyond words."
Leadara Thompson, a homeless person who occasionally stays in the Tenderloin of San Francisco, added: "It's not normal. But it's just not normal to be punching on somebody who can't defend themselves or just period, put your hands on someone, period. You should never do that."
The condition of the victim is not known at this time.
Police are asking anyone with information on the case to call 415-575-4444 and reference SFPD case 180387174.
The city of San Francisco has one of the highest number of homeless people in the U.S., with an estimated 7,000 people living on the streets or in shelters.
The median household income in the San Francisco area is also the highest among the 25 most populous metropolitan areas at nearly $97,000, according to the U.S. Census Bureau