Police In Louisville, Kentucky Fire Pepper Balls at Reporter and Camera Crew on Live TV
Police in Louisville, Kentucky shot pepper balls at a news team as they were broadcasting live coverage of a Friday protest.
After indicating that she was "behind the line" created by officers, reporter Kaitlin Rust of television station WAVE was hit by a non-lethal offensive weapon by an alleged member of the Louisville Metro Police Department. In the video, the officer can also be seen aiming at the cameraman.
"I've been shot!" Rust screamed after the weapon was fired. She then said it was only a rubber bullet and that she was fine. Rust then corrected herself and said she had been shot with a pepper ball.
The officer then pointed his weapon at the news photographer. "They're aiming at us," Rust said. "They're aiming directly at us."
News anchors in the WAVE studio commenting off-screen said, "They're shooting at our crew," as Louisville Metro Police Department attempted to form a line across a street in the background. Another off-screen voice said, "Do they not know that—obviously, they can see the camera."
Newsweek reached out to Rust for comment. This story will be updated with any response.
In a statement sent to Newsweek, WAVE General Manager Ken Selvaggi said, "We strongly condemn the actions of the MMPD officer who tonight repeatedly fired at and hit our reporter and cameraman, both of whom were courageously and lawfully covering breaking news in their community. There is simply no justification for the Louisville police to wantonly open fire, even with pepper balls, or any journalists under any circumstances."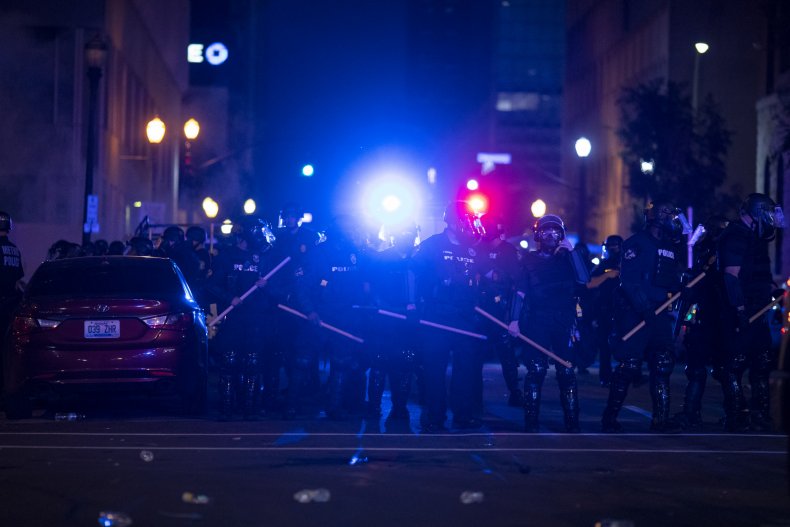 Like other cities across the U.S., Louisville has been the location of demonstrations sparked by the death of Minneapolis resident George Floyd, who died while in police custody on Memorial Day (May 25). Protesters have been calling for justice in the Floyd case. In Louisville, demonstrators have been decrying not only Floyd's death but the shooting of Breonna Taylor by members of the LMPD.
In March, Taylor was shot at least eight times in her apartment as officers served a no-knock search warrant. The terms of the warrant stated that officers did not have to announce their presence or introduce themselves as police. Taylor's partner, Kenneth Walker, believed their home was being invaded and fired upon the officers. Officers shot back, hitting Taylor in the process.
Although the officers were searching for narcotics, none were found in Taylor's apartment.
Demonstrations in Louisville over Taylor's shooting resulted in seven people being shot Thursday night. None of the injuries were reported as fatal. Louisville Mayor Greg Fischer said Friday that the LMPD had not opened fire during the demonstration.
Fischer also announced that the usage of no-knock warrants would be suspended in Louisville.
Taylor's mother, Tamika Palmer, said Friday she was appreciative of people demanding that justice be done while decrying the violence evidenced during the protests.
"Please keep demanding justice and accountability," Palmer said. "But let's do it the right way, without hurting each other. We can, and we will, make some real change here."
Updated 12:03 a.m. 06/02/2020: This story was updated with a statement from television station WAVE General Manager Ken Selvaggi.