Police Offer Safe 'Internet Purchase Safe Zones' Near Their Stations
The photo was an exercise in minimalism. With bright green grass behind it, the blue-on-white police sign stuck in the grass has a singularly American quality.
The sign's text alone—Internet Purchase Safe Exchange Zone, Provided by City of Mobile (Alabama) Police Department—stands out.
In a matter hours on Reddit's "mildlyinteresting" subreddit, the photo went viral, with over 1,300 comments. With our curiosity piqued, Newsweek reached out to the Mobile Police Department to see if this Internet Purchase Safe Exchange Zone—we'll call it IPSEZ hereafter—was real.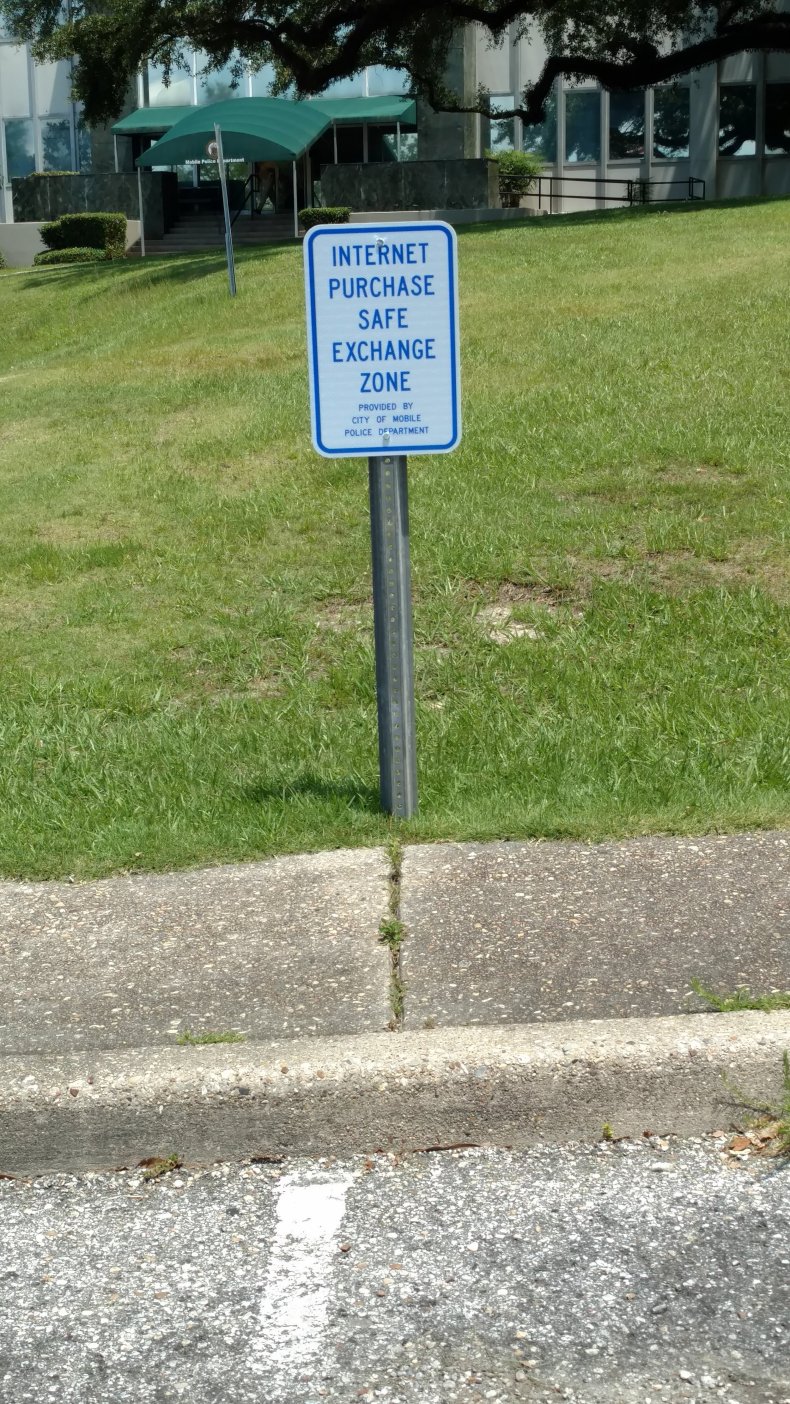 "Yes, it's real," Charlette Solis, Mobile PD's public affairs officer, tells Newsweek. "It's for people who made transactions in Craigslist or elsewhere to meet up and make that purchase. The Police Department is a safer place to make those exchanges than just anywhere."
Not only is this thing real, it's also everywhere, according to Solis. From Farmer's Branch, Texas, to Fairfax, Virginia, to Kaysville, Utah, police departments have set up zones right outside their stations to allow online transactions to happen in peace and comfort.
The sign is in reaction to a number of robberies and even murders that happened when people tried to buy or sell things on the internet. Craigslist, for instance, recorded its 100th related murder last December in Gary, Indiana, according to the Advanced Interactive Media Group.
As for Mobile's IPSEZ, the sign is outside four of its police station lobbies and its police headquarters. Anyone who wishes to make a transaction does not need to check into the station. All they need to do is park in front of the sign and get business done.
The police obviously wants to cut down on this by providing a safe haven, but some Reddit commenters had other ideas for the space. "Safest place to sell your weed," writes one wry Reddit commenter.