Police Officer Allegedly Forced Women Into Oral Sex After Traffic Stops: 'Hope to See You Again'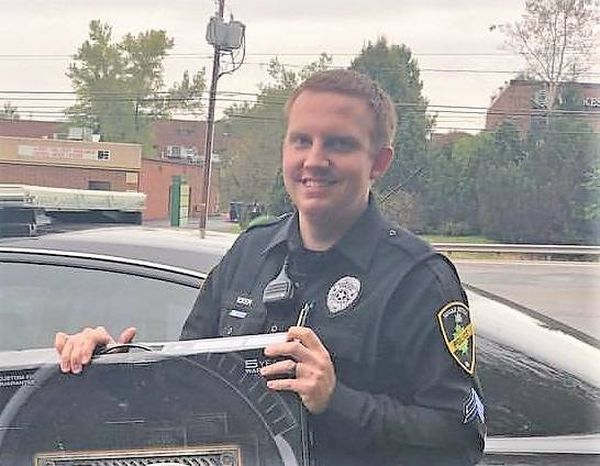 A Pennsylvania police officer has been arrested and jailed in lieu of $1 million in bail after he allegedly forced two women in different incidents to perform oral sex on him after traffic stops.
The police officer's $1 million bail apparently shocked his attorney, who reportedly claimed he had "never seen $1 million set for anybody," but the judge did not relent, as Mark (Ike) Eric Icker, 29, of Dickson City, was jailed after being accused of coercing two women into sex acts in exchange for not arresting them, according to reports.
Icker was a part-time police officer in Ashley, and reportedly had been working for three different police departments in the area, including Ashley and Sugar Notch in Luzerne County, and Jessup in Lackawanna County, pennlive.com reported.
Luzerne County Pennsylvania detectives allege that in one case Icker stopped a woman in town for suspected DUI and ultimately drove her to a secluded park where they engaged in oral sex, for which he dropped the charge.
"What can you do to help me, help you?" Icker allegedly said to her, according to a report.
Icker later talked to the woman's boyfriend, according to the timesleader.com, telling him she woman would not be arrested.
Another victim alleges that Icker also coerced her into oral sex after a traffic stop. The alleged crimes happened one week apart, earlier this month. This victim told authorities she was stopped by Icker and told she was driving a car with no registration, according to the timesleader.com.
Icker, according to the report, allegedly placed her in handcuffs and searched the car, finding half a marijuana blunt in a box of cigarettes. He eventually drove the woman to an empty police station, the timesleader.com reported, telling her "I'm trying to help you out."
Icker allegedly "unzipped his pants zipper, closed a door, and had the woman perform oral sex on him," the timesleader.com reported, citing the legal complaint.
The woman reportedly said Icker fondled her breasts during the act and that she felt powerless and did have not a chance to get out of the situation. The timesleader.com, citing the complaint, reported that the officer told the victim "he's on his second marriage and has two children, one daughter and a stepson. He also told her that marriage is boring."
"Sucks this is how we met," Icker allegedly told the victim. "Hope to see you again."
Luzerne County law enforcement officials are asking for any other potential victims to contact the Luzerne County District Attorney's office. Icker has reportedly turned in his gun, badge and police uniform.