Police Officer Brian Sicknick Died of Natural Causes at Capitol Riot, Medical Examiner Rules
U.S. Capitol Police officer Brian Sicknick died of natural causes the day after rioters stormed the Capitol building on January 6, Washington, D.C.'s medical examiner ruled on Monday.
Sicknick, who collapsed in his office after being injured while physically engaging with protesters, suffered two strokes. He was one of five people to die during or shortly after the riot.
Dr. Francisco Diaz released the causes and manners of death for the other four victims on April 7. He determined that two of them, Kevin Greeson and Benjamin Phillips, died of natural causes. Both men were reported to have had hypertensive atherosclerotic cardiovascular disease.
The other two deaths were ruled a homicide and an accident by the chief medical examiner. Ashli Babbitt, a 35-year-old military veteran, was shot by a law enforcement officer while entering the Speaker's Lobby inside the Capitol. Roseanne Boyland, another protester, died from acute amphetamine intoxication.
Then-acting U.S. Attorney General Jeffrey Rosen said in a January 8 statement that Sicknick died of "the injuries he suffered defending the U.S. Capitol." Rosen vowed that local and federal authorities would "spare no resources" in their investigation into his death.
Two men have been arrested for allegedly assaulting Sicknick during the riot by spraying a chemical irritant into his eyes and face. Julian Elie Khater, 32, of Pennsylvania and George Pierre Tanios, 39, of West Virginia were arrested in March and charged with "conspiring to injure officers and assaulting federal officers" and other crimes.
But Diaz told The Washington Post that the autopsy found no evidence Sicknick suffered an allergic reaction to chemical irritant. The autopsy also found no evidence of internal or external injuries.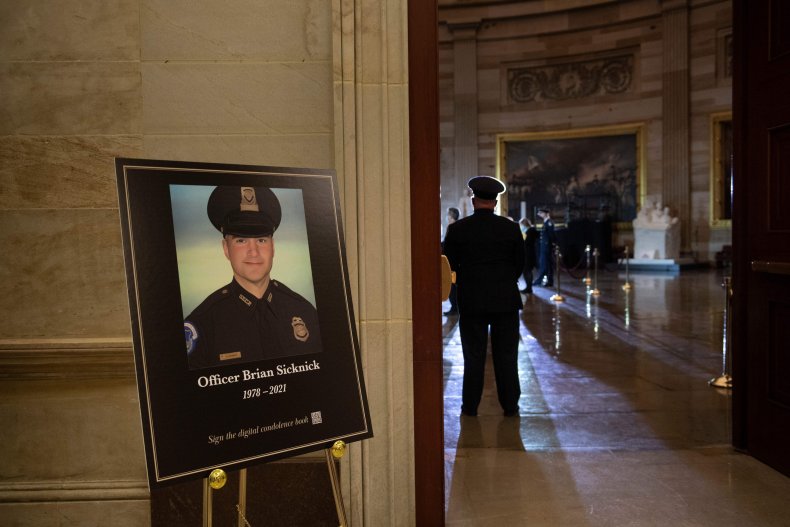 Sicknick's family released an official statement on his death on January 11, describing the 42-year-old as "a lovely, humble soul."
"He loved his job with the U.S. Capitol Police, and was very passionate about it. He also had an incredible work ethic. He was very serious about showing up to work on time and refused to call out sick unless absolutely necessary," the family's statement read. "Our loss of Brian will leave a large hole in our hearts."
Sicknick was given the rare distinction of lying in honor in the Capitol Rotunda, where he received a final tribute from lawmakers on February 3. President Joe Biden and first lady Jill Biden were among those in attendance.
House Speaker Nancy Pelosi and Senate Majority Leader Chuck Schumer delivered remarks at the ceremony, praising Sicknick as a "patriot" and someone who possessed "profound inner strength."