Police Officer Caught on Video Punching Dog Removed from K9 Unit
After footage went viral of a California cop allegedly assaulting his assigned police canine, his department has confirmed that while he remains on the force, he is no longer allowed to handle dogs on the job.
The Vacaville Police Department, located just outside of Sacramento, released a full report on the animal abuse allegations on Tuesday night. According to the report obtained by KXTV, the officer in question is no longer working on the K9 unit.
The outlet noted it remains unclear if the officer was or will be disciplined for his actions, but confirmed with the police department that the officer has been reassigned.
Back in December 2020, footage emerged on local man Robert Palomino's Facebook page of the unidentified officer repeatedly hitting a dog training to join the police force in an empty lot.
"[Came] to my warehouse to grab some tools, when I heard a dog crying," Palomino captioned the video. "When I looked, the officer was punching the dog over and over and got shocked about it."
Palomino noted that the officer only stopped when he realized he had been caught, and he "[feared] for my life and didn't [confront] him" afterward. He claimed the dog was hit about 10 times.
"I was shocked. It got me completely confused. Never seen anything like that before," he told local newspaper The Reporter. "He was beating his partner, his coworker, his best friend."
KCRA3 reported that the police claimed the officer was acting in self-defense when the dog became uncooperative and tried to bite him after a drug search exercise.
Interim Police Chief Ian Schmutzler told the outlet that the Vacaville police plan on putting a greater emphasis on training their K9 unit handlers.
"And what I mean by that is the handler understanding the best practices when it comes to caring for the health, the welfare, feeding, grooming of these dogs prior to them actually taking the dog," he said.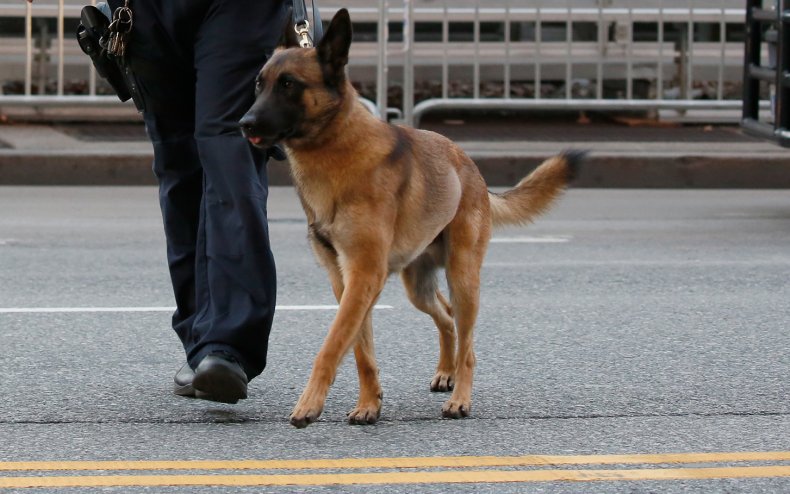 Bill Lewis, a former police officer and current K9 consultant, told Mercury News that the division plans on implementing more frequent performance evaluations and will be reviewing the contract with the K9 vendor.
"You have a good K9 unit, but with better documentation, with more supervision, what's occurring in the review of some of your procedures, it could be much better," Lewis said.
Mercury News also reported that the dog seen in the video, named Gus, was returned to the K9 vendor after he was removed from the officer's care. Fortunately, he did not sustain any physical or mental injuries from the incident.
"While most dogs that join the Police Department stay with us, it is not uncommon for an agency to return a dog to the vendor," Schmutzler said. "We understand Gus is doing very well right now."
Schmutzler added in his statement to KCRA3 that community members are encouraged to speak up if they see anything "inappropriate."
"It's our responsibility to completely investigate these things and we want to do so thoroughly," he said.
Newsweek reached out to Schmutzler and the Vacaville Police Department, but they did not immediately respond to requests for comment.
The Vacaville Police Department has also come under scrutiny more recently after another viral video showed an officer allegedly assaulting an autistic teen. One of the officers is heard saying on camera, "Don't make me hurt you more."