A 32-year-old man is recovering from a coma after footage emerged appearing to show a police officer stomp on his head.
Timothy Atkins was pinned to the ground and surrounded by police outside a hospital in Melbourne, Australia, video of the incident shows. The clip has made national headlines in Australia and has been shared widely on social media.
Bystander footage reveals the unidentified senior officer appearing to kick Atkins in the head during an arrest on Sunday.
In the video, Atkins can be seen walking in front of a police car before the vehicle hits him from behind, propels him into the air and leaves him lying on the ground.
A group of five officers are then seen surrounding his body while one officer uses his foot to drive Atkins' head into the ground.
Atkins was taken to hospital and placed in an induced coma following the incident and awoke two days later on Tuesday.
His brother, Bryce Atkins, told Newsweek he found the incident "disgusting" and described Timothy Atkins as a "loving family man" who "at no point was trying to harm anyone."
"The police are meant to help us and protect us not beat on us. It's a disgrace what they have done to him," he added.
His father, Glenn Atkins, explained that the 32-year-old plumber has bipolar disorder and had gone to the emergency department at Northern Hospital Epping for treatment but was unable to get a bed.
"He was suffering from mental illness. He'd been in the hospital for a day and a half waiting to go into the psych ward," Glenn Atkins told local radio 3AW.
Unable to get a bed, Timothy Atkins ran outside to meet a work colleague which prompted hospital staff to call the police.
A GofundMe page set up by the family describes Timothy Atkins as a "hard working family orientated man."
"These unfortunate and avoidable circumstances have now resulted in him having to recover from a coma with an uncertain future ahead," the page reads.
His father added: "He might be [6 foot 5 inches] and look like Hulk Hogan but he's a gentle giant and police had no right to do what they did. He did not assault them [police] ....They stomped on him. He was just trying to get away."
Speaking with 3AW, Glenn Atkins explained that his son has been on regular medication for the past twelve years, but had experienced some manic episodes in the last few months for which he had sought medical advice.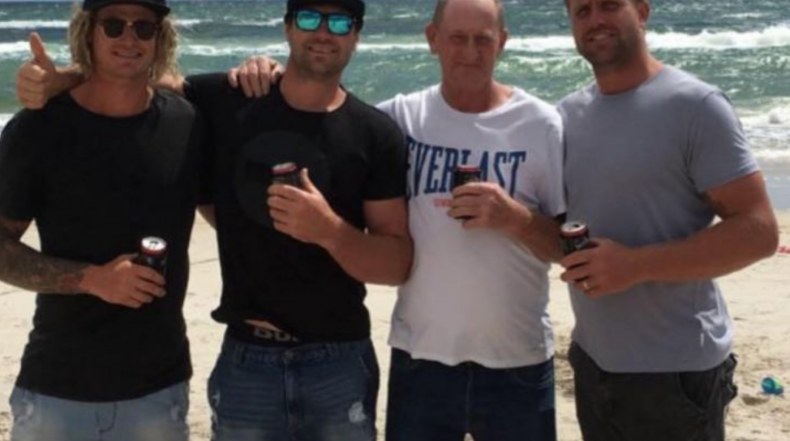 Timothy Atkin's wife told 7News she only learnt about the incident after seeing the video on social media.
Bystander Jake Edwards, who filmed the incident from his car, described what he saw as "unjustifiable" and "disgusting."
"We've seen a police car ram into him sending him flying a few metres across the road," Edwards told Daily Mail Australia.
"Then pepper spray was used, punches from police were thrown. While they were bringing him down and he wasn't restrained yet there were kicks to the head.
"The worst part of it all was while he was restrained with five to six officers on him, there was a stomp to the head and then a knee to the head. Disgusting."
Atkins' father has called for the officer who kicked his son's head to be fired.
"This bloke needs to be held accountable and lose his job," he said.
Victoria Police's internal ethics body is now investigating the incident.
The force initially said officers were called over reports of a 32-year-old man, of no fixed address, behaving erratically.
"Upon arrival, the male allegedly became aggressive and damaged a police vehicle whilst attempting to avoid arrest," Victoria Police said in a statement.
In a second statement on Tuesday, police said the senior constable from the Critical Incident Response Team had been suspended with pay.