Police Officer Detains Black Man for Eating a Sandwich While Waiting for the Train in San Francisco
Protesters in San Francisco staged an "eat-in" demonstration at the Bay Area Rapid Transit (BART) public transportation system on Saturday after a black man was detained and handcuffed by police officers last week for eating a sandwich while waiting for a train.
Videos of the incident have gone viral on social media, with many on Twitter and Facebook suggesting that the man was targeted by a white police officer because he was back. According to BART officials, it is illegal under California state law to eat while within the transit system's facilities. However, in the video the detained man—Steve Foster—and other bystanders point out to the arresting officer that passengers eat at the station all the time.
"You singled me out, out of all these people," Foster told the officer in a viral clip of the incident.
"You're eating," the officer replied, pointing at the man's sandwich. He later told him that it's a "violation" of California state law. As the man protested further, the officer threatened to take him to jail.
"I'm not going to jail for eating a fucking sandwich," Foster replied. "No, for resisting arrest," the officer responded. Another viral video of the incident shows multiple police officers leading the man away in handcuffs.
During the weekend "eat-in" protest, demonstrators brought sandwiches to BART's Embarcadero Station.
"I've got my lunch here, it's very threatening as you can see," JJ Naughton, a San Francisco resident, told KGO news, as he attended the weekend protest.
Many on social media were outraged and shocked by the footage.
"My mind can't even begin to comprehend the arrogance needed to justify this nonsense," activist Qasim Rashi wrote in a Twitter post. "This is at worst a fine (which is honestly still silly) but to arrest a man for eating food is ridiculous. Thank God he wasn't injured/killed," he added in a follow-up tweet."
"We really need to address the overpolicing of people of color in this country. Seriously," MSNBC host Joy Reid tweeted.
BART Board Vice President Rebecca Saltzman has said that the transit system's independent police auditor is reviewing the incident. "I and other BART directors are following up with management about this," she told the San Francisco Examiner.
"To see yet another young black man impacted by law enforcement like this is extremely troubling to me," Janice Li, who represents part of San Francisco on BART's Board of Directors, told the Examiner. "This is a question of what we are putting our BART police towards. We know how to make the system better and safer, and this ain't it."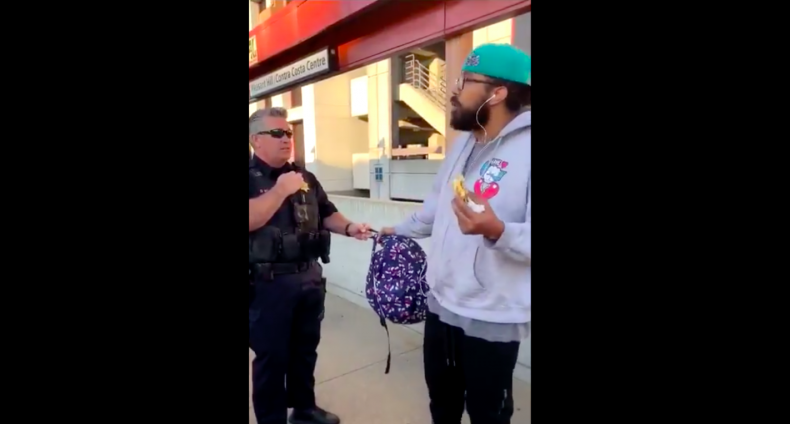 Foster told Fox 2 KTVU that he is considering pressing charges in relation to the incident. Talking about his detention, the man said the officer "made a beeline" straight toward him, passing other people "drinking coffee" and "eating bagels and muffins." Foster and others have noted that there is a market along with other vendors selling food right next to the BART station where he was detained.