Police Officer Drives Over Man Lying on Florida Beach, Investigation Launched
A Florida police officer accidentally drove over the hip of a man lying on the beach in Indian Shores, a town in Pinellas County on the west central coast of Florida, during an evening beach patrol.
The 66-year-old beachgoer, William Koziarz, was taken to Bayfront Health hospital with serious but non-life-threatening injuries, the sheriff's deputies report.
Officer Natasha Hindman, 27, was reported to be driving a marked police car, a Ford Explorer cruiser, at a slow speed along the beach around 6 p.m. (local time) on May 8 when the left tires of the vehicle drove over the man's hips, according to the sheriff's office.
Hindman was reported to have stopped the vehicle and immediately administered aid to Koziarz until paramedics arrived at the scene, according to a statement from the sheriff's office.
The incident, which took place just south of the 193rd Avenue beach access area, is under investigation. Speed and impairment were not factors in the incident, investigators said.
Newsweek has contacted the Pinellas County Sheriff's Office for more information about the incident.
Earlier this month Florida began easing lockdown measures, which were in place for several weeks following the COVID-19 pandemic. The statewide stay-at-home order saw the closure of public areas, including beaches, and non-essential businesses. But from May 4, a selection of state parks and beach areas were reopened with restrictions.
"The selected reopened state parks will have limited facilities. Reopened beach areas allow visitors access to active recreation only. This includes walking, jogging, swimming and fishing. No sunbathing, chairs, canopies or coolers are allowed in beach areas at this time," a statement from the office of Florida Gov. Ron DeSantis confirmed.
At a news briefing on Friday, DeSantis approved the phased reopening of Palm Beach County from May 11, which allows restaurants and retail outlets to operate at 25 percent capacity, while several other non-essential businesses, including bars and gyms, remain closed. County officials are reportedly aiming to reopen beaches from May 18.
"I am going to authorize, starting Monday [May 11], Palm Beach County to move into Phase One consistent with what we've done, and we think that they're ready for it. I think the people here are very smart. We understand the responsibility that we all have to protect the vulnerable populations here," DeSantis said at the briefing.
"Just because you go to Phase One, that does not mean the disease is going away. The shape of it may be different. We seem to be on a decline in many parts of the country. But nobody really knows exactly how this thing's going to bounce," DeSantis warned.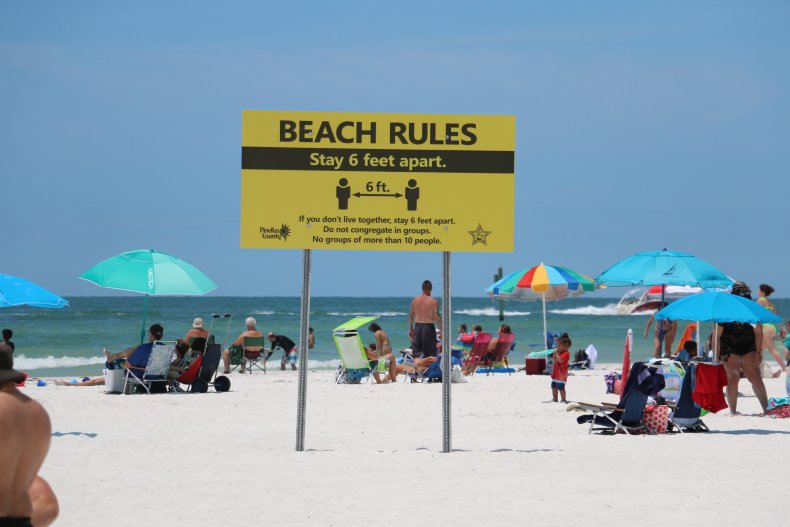 Florida has reported 40,596 confirmed cases and 1,721 deaths to date, according to the latest figures from the Florida state health department.
Palm Beach County, along with Broward and Miami-Dade counties, are reported to account for around 60 percent of the state's total cases. On Friday, Palm Beach was reported to have over 3,600 confirmed infections, forming around nine percent of the state's total cases.
Explaining his decision to begin reopening the county, DeSantis claimed Palm Beach saw a recent decline in the rate of positive cases. "Palm Beach, they were at 18 percent a couple weeks ago. Now they're under 10 percent," he said on Friday, adding that the figure hovered between three and 7.5 percent in the past few days.
The U.S. remains the epicenter of the virus outbreak, with more than 1.3 million confirmed cases and over 79,500 deaths. The novel coronavirus was first reported in Wuhan, China, and has spread to more than 4.1 million people across the globe, as of Monday, according to the latest figures from Johns Hopkins University.