Police Officer Fired 11 Years After Lying About Shooting Partner in Head
In a unanimous decision, the Chicago Police Board voted that veteran officer Patrick Kelly should be fired for shooting his partner in the head more than a decade ago.
The 8-0 decision by the Chicago Police Board on Thursday concluded that Kelly "pulled the trigger" in the January 2010 incident, which left his partner Michael LaPorta with permanent disabilities, the Chicago Sun-Times reported. Kelly claimed that LaPorta shot himself in the head in a suicide attempt following a night of drinking. Investigators initially believed Kelly and declined to prosecute him.
Since the shooting, LaPorta has been unable to care for or support himself. His parents have been providing him with around-the-clock 24-hour care in order for him to survive, according to Chicago's ABC 7. Although Kelly was previously stripped of his police powers, he continued to receive an annual salary of $87,000 until earlier this year when he began collecting disability payments instead.
Before the shooting occurred, Kelly and LaPorta were out drinking at a couple of bars before they returned home. LaPorta testified that the two men began arguing after Kelly yelled at and hit his dog. According to LaPorta's account, which the police board ruled in support of, Kelly then fired his weapon and shot him in the head.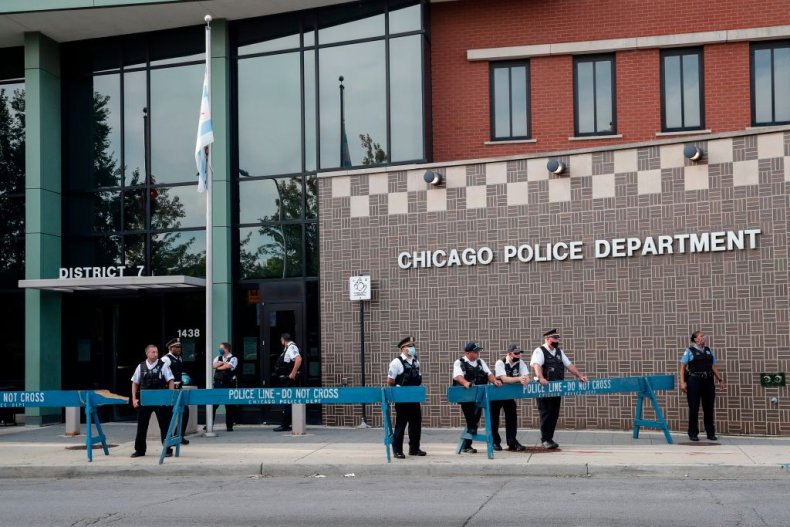 Antonio Romanucci, a lawyer representing LaPorta, said that the board's decision was "a small measure of justice" and that it was "a solid decision for the residents of Chicago," the Sun-Times reported. However, he also criticized Chicago for failing to take action against Kelly's "years and years of egregious and violent behavior."
"Had the CPD implemented an early warning system, Kelly easily would have been identified as a problem officer and not have been allowed to shoot Michael LaPorta," Romanucci said. "The real focus should remain on the tragic and life-changing impact Kelly's violence had on his former best friend, Michael LaPorta, who will spend the rest of his life in a wheelchair because Kelly shot him in the head."
The Invisible Institute, a journalism production company from the South Side of Chicago, reported that Kelly has 62 use of force reports. The officer has faced at least 25 allegations related to his police work and nine civilian complaints.
Kelly still has the option of appealing the board's decision at the Cook County Circuit Court, according to Chicago's WGN 9.
Newsweek reached out to the Chicago Police Department for further comment.